This colorful protein bowl made with kale, salmon, quinoa, pecans, and cranberries is a protein-packed, fiber-filled lunch that will keep you full and fueled all afternoon!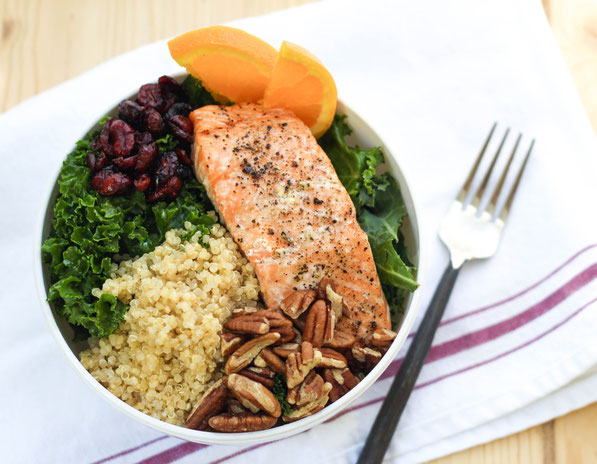 Protein bowls have been a fun nutrition trend this year, and this month the Recipe Redux theme is "plant-powered bowls" packed with protein, fiber, and a color.  And while I did top this tasty bowl with a fillet of salmon (because I love it with the combo of other ingredients here!), there's plenty of nutritional "plant power" coming from the quinoa, kale, and pecans!  So if you want to keep this recipe completely plant-based, simply leave off the salmon and increase the quantity of the quinoa or pecans. :) 
The recipe I decided to make for today's post is one that I really enjoy, but since I'm the only one in my family that's a fan of things like kale, quinoa, and salmon, it's a recipe that I make for "one" and eat for lunch.  I'm sure one of these days the hubs will hop on the quinoa-kale bandwagon, but until then, I get this colorful protein bowl all to myself! 
Even though it has two separately cooked main ingredients, this recipe actually comes together right at 20 minutes (which is how long the salmon takes to bake).  It's important to get the salmon in the oven before making any other parts of the recipe.  
While the salmon bakes, I use my secret weapon when it comes to quinoa or any whole grain:  the 10-minute, or quick-cooking version.  Buying the quick-cooking quinoa cuts cooking time by about 2/3, so it's easy to have fresh quinoa or other whole grains ready to go with any meal in just a few minutes.  This bowl is also a great way to use leftover quinoa - just take it out of the fridge and toss it in the bowl!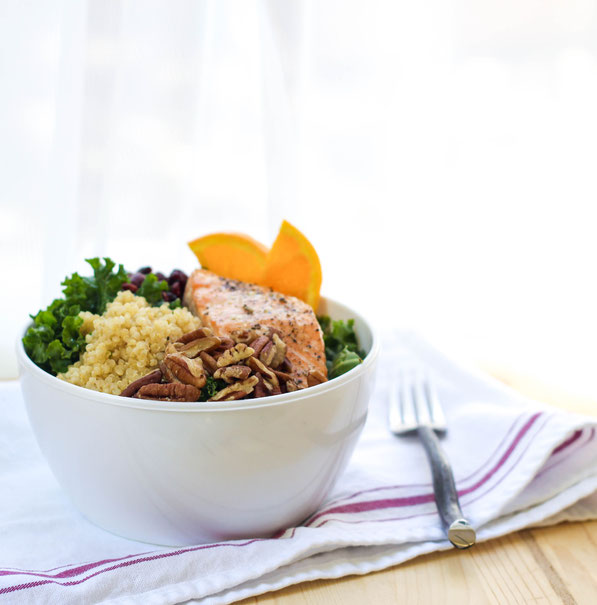 But let's get back to the recipe prep:  the salmon is baking, the quinoa is cooking.  While that's going on, I mixed the simple orange-honey dressing ingredients together, put some kale in a bowl and massaged some of the dressing onto the kale.  I never skip this step when it comes to kale because rubbing the dressing directly onto the kale makes it less bitter (in my opinion).  Once the salmon and quinoa are done, all that's left is to assemble the bowl by adding the rest of the ingredients over the kale and pouring the rest of the dressing on top.  
Now if you're not a big fan of kale, don't use it!  Choose whatever leafy green you enjoy the most and make that the base of this bowl.  You're not a "less healthy" person if you don't really like raw kale.  It's not for everybody, and that's okay! ;)  If I didn't have kale on-hand, my go-to would have been spring mix or even romaine lettuce.  Likewise, if you don't like quinoa, go with brown rice or even farro or barley.  Make this recipe your own!  
This beautiful bowl is super filling and packed with nutrition.  Plus it's delicious.  :)  I can't wait to try more protein bowls, and if you're interested in other recipes for "power bowls" check out the recipes from fellow Recipe Redux bloggers at the end of this post!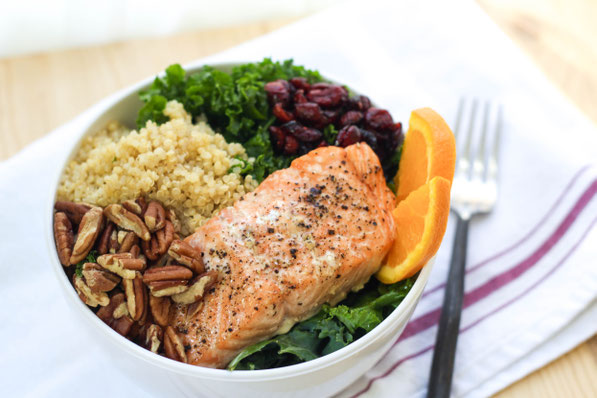 Cranberry-Orange Salmon Protein Power Bowl
Makes 1 serving

Ingredients:
1 4-ounce salmon fillet
1 tablespoon olive oil, separated
salt and pepper to taste
1/4 cup quick-cooking quinoa
juice of 1 small orange (about 1/4 cup)
1/2 teaspoon honey
2 tablespoons plain Greek yogurt
2 cups chopped kale
1/4 cup chopped pecans
1/4 cup dried cranberries
Directions: 

Preheat oven to 400 degrees.  Coat the salmon fillet 1 teaspoon of the oil and add salt and pepper to taste.  Bake for 18-20 minutes, or until the salmon is cooked through.
While the salmon is baking, prepare the quinoa according to package directions. 
In a small bowl, mix the orange juice, remaining oil, a pinch of salt and pepper, the honey, and yogurt.  Whisk to combine.
Place the kale in serving bowl and add 2 tablespoons of the dressing.  Mix very well into the kale or use hands to massage the dressing onto the kale. 
When the salmon and quinoa are finished cooking, assemble the bowl by topping the kale with the salmon, pecans, dried cherries, quinoa.  Pour the remaining dressing over the bowl and serve.  
Tip:  This recipe can be made in advance and refrigerated until ready to serve. 
Happy Eating!
~Amber 
---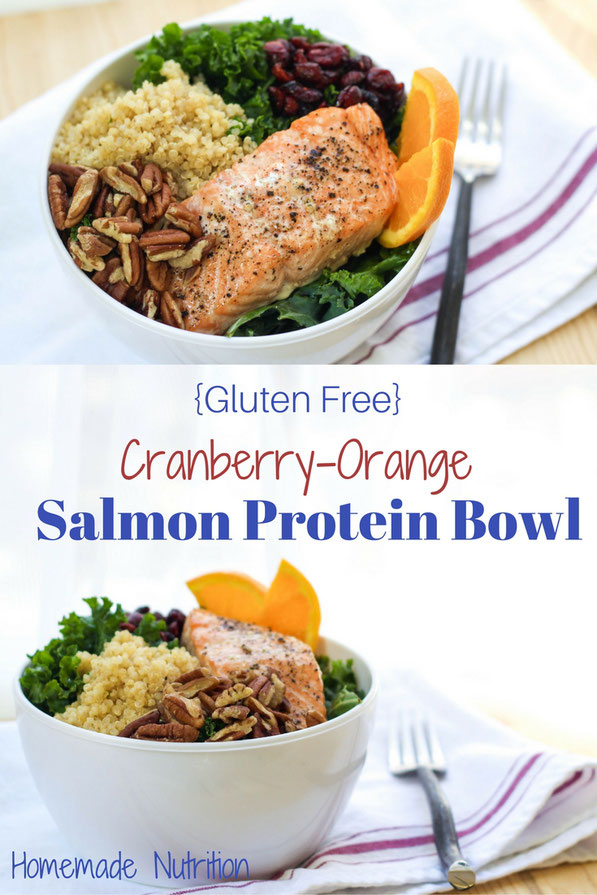 ---
---
For more protein-bowl inspiration, check out the recipes below! 
---