Frozen stir-fry vegetables and a delicious, easy-to-make marinade are the perfect addition to this quick beef, soba noodle, and veggie stir fry.  This recipe is healthy homemade fast food at it's finest!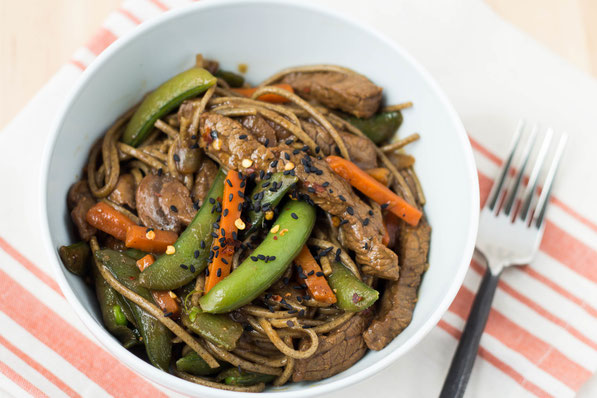 Let me start off by saying I'm not very experienced in the stir-fry department.  My husband absolutely loves all Chinese food and would happily eat it everyday but it's just not my thing, and when I have tried to make it, the results have been, let's just say...less than delicious. : /
Then one day, not too long ago, I finally decided it was time.  Time to expand my culinary skills and finally make a stir fry that actually came out tasty and "husband-approved".  
And I have to say, the result was so much better than I expected it to be.  I hope to work on more stir-fry recipes and eventually become a stir-fry master, but for now, we will be eating a whole lot of this recipe.  Because it's yummy.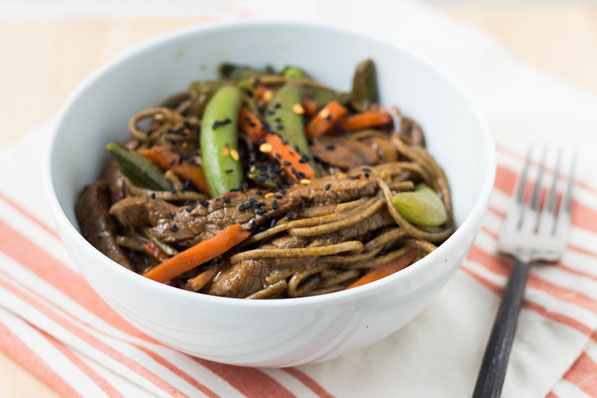 One of my favorite short cuts when making dinner is using frozen vegetables.  Veggies don't really take that long to cook, but I find the most challenging part about eating more vegetables has to do with the washing and chopping.  I also really don't like wasting food, so I feel like frozen vegetables are the perfect solution because they're already been washed and prepped for cooking, and since you keep them in the freezer, they don't go bad quickly like fresh veggies sometimes do. 
There's also a unique ingredient in this recipe: soba noodles.  These lovely noodles are found in the international foods aisle at most grocery stores (in the Asian food section).  The ones I use are made of a combination of wheat and buckwheat – they're 100% whole grain so they've got more protein and fiber than rice noodles or other noodles commonly used in stir fry recipes.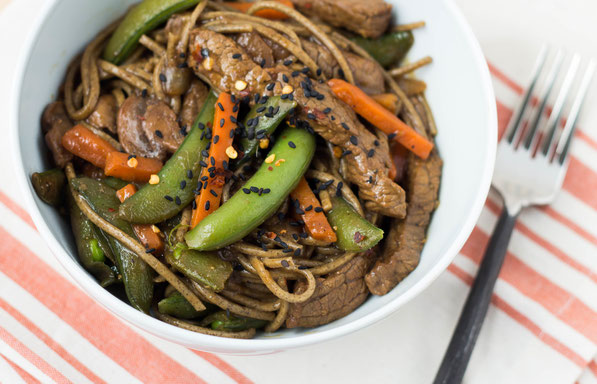 I've found that the easiest way to cook this meal is to put the meat and marinade mixture together in the morning then all that needs to be done is to cook the meat and veggies (which all happens in the same skillet) and cook the noodles in a separate pot while that's going on.  
For even more of a shortcut, I like to cook the noodles the night before, rinse with cold water and refrigerate till the next day. With the meat mixture and noodles ready, this is literally a 15 minute meal – perfect healthier (plus homemade) fast food dinner!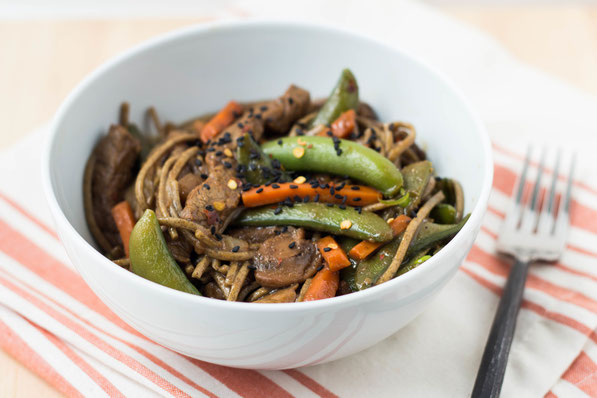 Soba Noodle Beef and Veggie Stir Fry
Makes 4 servings
Ingredients:
½ pound "stir-fry" sliced beef (or thinly sliced sirloin)

1 clove garlic, chopped

½ teaspoon finely grated fresh ginger

Red pepper flakes to taste

½ cup low sodium soy sauce

1 tablespoon lemon or lime juice

1 teaspoon brown sugar

1 teaspoon corn starch

1 tablespoon light olive oil

2 cups frozen stir fry veggie mix (snow peas, onion, red bell pepper, mushrooms, water chestnuts) or frozen veggies of choice

2 cups cooked soba noodles, cooked according to package directions

optional topping:  black or white sesame seeds
 Directions: 
Place the beef, garlic, ginger, red pepper flakes, soy sauce, lemon juice, brown sugar, and corn starch in a large bowl and mix to combine.  Cover and refrigerate for 30 minutes or up to 8 hours

Heat a large cast iron or non-stick skillet over medium-high heat.  Add the oil and use tongs to add 1/3 to 1/2 of the beef to the skillet (cook in batches for better browning on the beef). 

Cook each batch of beef for 2-3 minutes, turning once during cooking (it won't be cooked through yet). Set aside each batch of the beef on a plate until all beef is cooked. 

Add the frozen vegetables and any remaining marinade to the skillet and cook, stirring often, for about 5 minutes.  Add the beef and cooked soba noodles to the skillet, mix everything together, and cook for an additional 2-3 minutes.   Top with sesame seeds if desired. 
Happy Eating!
~Amber
---