This simple, delicious seven-ingredient roasted veggie hash with eggs is the perfect breakfast-for-dinner!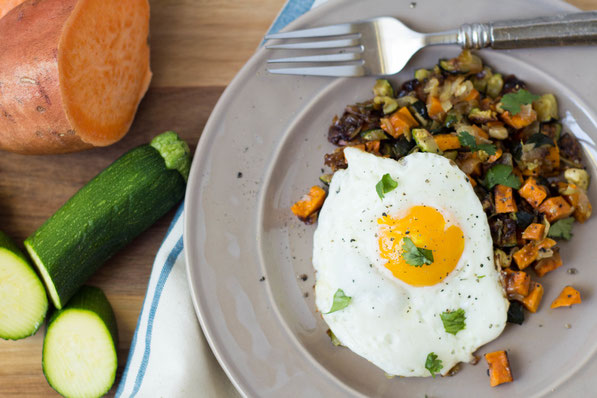 I hope everyone's spring is off to a great start!  Each month, the Recipe Redux challenges nutrition bloggers like me to come up with creative healthy recipe ideas, and I'm loving this month's theme:
"It's Income Tax Season, so our brains could use some easy arithmetic; as in seven-ingredient-or-less recipes. Show us the healthy, no-brainer dish you fix for breakfast, lunch or dinner." 
I really like fast, easy recipes, so a seven-ingredient-or-less challenge is right up my alley! So I decided to share one of my favorite go-to breakfast-for-dinner recipes:  roasted veggie hash with eggs.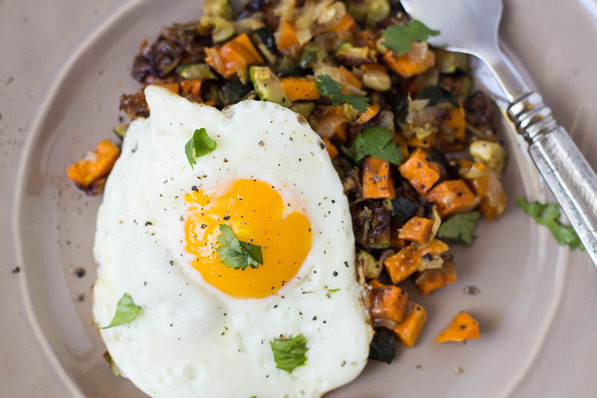 This recipe pretty much combines some of my very favorite things all in one dish.  Roasted vegetables are my absolute favorite because they come out of the oven all tender, caramelized, and perfectly delicious.  Not to mention, all you have to do is put them in the oven and they basically cook themselves.  No babysitting a hot pan or stirring required. :) 
Then there's eggs.  I eat a lot of eggs because they're an awesome quick, affordable, high protein food.  They're also super versatile - you can scramble, poach, boil, make sunny-side up, cook over-easy...the only limit is your imagination when it comes to eggs!  
Lately I've been in a "I think I'll put a poached egg on top of all of my meals" kind of mood, because it's an easy, elegant addition to most meals that also creates more variety in flavor, texture, and adds more protein.  
Since I've been going so poached egg-crazy lately, I decided to try another way to make my eggs - sunny side up.  I've never made them this way, but let me tell you, I think I will be making them this way for a long, long time now that I've tried it!  I love the beautiful color of the eggs and the creamy yolk is absolute perfection with roasted veggies like these.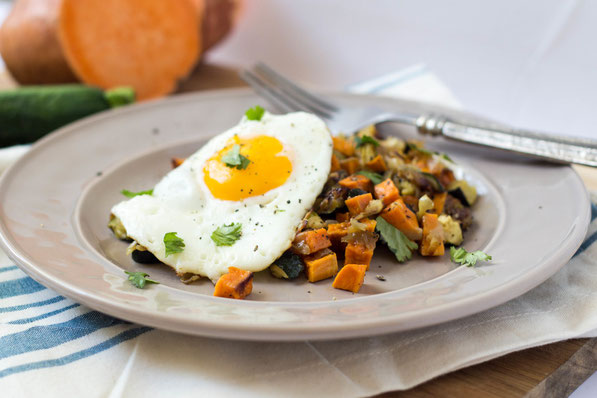 You can use any variety of vegetables you like, but I love sweet potatoes, onion, and zucchini together, so that's what I did here.  
This recipe is a great weeknight breakfast-for-dinner option because all you have to do is get the veggies in the oven right when you get home, then go do other things (like relaxing!) for a few minutes while they cook.  Whip up some eggs right as the veggies are done cooking, and dinner is ready!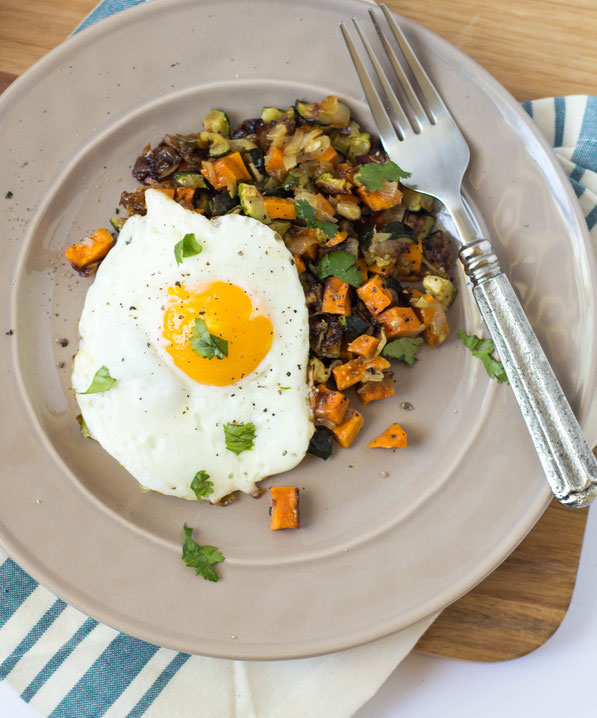 Roasted Vegetable Hash with Eggs
Makes 4 servings
Ingredients:
1 1/2 tablespoons light olive oil
1 1/2 cups peeled and chopped sweet potato (about 1 medium sweet potato
1 large zucchini, chopped
1/2 red onion, chopped
salt and pepper to taste
4 large eggs
chopped parsley or cilantro for garnish (optional)
Directions: 

Preheat oven to 425 degrees.  Place the oil, sweet potato, zucchini, onion, salt, and pepper  in a large bowl and toss to combine. 

Spread the mixture onto a lightly greased non-stick baking sheet, and bake for about 20-25 minutes or until the vegetables are tender.

Just before serving, make 4 eggs however you like - poached, fried, over easy, sunny-side up, even scrambled.  

To serve, place some of the vegetable mixture on each plate, top each plate with an egg, and garnish with fresh parsley or cilantro.
Happy Eating!
~Amber
---
---
---
Here are lots of other amazing 7-ingredient-or-less meal ideas from fellow nutrition bloggers!
---