These easy, flavorful blueberry-coconut overnight oats are the perfect healthy breakfast treat!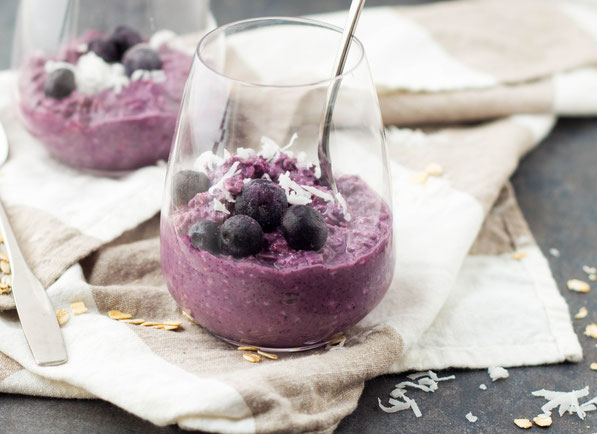 I don't know about you, but I seem to go through phases of eating a whole bunch of a certain food before moving on to something new.  Case in point:  blueberries.  Lately I've been going through bags of frozen blueberries, which I've been adding to my smoothies almost every day.  
So before I'm completely up to my ears in frozen blueberries and move on to my next food-phase, I decided to use this tasty fruit as the star in one of my favorite breakfasts: overnight oats.  
I've made several versions of overnight oats, but this is my first full-flavor infusion of blending the fruit first before mixing it into the oats.  This idea basically involves making a watered-down blueberry smoothie and then mixing the oats and coconut into it.  And the result is SO tasty!!
If you're new to the concept of "overnight oats,"  the basic concept involves mixing yogurt and liquid (usually milk) with uncooked oats, then refrigerating it for a few hours or overnight.  The oats soak up all the delicious yogurt and liquid and "cold-cook" themselves so in the morning you've got a cold, refreshing oatmeal breakfast that's ready to grab and go. 
I make several flavors of overnight oats, but the most popular one on the blog so far has been my raspberry chia overnight oats recipe.  I'd recommend making two batches of overnight oats - a batch of the raspberry chia and this recipe, so you'll have breakfast ready to go for the week!  I hope you enjoy this "berry" delicious recipe! ;)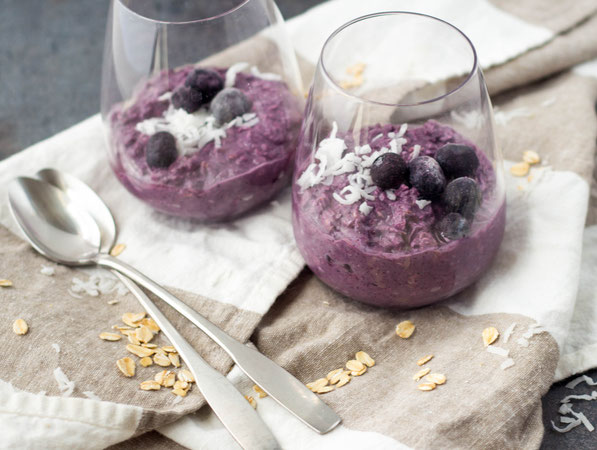 Blueberry Coconut Overnight Oats
Makes 2 servings

Ingredients:
3/4 cup frozen blueberries
1/2 banana
3/4 cup plain Greek yogurt
1/2 cup water
3/4 cup rolled oats
3 tablespoons unsweetened shredded coconut
Directions:

Place blueberries, banana, yogurt, and water in a blender and blend until smooth. 

Pour the blueberry mixture into a bowl.  Mix in the oats and coconut.  Separate the mixture into two containers or jars and cover and refrigerate for at least 5 hours or overnight.  
 Happy Eating!
~Amber
---
---