This simple pineapple smoothie bowl makes a great breakfast or healthy dessert!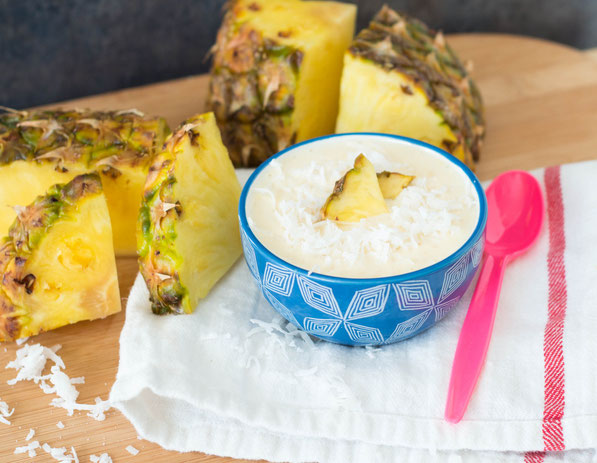 Smoothie bowls are a tasty way to enjoy smoothies for people who would rather eat their meals instead of drinking them.  And as much as I love smoothies of all sorts, I've only made one other smoothie bowl recipe for the blog, my vanilla almond smoothie bowl (which is super tasty!).  
So I decided a tropical smoothie bowl would be the perfect treat (even in the middle of winter).  I've had beautiful fresh pineapple around lately, so that was the inspiration behind this five-ingredient treat.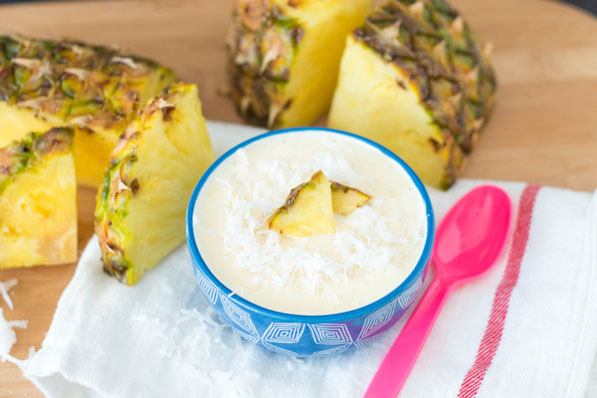 When I first tasted this recipe, there was one ingredient that clearly acted as the star of the show, which was the coconut on top.  Something about that sweet, slightly crunchy coconut makes this smoothie bowl taste more like you're eating soft serve ice cream than a smoothie!  And Greek yogurt, banana, and mango make for a super creamy smoothie base.  
You can add a touch of honey to the smoothie bowl if it isn't sweet enough for you, but I think the fruit and coconut do a beautiful job of sweetening the recipe all on their own!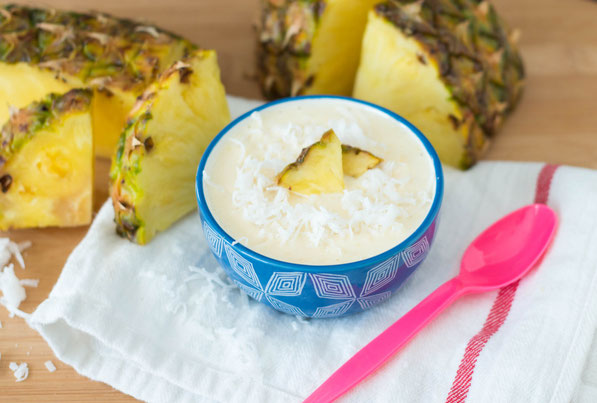 Easy Tropical Smoothie Bowl
Makes 2 servings 
For the smoothie:
 1/2 cup fresh or frozen pineapple
1/2 cup frozen mango
1/2 banana
6 ounce container plain Greek yogurt 
1-2 teaspoons honey (optional)
1/4 cup water
3 ice cubes (if using fresh fruit)
Toppings:
2-3 tablespoons shredded coconut
extra chopped pineapple
Directions:
Place the smoothie ingredients in a blender and blend for at least one minute or until smooth.  The smoothie will be thick.  

Pour the smoothie into a bowl, and top with the coconut and extra pineapple.  
 Happy Eating!
~Amber
---
---