This vanilla almond smoothie bowl is one sweet (and healthy) way to start the day!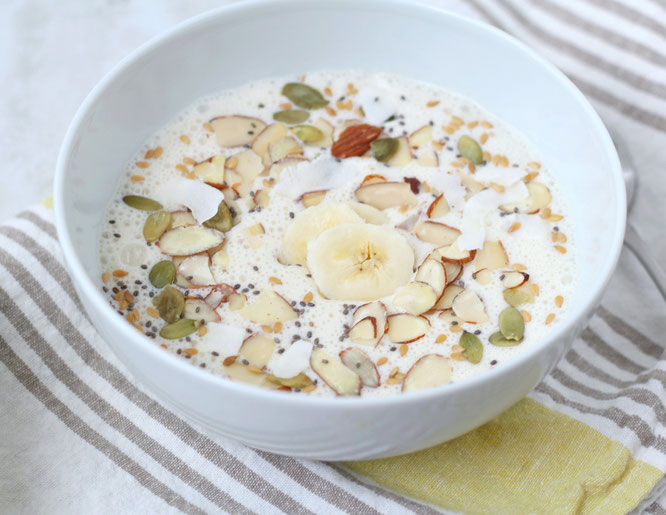 I really love smoothies.  I've got them all over my blog (you can find them in my breakfast recipes) and publish new smoothie recipes almost every week.  I love that they're quick, easy to make, and the perfect drinkable vessel for getting more fruit and veggies in during the day. 
And as much as I love drinking smoothies, lately I've been seeing the concept of "smoothie bowls" showing up everywhere - so naturally I had to give it a try.  A smoothie bowl is basically a smoothie that you pour in a bowl and add various tasty toppings so you can eat it with a spoon - like a bowl of cereal, rather than drinking it with a straw.  This is a great idea for people who like the idea of smoothies, but really prefer to "eat" their meals instead of drinking them.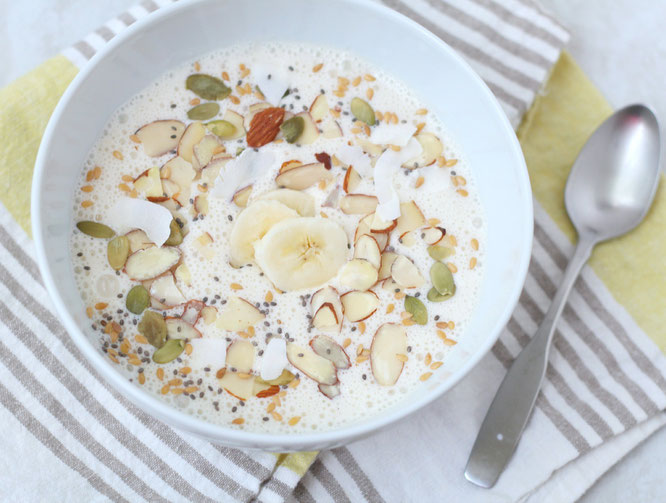 In the process of creating my first smoothie bowl recipe, there was one really, really important thing that I learned:  you have to make a thicker-than-normal smoothie.  When I had my first try at this smoothie bowl idea, I was so excited to pour my smoothie in a bowl, and had all my beautiful toppings ready to go and then....all my toppings sank to the bottom of the bowl, which was a total bummer, although it did still taste good.... :)   

For my next attempt, I reduced the amount of liquid in the smoothie and used a plate with higher edges rather than a bowl  - and it worked!  You still have to be careful when adding toppings to the smoothie bowl, and some of them will probably still sink, but with a little patience, you'll end up with a beautiful and unique breakfast!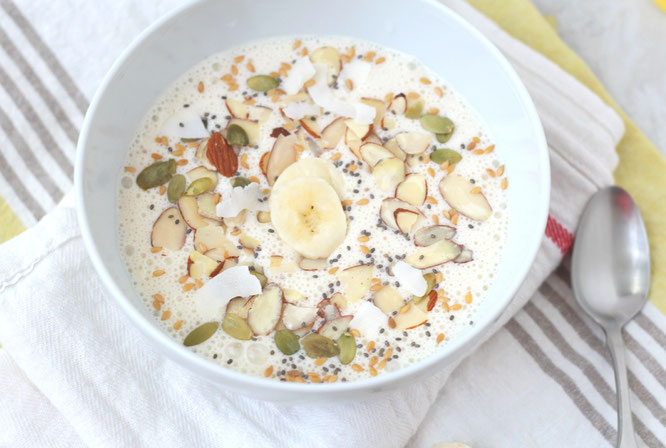 Vanilla Almond Smoothie Bowl

Makes 1 smoothie bowl

Ingredients:
1/2 cup low fat milk

2 scoops natural vanilla protein powder

2 tablespoons toasted slivered almonds

1/2 banana

4-5 ice cubes
Topping options:  sliced banana, almonds, unsweetened coconut, chia seeds, flax seeds
Directions:

Place all ingredients in a blender and blend at least one minute or until the ingredients are completely combined and the smoothie is creamy.  The smoothie will be thick. 




Pour the smoothie into a shallow bowl or a deep plate, and place your choice of toppings on top of the smoothie. 
 Happy Eating!
~Amber
---
---