Who says an on-the-go breakfast has to be boring?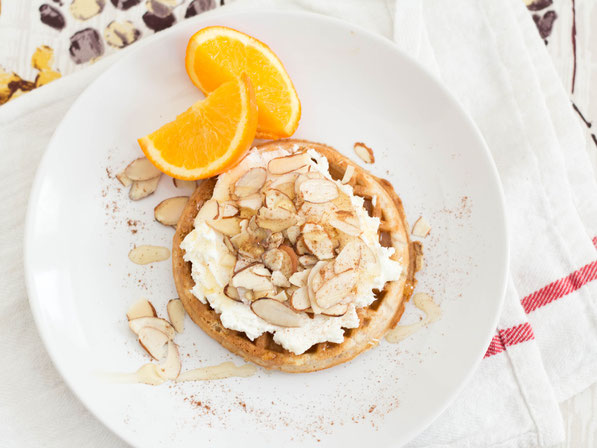 I don't know about you, but sometimes it's really hard to find time to make breakfast before heading out the door.  And since breakfast is my favorite meal of the day, skipping it is completely out of the question!  
That's why I keep a few staple ingredients on hand for days when I want something that tastes at least semi-homemade but isn't something with eggs or a cold smoothie or cold overnight oats.  
(Side note:  if you don't know about overnight oats or want to try them, here's one of my favorite versions of raspberry overnight oats with chia seeds)
For me, having multi-grain frozen waffles on-hand is a must for times like this!  And I don't think this recipe could be any easier to make.  The hardest part is toasting the waffle and then making sure your hands don't get all sticky when you drizzle honey over the top. :) 
---
Quick Almond-Honey Waffle

Makes 1 serving
Ingredients:
1 frozen multi-grain waffle
2 tablespoons whipped cream cheese
1/4 cup thinly sliced almonds
drizzle of honey
cinnamon
fruit of choice to serve on side (optional)
Directions:
Toast the waffle according to package directions.
Spread cream cheese on the waffle.  Top with almonds, drizzle with honey, and sprinkle with cinnamon.  Serve with fresh fruit on the side.
Happy Eating!
~Amber
---
---
---