This refreshing papaya, avocado, and citrus salad is great for healthy digestion!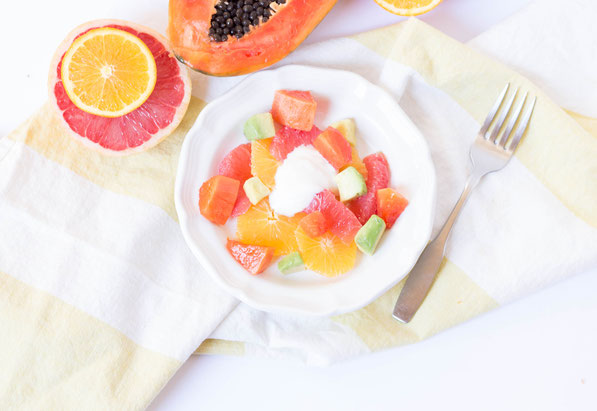 It's not always easy to eat lighter foods in the winter (when all we really want is comfort food), and it can be even more challenging to find tasty cold salad recipes that we actually want to eat when it's cold outside.  
But that's where this salad comes into the picture.  It uses fresh winter produce along with avocado and yogurt to make for a sweet, fresh salad that's super refreshing, even on a cold winter morning!
The star of this salad is papaya.  I've written about it before on the blog, but in case you missed my digestive soothing papaya salad post, here's a quick re-cap on why papaya is so amazing: 
Papaya contains an enzyme called papain which helps break down proteins making them more easily digestible.  This enzyme is so good at breaking down protein, it's actually used as a meat tenderizer in many commercial meat products!  This enzyme has also been found to help improve digestion and may provide relief for digestive issues.  Papaya is also a great source of vitamins A and E, which are good for the eyes and skin, along with vitamin C which is important for immune health. 
As far as weight loss, eating papaya can be beneficial because it's a good source of fiber which helps us feel full for a longer time, so eating a bowl of papaya instead of cereal or dessert each day is a great way to save calories and boost nutrition in your eating plan. 
Grapefruit and oranges are two beautiful citrus fruits that are perfectly ripe and sweet in the winter.  If you're taking certain medications such blood thinners and your doctor or pharmacist has told you to avoid grapefruit, just skip it and double the orange in this recipe.
Avocado brings a creaminess and a bit of healthy fat to this salad - which tastes awesome but also helps this be a more filling meal.  
To make the simple "dressing" all I do is add some of the grapefruit and orange juice leftover from chopping the fruit into some plain Greek yogurt and add a touch of honey.  When you mix it into the salad, it's doesn't look like the prettiest thing you've ever seen, but trust me, it's absolutely delicious!  :D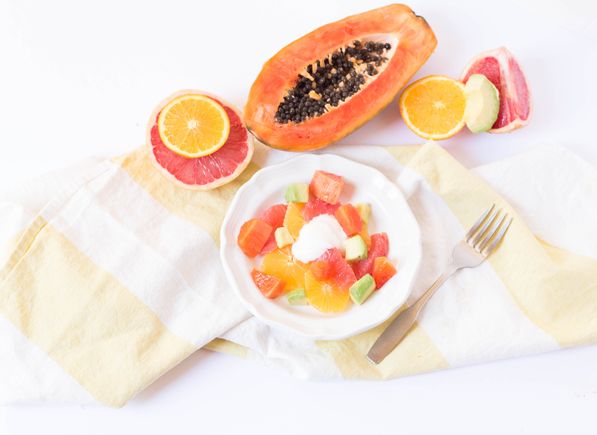 Papaya, Avocado, and Citrus Salad
Makes 2 servings

Ingredients:
2 cups fresh papaya, chopped
1 cup grapefruit slices, about 1 large grapefruit (reserve about 1 tablespoon grapefruit juice while chopping)
1 cup orange slices, about 2 medium oranges (reserve about 1 tablespoon orange juice while chopping)
1 medium avocado, cut into cubes
6 ounces (3/4 cup) plain Greek yogurt
1 tablespoon honey
Directions:

Place the chopped papaya, grapefruit, oranges, and avocado into a bowl and gently toss to combine.  

In a small bowl, add 1-2 tablespoons of juice leftover from cutting the grapefruit and oranges along with the honey and mix well.  
When ready to serve, add the yogurt and gently mix the salad.  
Notes:  If you're going to make this salad ahead and eat it the next day, keep the papaya and avocado in separate containers and mix them in just before serving.  You can also add chopped walnuts for added texture and crunch.  
 Happy Eating!
~Amber
---
---