This no-cook chocolate chia pudding with fresh pomegranate seeds and pure maple syrup takes only 5 minutes to make and is a simple yet impressive dessert; perfect for the holidays!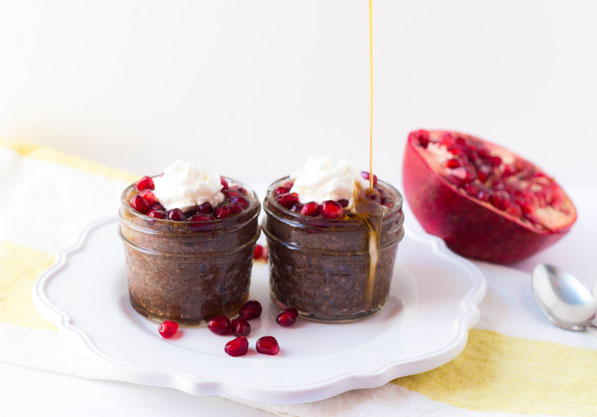 This easy pudding is one of my new favorite holiday recipes because it's a nice break from all of those heavier sweet treats that surround us this time of year.  Plus the star of this dish is one of my favorite healthy foods - chia seeds (which, when in chocolate pudding form, happen to go perfectly with whipped cream, pomegranate seeds, and maple syrup)! :D
I love chia seeds, and I use them in many recipes.  But my favorite way to use them is definitely for pudding.  If you haven't had chia seeds as a base for pudding before, it's time to try it!  And if you're curious about the texture, I think it's very much like tapioca.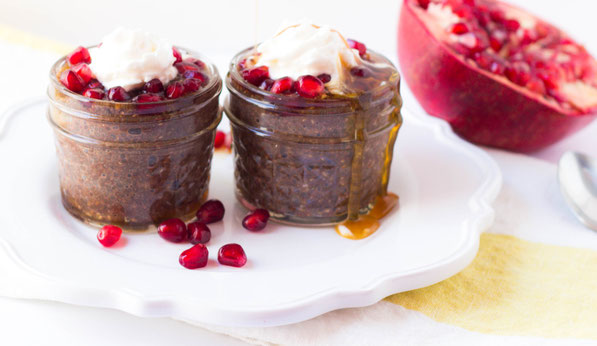 I've talked about chia seeds quite a bit on the blog... but as a quick recap, chia seeds are basically tiny powerhouses in the world of nutrition!
They're an excellent source of fiber, protein, and heart-healthy omega 3 fats.  Just 1 tablespoon of whole chia seeds has about 60 calories, 3 grams of protein, 5 grams of fiber, and a healthy serving of omega-3 fatty acids, which are beneficial for heart health and have anti-inflammatory properties.  

So when you're making pudding out of these little beauties, there's really no reason to feel guilty because there is a whole bunch of goodness in there!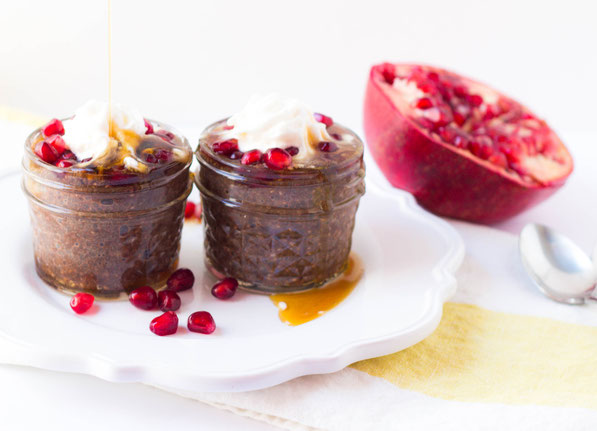 And if you need more convincing to try this little bit of deliciousness, here's another reason:  it is really easy to make!  If you're short on time but want to impress company, or you're simply meal-prepping for the week and want a healthy sweet treat in your meal plan, this recipe is just the thing.  
To make this pudding, you'll need three things:  a bowl, spoon, and a little bit of patience while you wait for the pudding to "cook" itself in the fridge. 
You simply add the chia seeds, milk, cocoa, and syrup to a bowl, give it a quick mix, then cover and refrigerate for at least 3-4 hours (or overnight) while the chia seeds work their magic and gel into a pudding-like texture.  
This pudding can be made 2-3 days in advance and will hold well in the fridge. When you're ready to serve it, all you need to do is give the pudding a quick mix, put it in bowls, and top with fresh pomegranate seeds, whipped cream, and a drizzle of pure maple syrup.  Enjoy!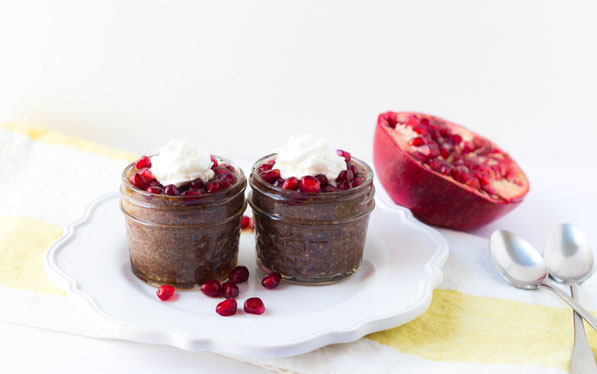 Chocolate Chia Maple Pomegranate Pudding
Makes 2 servings 
Ingredients:
1/4 cup chia seeds 




2 tablespoons pure maple syrup, separated




2 teaspoons cocoa powder




3/4 cup unsweetened low fat milk  (can use cow's milk, almond, soy, or other favorite milk)




1/2 cup fresh or frozen pomegranate seeds for topping

whipped cream for topping 
Directions:
Place the chia seeds, 1 tablespoon of the syrup, cocoa powder, and milk in a medium bowl and whisk to combine. Note:  there will be chunks of cocoa powder at the top of the mixture; they will mix evenly into the pudding after it sets.


Cover and refrigerate for at least 4 hours or overnight.  

To serve, give the pudding a quick stir, place in a bowl, and top with the pomegranate seeds, whipped cream, and the remaining tablespoon of maple syrup.
 Happy Eating!
~Amber
---
---