This decadent 9-ingredient chocolate peanut butter cake is so good, no one will guess that it's actually a lighter vegan recipe!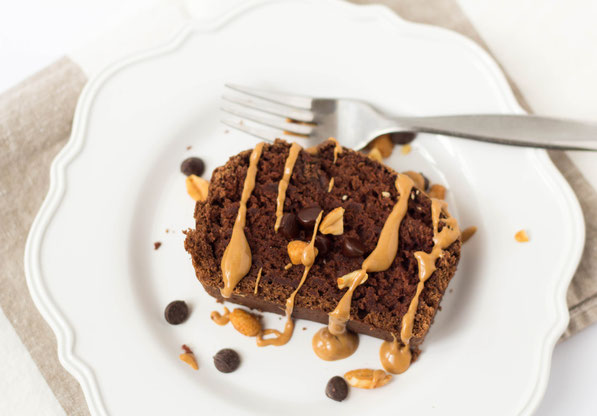 Each month, The Recipe Redux challenges members, who are dietitian and nutrition food bloggers, to create recipes around a theme. This months' theme was to grab the nearest cookbook and redux the recipe (which basically means to give it a healthy makeover) found on either page 54 or 154 of the book. This was definitely an exciting challenge for me and was a nice change of pace when it comes to creating new recipes for the blog.
The cookbook that was nearest to me at the time of getting this challenge was Kitchen Magic with Mickey…yes as in Mickey Mouse.  :)  Those who know me well know my husband and I are pretty big Disney fans.  We even started doing Run Disney half marathons a few years ago just for an excuse to go to Disney World, which I guess is a good thing since it's also made us healthier. ;)
I have a few Disney cookbooks that I've collected through the years because I love making recipes from places we've been. The recipe on page 154 of this cookbook was quite the challenge to make healthier: Chocolate peanut butter cakes. These luscious mini-cakes are served at one of the restaurants at Disney World, and I have to say, they look amazing but are very rich and have a whole bunch of ingredients and different steps.
So to make this recipe not only healthier but something that's also easy to make when short on time, I kept the flavor profile but pretty much changed everything else about it and simply used the original recipe as my inspiration.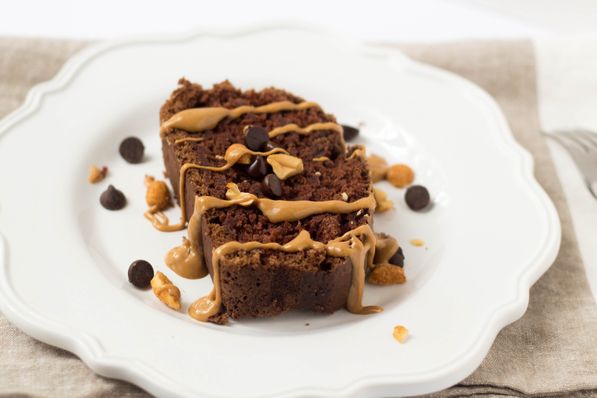 The cake I ended up with was super easy to make – in fact I was done prepping the cake before my oven was finished pre-heating! There's also no fancy mixer required here.  Just a regular old bowl and whisk will do the job just fine, which also makes for easier clean up. 
For the recipe itself, I used one of my favorite base recipes for vegan chocolate cupcakes, and simply added natural peanut butter that I melted in the microwave for about 20 seconds.
I also decided to use a medium loaf pan to bake this cake instead of using a regular cake pan or cupcake pan. Using one smaller pan saves on prep time and I really like the way the slices look on the plate.  
And instead of finishing this cake off with a heavy frosting, I simply melted some more of the peanut butter and drizzled it over the top, then sprinkled some chopped peanuts over everything. I think the result is a pretty special treat!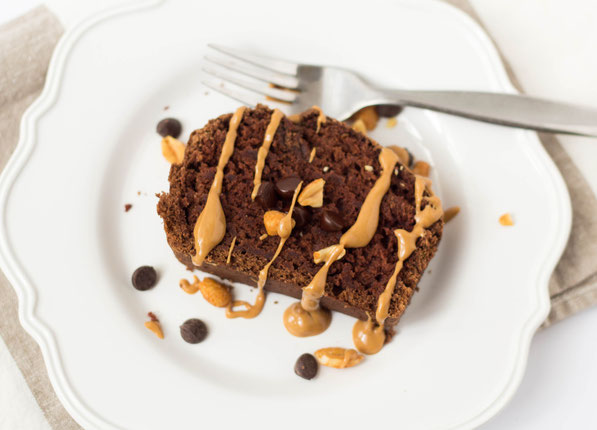 Vegan Chocolate Peanut Butter Cake

Makes about 6 servings

Ingredients:
1 1/2 cups all purpose flour
3/4 cup sugar
1/4 cup cocoa powder
1 teaspoon baking soda
1 teaspoon vanilla
1 teaspoon white vinegar
1 cup water
1/3 cup light olive oil or canola oil
1/3 cup natural peanut butter, melted in the microwave for about 20 seconds
Optional toppings:
additional melted natural peanut butter
chopped unsalted peanuts
Directions:

Preheat oven to 350 degrees.  Place the flour, sugar, cocoa powder, and baking soda in a mixing bowl and whisk to combine. 

Add the vanilla, vinegar, water, oil, and melted peanut butter and whisk until the batter comes together. 

Pour the batter into a lightly greased medium-sized loaf pan.  Bake for 25-35 minutes, or until a toothpick inserted in the center of the cake comes out clean. 

Let cool completely, and top with additional melted peanut butter and chopped peanuts just before serving. 
Happy Eating!
~Amber
---
Recipe inspired by Kitchen Magic with Mickey:  Favorite Recipes from the Disney Parks and Cruise Ships,  Chocolate Peanut Butter Cakes, page 154
---
---
---
Check out some more tasty (and healthy) recipes from fellow dietitian and nutrition bloggers below!