This four-ingredient pear crostini  with pomegranate seeds is a light, fresh appetizer perfect for holiday gatherings!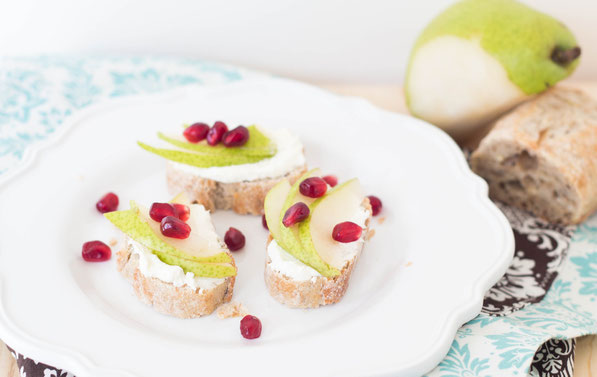 I love coming up with ideas for lighter appetizers, especially this time of year when so much of the food around us is heavy and overly-filling.  And this appetizer is not only light but it's also beautiful, so it definitely won't disappoint!
It's always good to know which produce is in season throughout the year, and pomegranates usually make their debut right around the end of November/early December.  Apples and pears are also usually perfectly ripe in fall and early winter. 
Since pears are the star of this recipe, I decided to focus on them for this post, but if you're interested in learning more about pomegranates, don't worry, I'll be posting about those in more detail soon!

I used Bartlett pears for this recipe, which is the most common type of pear (it's the one with green skin that turns slightly yellow as it ripens).  It's a little tricky to pick a perfectly ripe pear because sometimes they look perfect on the outside, but the inside is mealy or mushy. 
Bartlett pears are really the only ones  that change color as they ripen, so if you see one that looks green with a hint of yellow on the skin, it's probably good to go!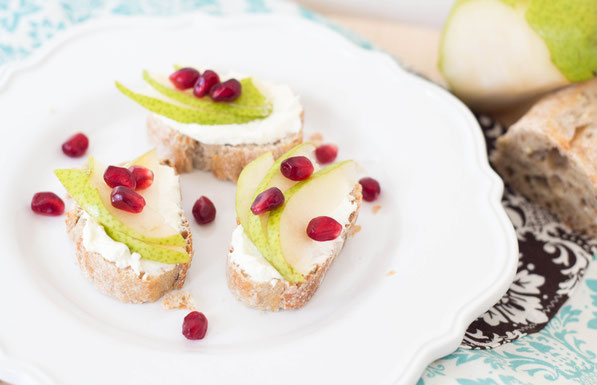 If you're looking for different varieties of pears (other than Bartlett), you'll have to be a little more careful when it comes to picking the perfect one.  First, look for pears that are free of bruises or dark spots, because it's probably mushy under those spots. 
Next, choose pears that are firm.  It's best to buy them firm then take them home and let them ripen for a day or two.  Remember if the pear feels soft, it's probably mushy on the inside!

Fun fact about pears:  did you know pears are one of the very few fruits that ripen better once they're off of the tree?  They actually have to be chilled (at a temperature slightly below freezing) in order to finish ripening correctly. 

If you've gotten pears that still seem too firm or under-ripe, they will soften if you cook them, so don't fret. ;)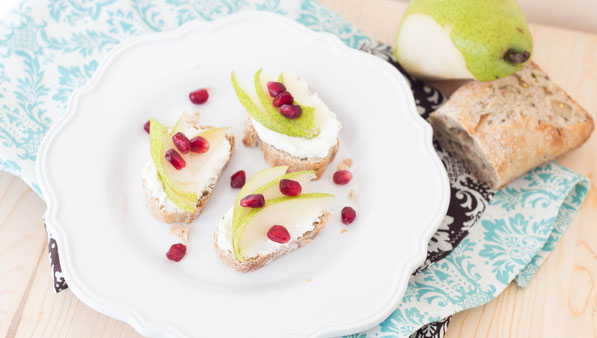 One of the things I really enjoy about this recipe its that there's a lot of contrast of textures and flavor going on between the slightly crispy bread, tangy cream cheese, and sweet fruit.

The other great thing about this dish is that it only has four main ingredients and takes just a few minutes to prepare.  I recommend waiting to toast the bread and slice the pears until just before serving.  You could even put the ingredients out together on a pretty tray and let guests assemble their own crostini for a fun twist on the appetizer. 
And one last note - if you can't find pears or there aren't any ripe ones around, feel free to substitute with apples...it will be delicious either way!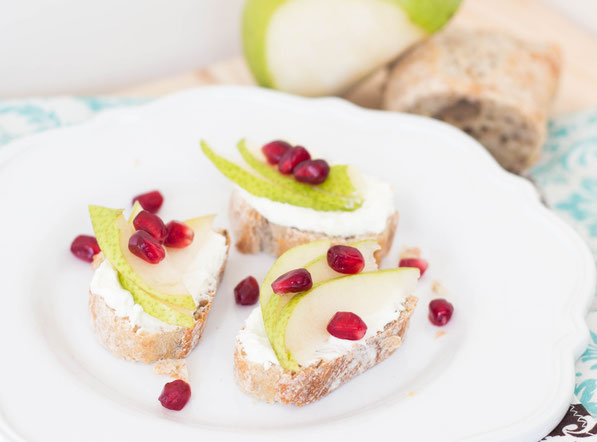 Pear and Pomegranate Crostini

Makes about 6 servings

Ingredients:
1 pear, thinly sliced
1/2 cup fresh or frozen pomegranate seeds
1/3 cup reduced fat whipped cream cheese
1 small whole grain baguette (about 6 ounces)

non-stick cooking spray
Directions:
Preheat oven to 400 degrees.  Slice the baguette into pieces about 1/2 inch thick and about 2 inches around in size.  Place the baguette slices in an even layer on a baking sheet.  Lightly spray the top of each slice of bread with the non-stick cooking spray.  
Bake for 10-12 minutes, or until the bread is toasted and lightly golden in color.  Remove from the oven and set aside.
To assemble the crostini, spread about 2 teaspoons cream cheese on each slice of toasted bread.  Top each crostini with sliced pear and a few pomegranate seeds. 

 Happy Eating!
~Amber
---
---