This protein-packed vegetarian breakfast baked potato recipe is delicious, easy to make, and will keep you feeling full all morning!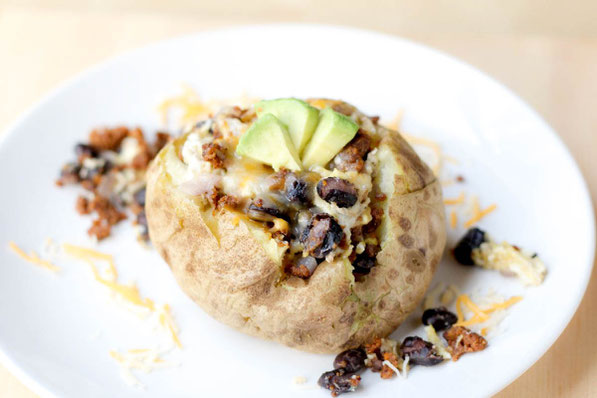 I love breakfast.  It's definitely my favorite meal of the day, no matter what time I eat it...anyone else a fan of breakfast for dinner?  :)

 And this recipe is one of my favorite kinds of breakfast because it's savory and super filling.  
For the potatoes, I used my favorite variety here:  Yukon gold.  The reason I like yellow or Yukon gold potatoes so much is because they have a nice creamy texture on the inside and the skin is thin and light in color, so you can just leave the skin on any way you cook it without really noticing it's there.  This means you don't have to peel the potato, plus you keep all the nutrients and fiber from the potato skin.  So it's an all-around healthier and more convenient way to eat potatoes!
For the filling, I went with a Southwestern theme since I pretty much love all things Southwestern in flavor.  There are two options to keep this as a meatless meal that still tastes like there's meat in there (meat-eaters will not notice the difference!).  The first option is a soy chorizo that you can find in a refrigerated section of the produce department of most grocery stores where they sell tofu and other meat replacements.  
The other option for this recipe is a product called neat.  It's a soy-free meat alternative that uses a base of nuts and garbanzo beans.  At my grocery store, they sell it right by the tuna.  It's in a vacuum-sealed package and is sold as a dry mix.  To prepare it, you add water and egg to the mix and it turns into a remarkably meat-like texture when it cooks.  Either of these meat alternatives are perfect in this recipe! 
The rest of the filling consists of black beans, eggs, and cheese...and everything is topped with avocado.  You really can't go wrong with any of these tasty additions, and this is one of the most filling (healthy) breakfasts I've had.  It's the kind of meal that will keep you feeling full throughout the morning, but in a really good, light kind of way.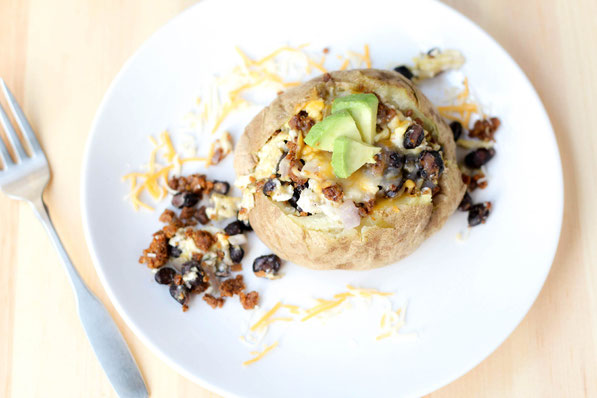 Vegetarian Southwestern Breakfast Baked Potatoes

Makes 4 servings
Ingredients:
non-stick cooking spray
4 small yellow (or Yukon gold) potatoes
1/2 package neat Mexican mix or 6 ounces vegetarian soy chorizo
1/2 cup low sodium black beans
1/4 cup chopped red onion or 3 sliced green onions
4 eggs
1/4 cup reduced fat shredded cheddar or Mexican blend cheese
1/2 medium avocado, chopped
pepper to taste
optional: salsa for serving
Directions:
To bake the potatoes:  Wash potatoes and lightly prick all over with a fork.  Place the potatoes on a microwave-safe plate, cover with a wet paper towel, and microwave in 2 minute intervals for about 6-8 minutes, or until the potatoes are tender and can easily be pierced with a fork.  Set the potatoes aside to cool.
Heat a non-stick skillet over medium high heat, spray with cooking spray, and prepare 1/2 package of neat or soy chorizo according to package directions.  Add the black beans and onion to the skillet.
Crack the eggs into the skillet and use a rubber spatula or spoon to stir the eggs well and mix them with the bean, onion, and meat substitute mixture.  Add pepper and cook for 3-4 minutes, or until eggs are cooked through.  Set the mixture aside.
Slice the top of each baked potato, but don't cut all the way through the potato.  Use a spoon to scoop out about 2/3 of the potato flesh. 
Fill each potato with 1/4 of the cooked egg mixture.  Top with cheese and a few pieces of avocado.  Serve with salsa if desired.
Happy Eating!
~Amber
---
---
---