This farro salad with roasted veggies and ham makes for a beautiful fall lunch or dinner.  You can also use leftovers from earlier in the week to make variations of this easy meal!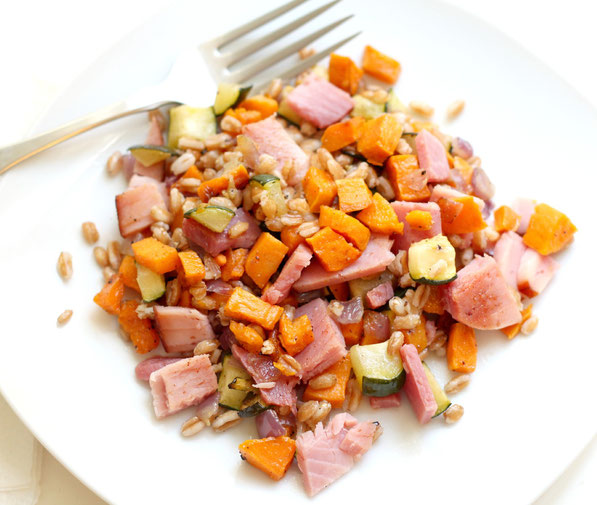 I don't use ham very often in my recipes, but sometimes it's a really nice change of pace from the usual chicken, turkey, or fish...especially after so much turkey on Thanksgiving!
This recipe was basically the result of taking leftovers I already had in the fridge from the week and tossing them all together.  In the directions, I have this recipe made as a hot dish, but honestly, I ate it cold...straight out of the fridge.  It was delicious. :)
To help me get ahead with meal planning, I usually make a larger batch of some sort of whole grain at the beginning of the week so I have it on hand to add to salads, as a quick healthy side dish, or even to add to my yogurt in the morning.  
This week I made my favorite grain, farro.  I've talked about farro before on the blog, but the reason I like it so much is that it's very hearty and nutty in flavor.  I buy the quick-cooking farro, so it's ready in just 10 minutes, which is a huge bonus!  You could use brown rice, barley, or even quinoa if you prefer. 
In preparation of the Thanksgiving turkey overload, I bought a nitrate-free ham earlier this week to change things up.  It's already cooked, so it's ready for salads, sandwiches, and this recipe!
The final ingredient in this recipe is my favorite roasted veggies.  I made multiple batches of these vegetables this week: one for my healthy Thanksgiving cooking segment on TV, and two batches for two separate Thanksgiving gatherings.  I usually don't have many leftovers of these veggies, but since I made so much earlier this week, I had some extra on-hand.  So to make this simple dinner, all I had to do was grab a plate and add some veggies, farro, and ham.  I mixed it together and that's it!  Had I been more patient, I would have heated it up first, but that would have taken at least an extra minute. ;) 
If you have any extra cooked protein, grains, and veggies from the week, try combining them into a simple meal like this recipe - it's a great way to use up any leftovers and enjoy a healthy meal in under five minutes!  
---
Farro Salad with Roasted Veggies and Ham
Makes about 6 servings
Ingredients:
3 tablespoons canola oil




2 cups frozen butternut squash cubes




1 large zucchini, chopped




1 red onion, chopped




1 teaspoon garlic powder




1/2 teaspoon salt




black pepper to taste




2 cups quick-cooking farro (can also use barley or brown rice)




1 pound nitrate-free (or "uncured") cooked ham, cubed
Directions: 
Preheat oven to 425 degrees.  Place all ingredients in a large bowl and toss to combine. 




Spread the mixture onto a lightly greased non-stick baking sheet, and bake for 30-45 minutes or until the vegetables are tender.




While the vegetables are cooking, cook the farro according to package directions.  Once the vegetables and farro are cooked, mix them together and add the ham to the mixture.   Serve immediately or refrigerate up to 5 days.  
---
---
---