Fresh ginger, almonds, and golden raisins make this easy pink rice pilaf extra special!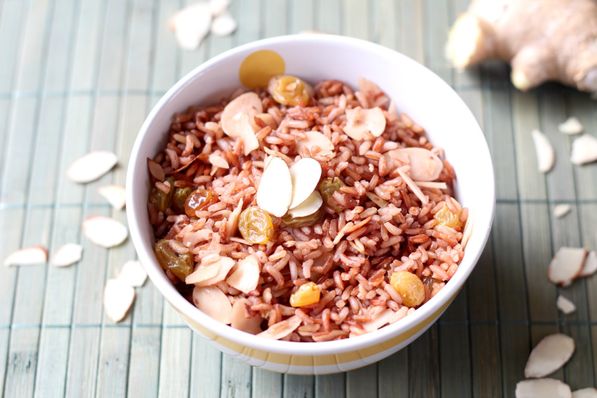 Have you seen all of the different types of rice at the grocery store these days?  I love trying new foods, and lately I've been going for new (to me) grains and have been loving it!  Most of us have grown up with the typical white or brown rice, oats, and wheat as our main sources of grain.  But over the past several years, we've seen more and more variety pop up in the grain aisle at our grocery stores.  
And one rice variety that I hadn't seen before is Madagascar pink rice.  It has a pretty, slightly pink color (hence the name), a light texture similar to basmati rice, and a subtle sweet flavor.  
Most of the bran is still retained during the milling process of pink rice, so it's a great whole grain source of protein and fiber.  That also means it's heartier and more filling than white rice varieties so if you're enjoying a meal without meat, it contains more nutrition that will help keep you fuller for a longer time after eating.  
Madagascar pink rice cooks in about 20 minutes, compared to at least double that time for most whole grain rice varieties, and any extra time I can save time in the kitchen is a beautiful thing!  
This recipe is simple to make and has the beautiful aromatic flavor of fresh ginger in every bite of this dish.  Then there are almonds and golden raisins to add a pop of color and texture to this tasty rice pilaf.  
I used Lotus Foods Madagascar pink rice in this recipe.  They have some really awesome business practices that benefit the the earth and and promote sustainability and quality of life for women who work in the grueling rice-growing industry.  Their system of growing rice uses 50% less water, 90% less seed, and yields 3 times the crop compared to traditional rice-growing methods.  That is pretty amazing if you ask me!  You can find it at some grocery stores, but it's easy to order online as well.  
If you want to hurry and make this recipe today and can't find the pink rice, feel free to use brown rice or basmati rice and you'll still have a delicious result! 
Disclaimer:  I was provided with a free sample of this product.  I was not compensated for this post and all opinions are my own.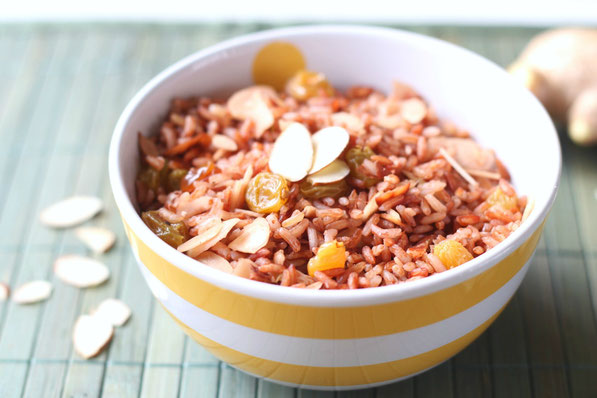 Ginger Almond Pink Rice Pilaf
Makes 4 entree servings, 6-8 side portions
Ingredients
2 teaspoons canola oil
1 teaspoon fresh ginger, finely chopped or grated
1/2 cup sliced almonds
1/2 cup golden raisins 
1 cup Madagascar pink rice (can also use brown rice or basmati rice)
salt and pepper to taste
1 3/4 cups low sodium vegetable broth
Directions: 

Heat medium pot over medium-high heat.  Add the oil and ginger, stir for about 30 seconds until the ginger is fragrant.  
Add the almonds, raisins, rice, salt, and pepper and stir to combine all ingredients. 
Add the vegetable broth, bring to a boil, then reduce heat to low.  Cover and simmer for about 20 minutes or until rice is cooked and liquid is absorbed. 
Remove from heat and fluff the rice with a fork.  
Happy Eating!
~Amber
---
---
---