This is an easy recipe that's perfect for tailgating season!  A few simple store-bought items come together in minutes to make these Southwestern hummus bites.  Everyone will love this tasty, healthy snack!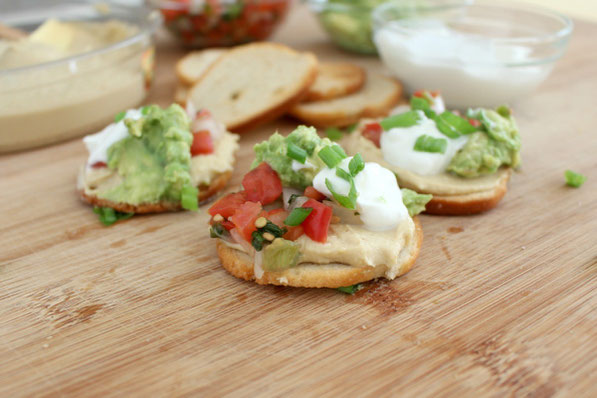 Disclaimer:  By posting this recipe I am entering a recipe contest sponsored by Sabra Dipping Co. LLC, and am eligible to win prizes associated with the contest. I received coupons for free product used in testing this recipe. I was not compensated for my time.
This month the Recipe Redux and Sabra are challenging us food bloggers to reinvent some game-day grub using hummus!  Which is great, because I think hummus is absolutely delicious... :) 
I teach a lot of nutrition classes and give grocery store tours on a regular basis, and I often show people hummus and talk about it as a healthy snack option.  Which leads to a question I get all the time..."what exactly is hummus?"  Hummus is made up of chickpeas (also called garbanzo beans) that have been boiled and then are mashed or blended with garlic, oil, and spices.  Being a Texan, we're really familiar with bean dip, so I like to tell people that hummus is basically just a Mediterranean bean dip made with chickpeas and different flavors instead of a pinto bean dip.   
This healthy plant-based snack packs a pretty powerful punch when it comes to nutrition:  You'll get fiber, protein, iron, and b-vitamins (great for healthy energy) along with a source of heart-healthy unsaturated fat.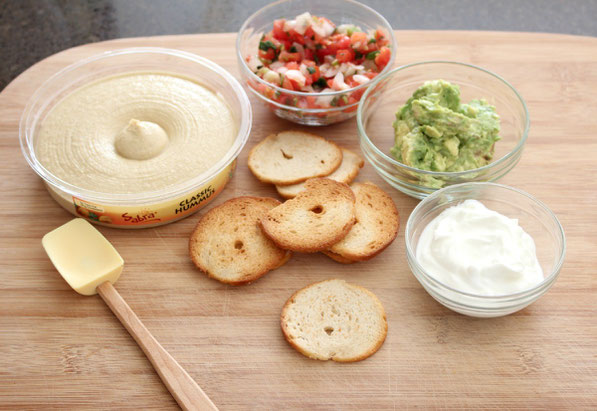 When you pair hummus with whole grains (like in this recipe), you'll get a serving of both soluble and insoluble fiber.  That means you'll get the heart-healthy and cholesterol-lowering benefits of the soluble fiber along digestive-friendly insoluble fiber.  This combination along with the protein found in chickpeas has been found to promote heart-health and is beneficial for weight loss and blood glucose control. 
Hummus is a great snack option because it's an easy way to get the recommended servings of beans into your day.  In fact, just two spoonfuls of hummus each day will provide your recommended bean intake for the week!  That's one tasty and easy way to get those beans in!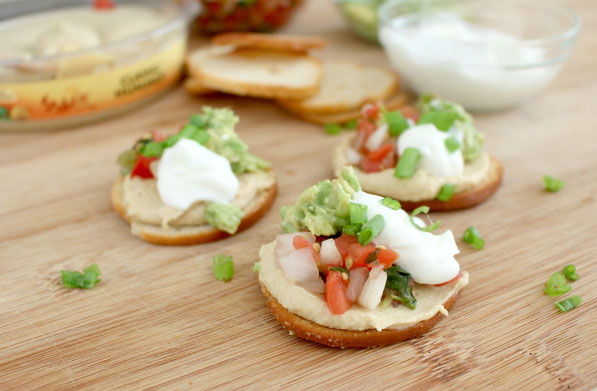 The other reason I like recommending hummus as a snack option is that when people swap their regular afternoon snack (like chips, candy, cookies, etc) for a serving of hummus with fresh veggies or whole grain crackers,  they see really positive results. 
They notice increased energy (thanks to that fiber and protein) and also improved weight loss, since they are taking a high-calorie, high-sugar/salty snack and replacing it with a healthy plant-based food.  Not to mention it tastes great and for someone like me who loves savory and salty flavors, it really hits the spot!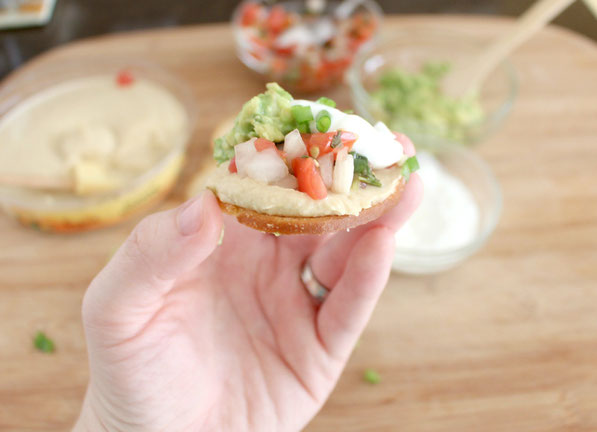 This recipe was designed to be a healthy, tailgate-friendly snack.  It's so simple and involves almost no preparation (yay!).  I like to serve this by just setting out the bowls of ingredients and letting people assemble their own snack bites, but you could also take a few minutes and make a batch of them so people can just grab a few and enjoy them right away.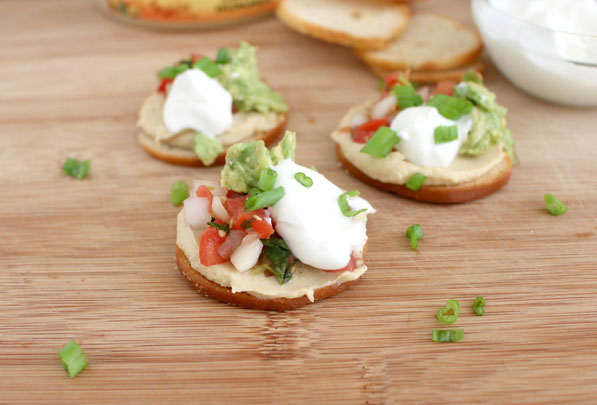 I went with a Southwestern-inspired theme, using store-bought pico de gallo and guacamole, with plain Greek yogurt acting as the "sour cream."  If you can't find pre-made pico de gallo at your local grocery store it's also easy to make at home:  just mix 3 chopped roma tomatoes, 1/2 medium yellow onion, 1/4 cup chopped cilantro,  and some chopped jalapeno to taste and that's it!  Sabra classic hummus makes the perfect base for this recipe, and it's a great healthy short-cut when making game-day snacks since all you have to do is open the package and enjoy! 
You can also make your own guacamole if you prefer not to buy it (here's my easy guacamole recipe if you need ideas for that). 
Here's to a happy (and healthy) tailgating season!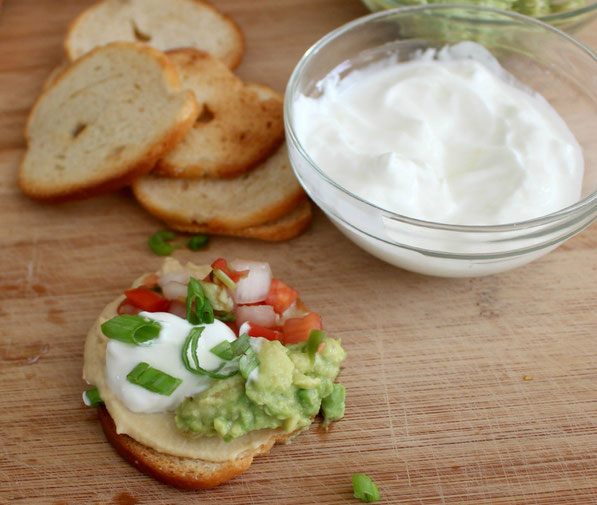 ---
Easy Southwestern Hummus Bites

Makes 10 servings (serving size 3 snack bites)

Ingredients:

1 7-ounce package whole grain bagel chips

10 ounce container Sabra® classic hummus
2 cups store-bought pico de gallo*

1 cup store-bought guacamole
1 cup plain low fat Geek yogurt
4 green onions, sliced (optional)
Directions: 

To prepare the snack bites: Top each bagel chip with 1 tablespoon hummus and a small spoonful of pico de gallo, guacamole, and a small dollop of yogurt.  Garnish with slices of green onion if desired and serve.

*Note:  If you can't find pre-made pico de gallo at your local grocery store it's also easy to make at home:  just mix 3 chopped roma tomatoes, 1/2 medium yellow onion, 1/4 cup chopped cilantro,  and chopped jalapeno to taste
 Happy Eating!
~Amber
---
---
Below are more ideas on how to get your two spoonfulls of hummus from fellow nutrition and food bloggers!