These sweet potato gnocchi have a Southwestern flare with sauteed veggies, black beans, spices, and fresh cilantro.  This is fantastic, flavorful vegetarian meal!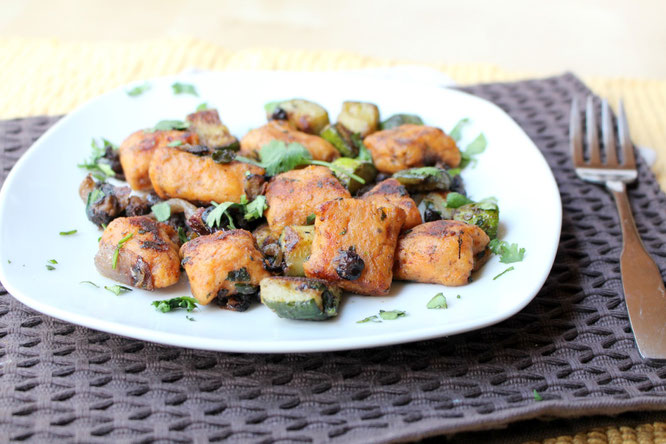 This dish is SO good.  I love combining different flavors and foods in unexpected ways, and I also love it when dishes have interesting flavor profiles like a little sweet and salty going on at the same time.  I think the more flavor and "interesting" factor our food has, the more satisfying it is, and the less we need to eat to fully enjoy it and feel satisfied.  
And this dish is just that:  it provides an interesting, beautiful combination of unexpected flavors.  Gnocchi are a type of pasta but I think of them more like little potato dumplings. They're an Italian dish, so you don't usually find gnocchi mingling with spices like chili powder and cumin, but let me tell you, using sweet potatoes instead of white potatoes with this combo of spices plus the black beans makes for such a beautiful dish and fun food experience.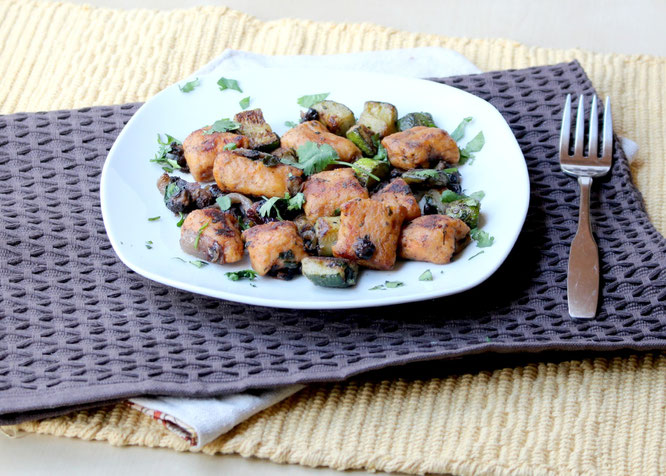 Making gnocchi isn't that difficult, but it does take a little time and patience.  For that reason, there are a couple of ways to go about making this recipe.  The first is that you choose to make it on a weekend when you have time and feel like hanging out in the kitchen for a while (the gnocchi take about 30 minutes to make start to finish this way, plus about 15 minutes extra cooking time for the veggies and to finish it all).  

The other option (which I think is the better option), is to make the gnocchi the night before but don't cook them yet, and refrigerate the raw gnocchi until the next day (making the gnocchi dough this way, shaping it, and refrigerating will only take about 20 minutes).  That way, the night you're ready to eat them, you can go ahead and start cooking the vegetables while you bring the water to a boil for the gnocchi, and the whole dish will come together in about 20 minutes.  
And if you're thinking, "why would I want to make gnocchi dough the night before, when I'm already going to be tired and not feel like cooking..."  my answer is to set aside about 20-30 minutes, put on the TV or some fun music, and just relax and enjoy a little quiet time in the kitchen while you put these together.  It really goes by pretty quickly, and I find it can be relaxing/peaceful to work on a little bit of meal prep in the evenings.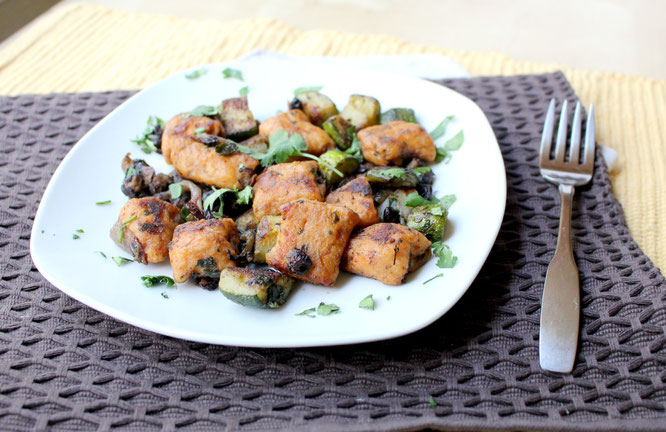 Now, there is one more option for the ultimate short-cut:  if you think this dish looks amazing (because, it totally does, right?) but you are just not into the idea of cooking these gnocchi and are super short on time, you can look for pre-made gnocchi at the grocery store, then just cook according to the package directions and add to the veggie mixture for a quick dinner that will taste similar (but not exactly the same).  You can sometimes find gnocchi in the refrigerated pasta section at the store and sometimes in the frozen section.  
But really the best way to enjoy this dish is to take the little bit of extra time to make the gnocchi from scratch.  I hope you enjoy this tasty dinner!
---
Sweet Potato Gnocchi with Sautéed Black Beans and Veggies
Makes 4-6 servings
For the gnocchi:
2 cups sweet potato, peeled and chopped (about 1 large or 2 small sweet potatoes)

1 egg

salt and pepper to taste

1 1/2-2 cups flour
For the sauteed vegetables:

2 teaspoons canola oil

1 large zucchini or other squash, chopped

1/2 red onion, sliced or chopped

1 cup cooked black beans (1/2 of a 15-ounce can), rinsed and drained

1 garlic clove, chopped

1 teaspoon chili powder

1/2 teaspoon ground cumin

salt and pepper to taste

2 tablespoons unsalted butter

fresh cilantro for garnish (optional)
Directions:

To make the gnocchi, steam or boil the sweet potatoes for about 7-8 minutes or until tender, drain, place in a large bowl, and set them aside to cool for a few minutes.  
Once cooled, add the egg, salt, pepper, and 1 1/2 cups of the flour and mix to combine well.  The mixture will begin to form a dough.  Add more flour as needed to make the dough dry enough to handle, but still slightly soft and sticky.  
To form the gnocchi, place the dough on a floured cutting board and press it out to about 2 inches thick.  Use a knife to cut strips length-ways out of the dough - about 6 strips total.  Use your hands to roll each strip of dough until it becomes round and is about 1 inch in diameter.  Use a knife to cut the strip of dough into 1 to 1 1/2 inch pieces.  Repeat with the remaining strips.  You will end up with about 60 gnocchi (or slightly more or less depending on how big or small you make them).   
At this point, you can place the gnocchi on a lightly sprayed pan, cover with plastic wrap, and refrigerate overnight to use the next day.  
When ready to make the gnocchi, fill a large pot about 2/3 of the way with water and bring to a boil.  Working in about 3 batches, place the gnocchi in the boiling water and cook for 2-3 minutes, or until the gnocchi float.  Remove from the water and place in a single layer on a baking sheet until ready to add to the vegetables.  
To make the vegetables and finish the dish:  Heat a large cast-iron or non-stick skillet over medium-high heat.  Add the oil, vegetables, beans, and seasonings and cook for about 10 minutes or until the vegetables are tender.  If the vegetables begin to stick to the pan or brown too quickly, add water 2 tablespoons at a time and continue stirring (no need for more oil!).  
Once the vegetables are tender, add the butter and gnocchi to the skillet and cook everything together for about 5 minutes.  Add fresh cilantro to the finished dish for garnish if desired and enjoy!
 Happy Eating!
~Amber
---
---