As a dietitian and food blogger, I spend A LOT of time in the kitchen....like probably more hours in a week than most people spend in their kitchen in a month!  I get asked quite a bit about kitchen tools that I think are essential for the busy cook to have on-hand.  So I decided to write about five tools I use almost every day in my kitchen and why I think they're so important.  Let me know your thoughts on these!
#5:  Lemon/Lime Juicer: 
This kitchen tool is small but mighty!  I don't have too many little "gadgets" in the kitchen because they can cause a lot of clutter in kitchen drawers and easily end up being just an extra dish to wash, but this is one I use almost on a daily basis and it's super handy. 
The reason I find this tool so useful is because it actually gets all the juice out of lemons and limes (with almost no effort), plus catches the seeds from the lemons, and you don't have to deal with burning hands from getting that acidic juice on any little cuts on your hands, which is most unpleasant.  This tool gets so much more juice out of lemons and limes than I can get on my own, so I think it is completely worth the $5 (or less) price.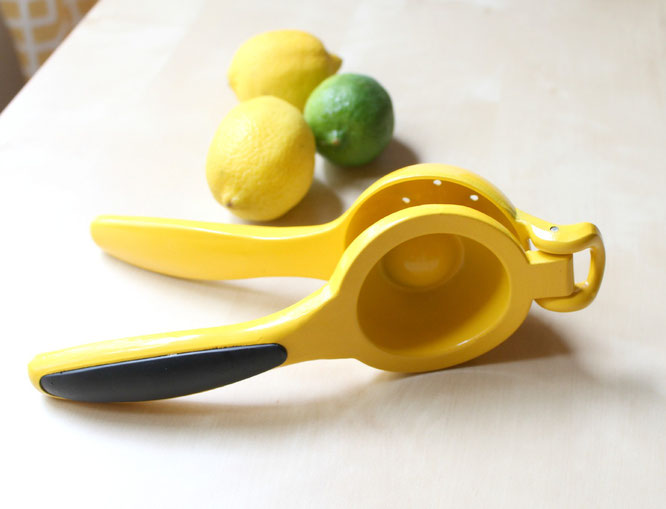 #4:  Flat Top (or Electric Griddle): 
I use my flat cooking top on the stove for so many things.  I heat tortillas on it, make pancakes, grilled steak or chicken, grilled sandwiches (yes these can totally be healthy) and even grilled veggies.  It's nice to have a little extra space to cook multiple things at the same time, and the heat is nice and even since it's a completely flat surface.  If you don't have one of these handy flat-top attachments on your stove, you can buy electric griddles for as low as $25, and those do pretty much the same thing.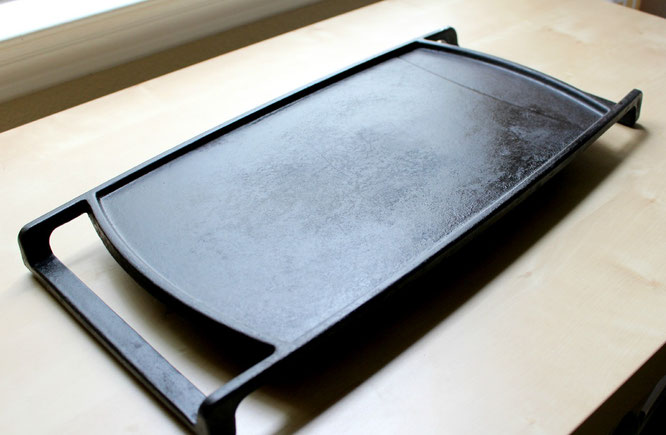 #3: Cast-Iron Skillet: 
There are many benefits of using cast-iron skillets.  As far as cooking goes, these skillets heat very evenly so I find foods come out just a little better than cooking with other types of skillets.  They are dependable, easy to maintain, and can last for decades.  A cast-iron skillet seasons over time from the foods you cook in it, and a well-seasoned cast-iron skillet naturally has a little shiny layer which basically makes it act as a non-stick pan, so you don't have to use as much oil when you cook with it.  (Note:  you should never use soap to clean a cast-iron skillet, just hot water and a gentle scrub will do the trick!). 
There are also no chemicals like the ones you'd find in non-stick cookware, but there is one good thing that can leach out of these pans and into your food:  iron.  Many people don't get enough iron in their diets, and cooking with a cast iron skillet actually causes some of your food to become fortified with iron.  You can pick up a good cast iron skillet for under $10 at many stores, which is a great price considering you'll be able to use it pretty much forever!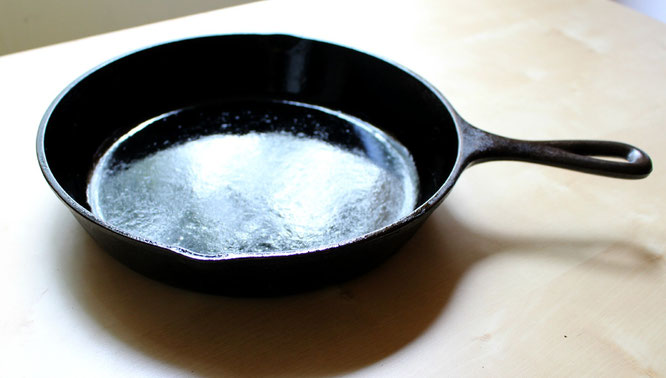 #2: Small Blender: 
This is another kitchen tool I use almost every day - But it wasn't always that way.  I, like so many people out there, used to have my blender hidden away in a kitchen cabinet where it never saw the light of day.  But then I decided to make some changes to my eating plan and wanted to find ways to get more fruits and (especially) veggies into my day.  For me, smoothies have been one of the best ways to do this.  I start my most of my days with a simple green smoothie:  2 cups spinach, 1/2 cup frozen mango or peaches, 1/2 banana, 1/2 tablespoon chia seeds, juice from 1 lime (hence, the lemon/lime juicer!), and 1 cup of cold filtered water.  Sometimes I add yogurt to bump up the protein, and sometimes I even have 2 different smoothies in one day, and I eat so much more produce and have so much more energy now! 
I recently upgraded my blender to a Nutri Ninja (yay for awesome birthday gifts), and it is amazing!  There are blenders of all price ranges out there, from $20 to over $500, but this one works really for me and I highly recommend it.  I have the nutri nija pro (not the crazy fancy version), which you can find online for under $100, but before that I had a magic bullet, which is under $50 and worked really well for me for several years.  If you're wanting to make more smoothies, I do recommend getting a smaller, "single serve" blender, because I've found they work better for fewer ingredients, are easier to clean, and take up less space on the counter.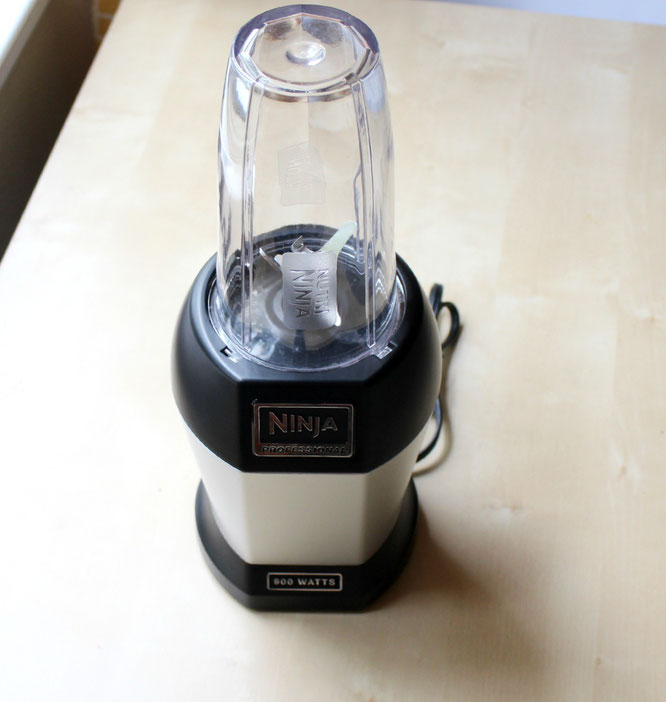 #1: Chef Knife/Cutting Board: 
Okay, I know it's two things in one here, but these two kitchen tools just go together and are the things I use more than anything else in my kitchen.  Now, I know it may sound obvious to have a knife and cutting board, but I'm not talking about just any knife here.  The knife pictured below is a chef's knife, and lots of people are scared of using these because they're a little bigger than most of the knives we grew up using and are used to at home.  But with a little practice, a sharp chef's knife will get just about everything done that you need a knife for.  I use it for fruits, veggies, and meat.  The keys to being successful with any knife are making sure that you hold it properly and never, ever put your fingers in the line of fire,  and also that the knife is sharp.  It may sound weird and kind of scary, but the reality is a dull knife is a dangerous knife because it's more likely to slip from a food rather than cutting it, and fingers are often a little too close when this happens.  So a good, sharp knife is a must.  The only other knife I use on a regular basis is called a serrated knife (the ones that have teeth) because it's the best at cutting bread and tomatoes, which can easily get squished by regular knives. 

As for cutting boards, I have a few different ones, but the one pictured is the one I use the most.  It's a pretty small wood cutting board that I use for fruits, veggies, and breads.  Some people like larger cutting boards, but I find this one easier to wash and it works well for most standard kitchen tasks.  One thing I make sure to do is use one side for fruit and the other side for veggies (I have a tiny label on one side that has a "v" for veggie).  This way when I decide to cut strawberries they don't end up having a background flavor of garlic or onion leftover from previous chopping.  I also have a separate plastic cutting board for raw meat.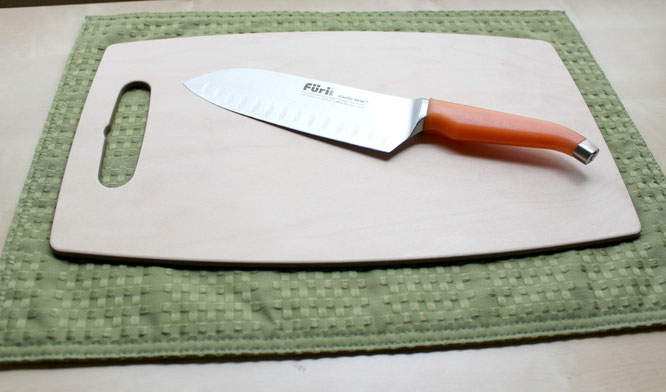 ---
I hope these kitchen tools and tips have been helpful!  What are your favorite kitchen gadgets?  I love learning about new tools or things that help other people in the kitchen, so leave your thoughts in the comments below, and share this article with anyone in your life who's trying to find their way in the kitchen!

---