No boring entrée salad here!  This bright vegetarian Southwestern salad is full of flavor, color, and is plenty filling!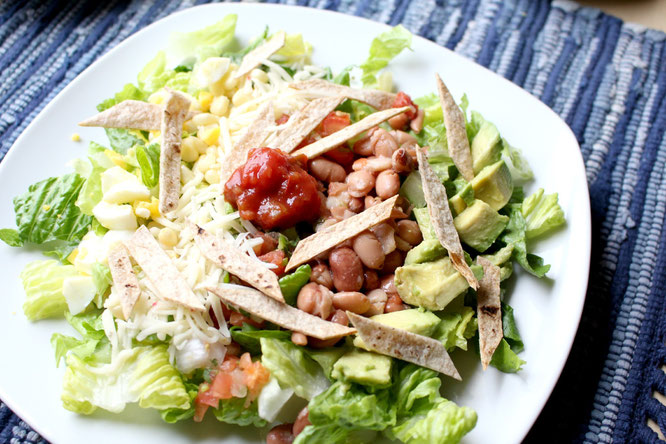 There are two main issues people tell me they have with salad:  It can be boring and leave them feeling hungry.  So often when people are trying to lose weight, they turn straight to salad as that classic go-to diet food.   But when I talk to clients about their eating plans, the reality is they are bored with their salads everyday and talk about it as if it were a punishment more than something they actually enjoy eating.  And there's a big problem with that:  it's not sustainable.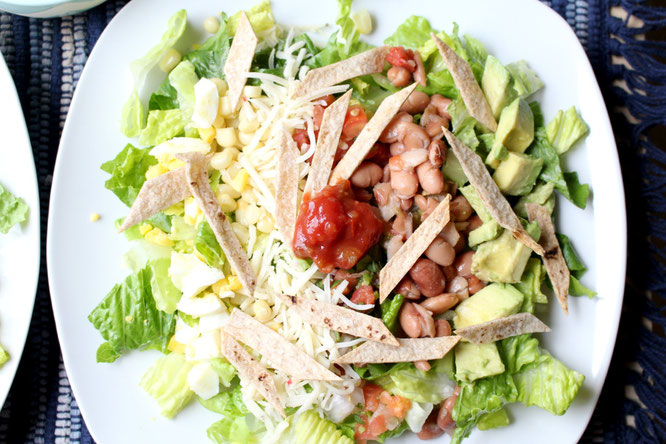 Eating well (especially when trying to lose weight) should be enjoyable because the whole point of eating better to become healthier is to be able to continue that lifestyle once we reach those health goals.  That's why it is so important to make meals that are not only healthy but also taste really good.  I've worked with so many clients who have lost weight before just to gain it back later because once they reached their goals they didn't want to continue eating the foods they ate to lose the weight. 
Again, that tells me that they weren't eating in a way that is sustainable long-term for success.  It's so important for everyone to find a way of eating and movement that works for them and stick to it.  There isn't necessarily a "one size fits all" approach to losing weight or maintaining a healthy weight once we reach those goals. 

Entrée salads don't have to be a bowl of lifeless lettuce that needs to be drenched in dressing in order to taste good.  There are actually a lot of ways to make salad a rock star entree that is satisfying and tastes great.  You don't even need meat or a bunch of dressing to enjoy eating your veggies in salads like this one. :)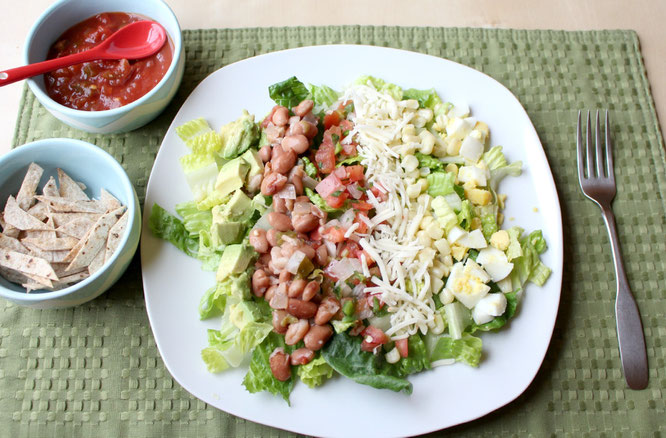 There are so many tasty ingredients that come together perfectly to make the best combination of flavors in this recipe.  There's creamy avocado, sweet corn, filling beans, cheese, and hard boiled eggs for protein, and it's all sitting on a bed of crispy romaine lettuce.  If you like something crunchy on your salads, you'll love the easy homemade tortilla strips.  And the special ingredient that adds even more flavor without needing dressing is the pic de gallo.  Most stores sell premade pico de gallo in the produce "ready made" section, but you can also make it easily at home by chopping some tomato, onion, cilantro, and a little jalapeno if you like some heat.  And if you just can't find it or don't want to make it, you can use extra salsa to replace it in the recipe. 
My favorite way to eat this salad is to add some salsa for the dressing then toss it all together so every bite is filled with something different.  This is the kind of meal that will fill you up but still keep you feeling light and energized.  Clean eating has never tasted better!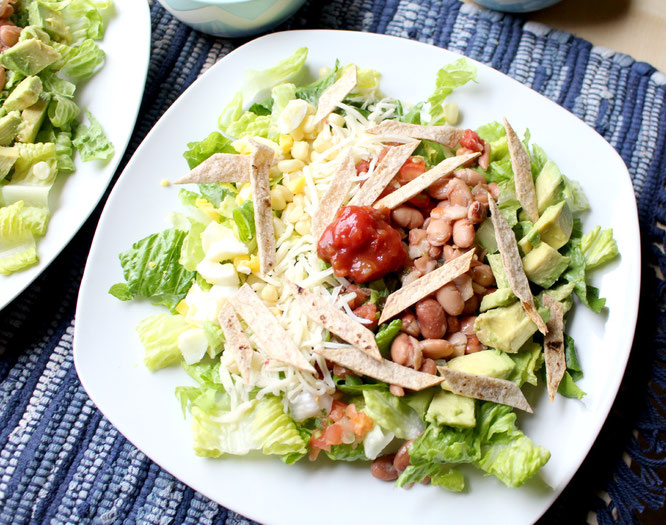 Colorful Southwestern Salad

Makes 2 servings

Ingredients:
1 whole grain tortilla or two corn tortillas, cut into strips

4 cups romaine lettuce, chopped


1 medium avocado, chopped

1/2 cup corn kernels, fresh or frozen (thawed)

1/2 cup reduced fat shredded cheddar or Monterrey jack cheese

2 hard boiled eggs, chopped

1/2 cup store-bought or homemade pico de gallo


1/2 cup low sodium beans, rinsed and drained




salsa to taste
Directions:

Preheat the oven to 350 degrees.  To make the crispy tortilla strips, place the strips of tortilla onto a baking sheet and bake for about 10 minutes or until they reach desired crispness.  Set aside to cool.

To assemble the salads:  Place the half of the lettuce on each plate.  Line up the remaining ingredients on each salad.  Top with the tortilla strips and your favorite salsa. 

Happy Eating!
~Amber
---