Kale, fresh ginger, and orange are a refreshing combination that makes this green smoothie completely satisfying and delicious!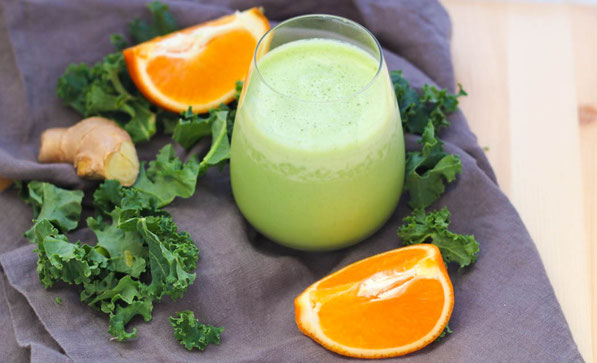 Does anyone else love smoothies all year round, even in the winter months??  The cold weather definitely doesn't scare me away from a nice icy smoothie - it's such a refreshing way to start the day.
Lately I've been working more kale into my eating plan - normally I'm more of a spinach kind of gal, but fresh kale is perfect this time of year and it's been a welcome change to the green-routine!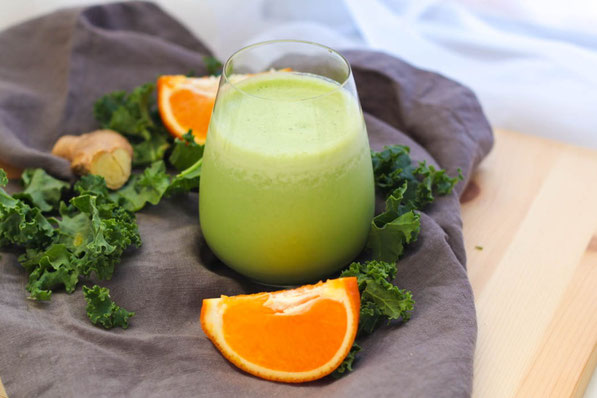 And since I've been using more kale in my smoothies, I've also been adding more citrus to them, which really cuts through that slightly bitter taste kale can leave upon everything it touches... ; )  Quick tip:  you can also remove the stems and just use the leaves of kale if you still find it too bitter.  
Winter is one of the best times of year to enjoy citrus fruit, especially oranges, since they are very much in season and perfectly delicious!  Paired with a touch of freshly grated ginger, and the flavor in this smoothie is spot-on.  Greek yogurt adds the creamy element to this smoothie, and also makes it more substantial.  You could keep this smoothie vegan if you want to by omitting the yogurt, in which case you'd have a really nice, east-to-make three-ingredient green juice.  
Here's to a brighter, greener January packed with veggie-goodness! :)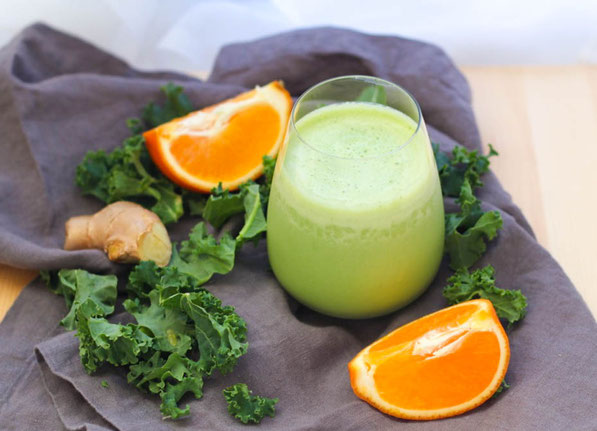 Orange-Ginger Green Smoothie
Makes 1 Serving
Ingredients:
1 cup kale or spinach
1/2 banana
1/2 small orange (about 1/4 cup), peel removed
1/4 teaspoon fresh grated ginger
1/2 cup vanilla Greek yogurt (can also use plain)
1/4 cup water
4-5 ice cubes
Directions: 
Place all ingredients in a blender and blend at least 1 minute or until completely smooth.  
 Happy Eating!
~Amber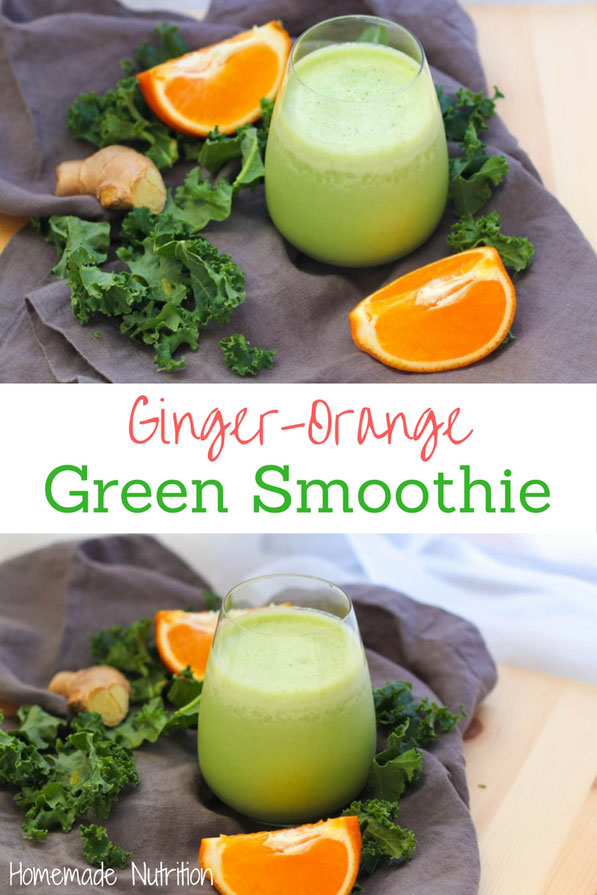 ---
---