A bright and creamy blackberry beet smoothie!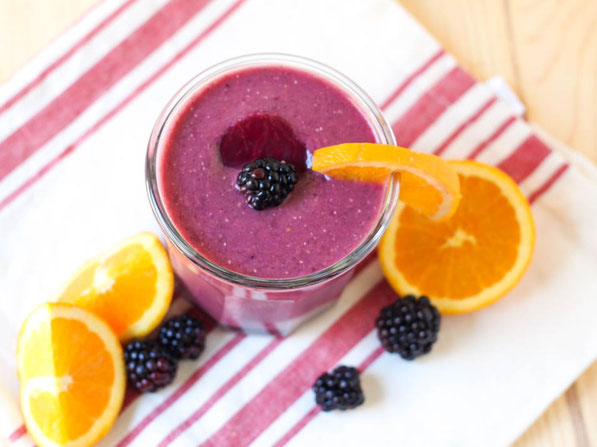 I've had quite a few beet-based smoothies on the blog because beets happen to be one of my favorite veggies and I love using them in smoothies! #beetsforbreakfast  ;) 
But it's been a while since my last beet smoothie recipe, and with summer approaching it's end, I wanted to utilize some beautiful summer produce along with some beets in today's smoothie.  Blackberries have been on sale and absolutely perfect lately, so I thought they'd be a great summer fruit to feature in today's recipe! 
Side note:  I have three other beet smoothie recipes at the end of the post, click the pics to see those tasty recipes! 
To make the smoothie extra creamy, I used 1/2 a banana plus kefir (a probiotic-rich yogurt drink), but you could also use regular Greek yogurt in the recipe to get the same effect, plus you'll get a boost of protein and calcium from both of these yogurt options.  
As for the flavor, beets definitely have an "earthy" taste to them, so I like to use bright citrus flavors like lemon, lime, or oranges to cut through that earthiness.  Cinnamon is also a warm but bold spice that works beautifully in beet smoothies.
Quick tip for prepping smoothies:  Try making your own freezer smoothie bags!  There's so much beautiful summer produce around right now, making it the perfect time to buy some extra blackberries along with your favorite summer fruit and veggies.  Put them into zip-lock bags on their own or with other fruit and veggie combos you'll use to make smoothies. Pop them in the freezer, and you'll be ready to quickly whirl up a smoothie with fresh summer fruit in the fall and winter months!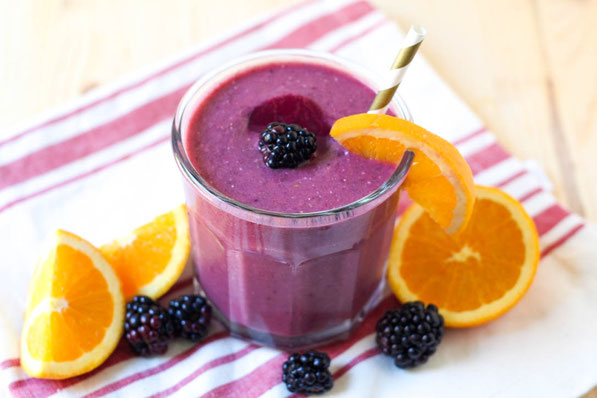 Blackberry-Orange Beet Smoothie
Makes 1 serving

Ingredients:
1/3 cup blackberries
1/2 cup orange segments (peel removed)
1/2 cup cooked beets, sliced or chopped
1/2 banana
1/2 cup Greek yogurt or Kefir

3-4 ice cubes 
Directions: 

Place all ingredients in a blender and blend at least one minute or until the ingredients are completely combined and the smoothie is creamy.
 Happy Eating!
~Amber
---
---