This easy Italian chopped salad  is a fun way to eat more veggies!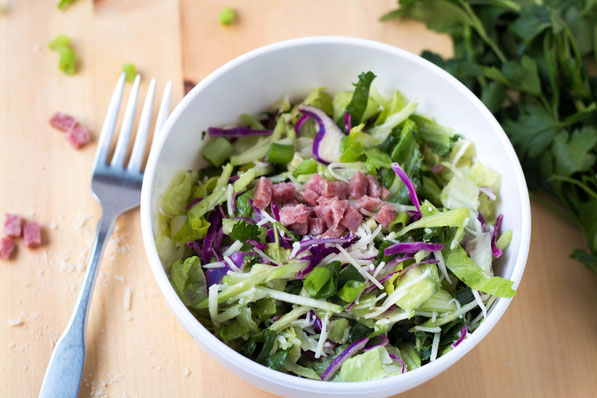 My new favorite way to eat salads is definitely in "chopped" form.  I think the reason I don't especially love "regular" salads is because I don't think it's all that fun to eat large chunks of lettuce sprinkled with random toppings. 
Chopped salads are different because they usually combine different kinds of greens (especially crunchy ones like romaine lettuce or cabbage) plus herbs so there's plenty of variety in texture and flavor.
The greens are also chopped much smaller than regular salads so they're easier to eat.  I actually use my kitchen scissors to cut pieces of lettuce, herbs, and green onions because A. it's fun :) and B. I like the way the shapes of all of the veggies aren't perfectly even; there's more variation in the size of veggies.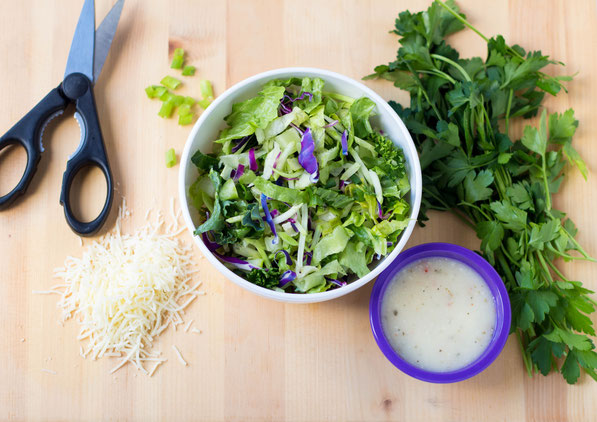 Chopped salads also tend to have little bits of other ingredients like cheese or meat mixed in, so you get a lot of flavor and texture in every bite.  Am I the only one who goes digging through salads looking for all the yummy things other than the greens? 
Chopped salads seriously solve that problem.  No more digging through those greens. ;)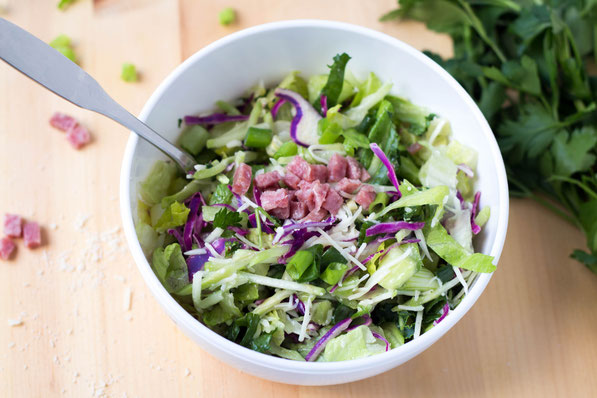 I've put a chopped salad recipe on the blog before, and there's bacon in it, so naturally it's pretty much amazingly delicious. :D  Click here to check out my bacon chopped salad recipe.
For an Italian twist, this version has some Parmesan cheese, fresh parsley, and Italian dressing.  If you want to get a little extra creative and enjoy a tasty treat in this salad, you can add a little chopped salami or even pepperoni. 
The beauty of this recipe is that you don't need much meat at all for the flavor to go a long way!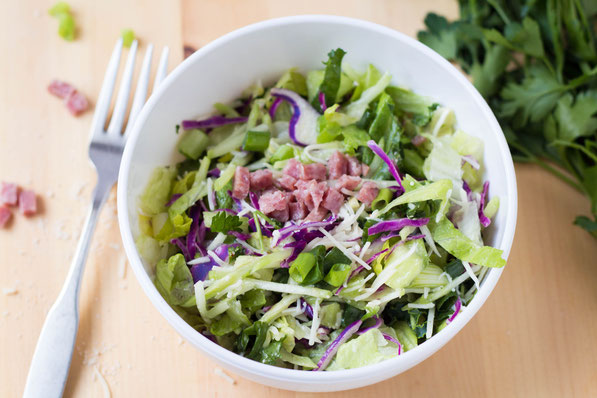 Easy Italian Chopped Salad
Makes 4-6 servings
Ingredients:
1 8-ounce bag shredded cabbage (can also use broccoli slaw)
6-8 romaine lettuce leaves, chopped
4 green onions, sliced
1/4 cup Italian parsley leaves, chopped 
1/4 cup shredded Parmesan cheese
1/3 cup Italian Dressing of choice
optional topping:  2 slices finely chopped salami
Directions:

Add all ingredients to a large bowl and toss to combine. 
Happy Eating!
~Amber
---
---
---