This simple 20-minute soup is perfect for a busy day!  Cheese tortellini, white beans, zucchini, and Italian spices make for one tasty and family-friendly vegetarian dinner!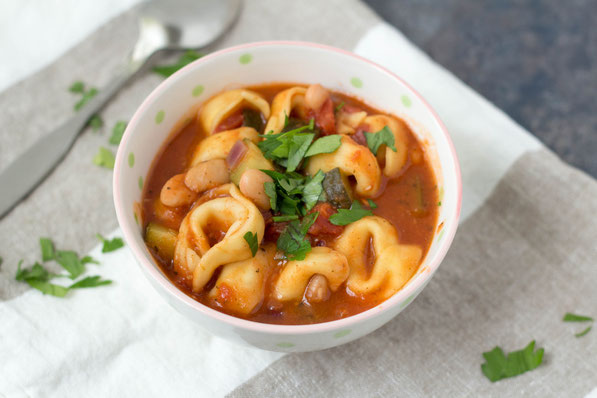 January is national soup month, and with it also being winter, I think it's definitely time for a new soup recipe!  
But I do have to say as I'm sitting here writing this post, it's currently sunny and a lovely 68 degrees outside...yay for Texas winters!!!!  :D
This is one of my favorite times of year because even though most days end up being gorgeous and sunny, once it gets dark outside it gets chilly, which is perfect weather for enjoying a nice hot bowl of soup. :)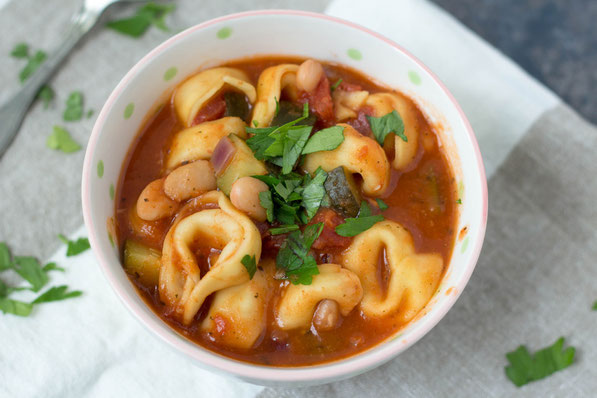 And because things have been a little extra busy around here lately, when I first made this recipe, I did what I do quite often:  I went hunting in my pantry and freezer to see what I could find instead of having to make another trip to the grocery store.
As luck would have it, I had some pretty great ingredients that came together beautifully.   
I always keep a variety of canned beans, low sodium chicken, veggie, and beef broth, and canned tomatoes in the pantry.  I also usually have a bag of frozen tortellini or ravioli around for quick meal options when I don't really feel like cooking or am running short on time.  Add some onion and zucchini and a complete dinner was born!
---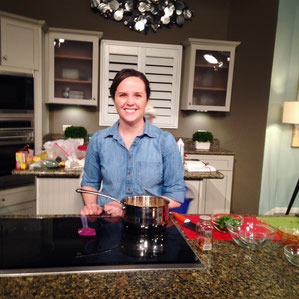 To celebrate national soup month, I went on Great Day SA to show how to make this tortellini white bean soup recipe and to show my slow cooker tortilla soup recipe.  Watch the segment here!
---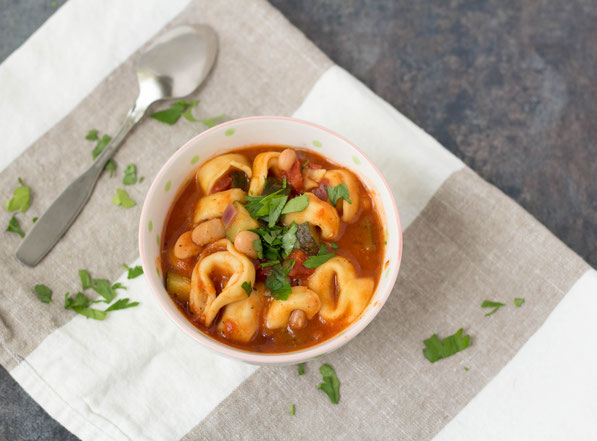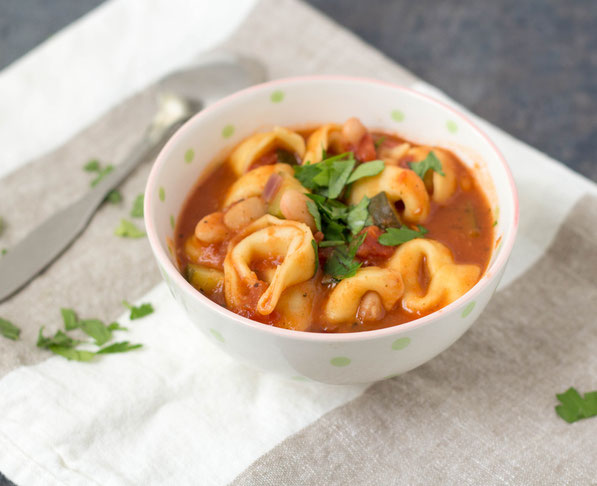 Tortellini, White Bean, and Vegetable Soup
Makes 4 servings
Ingredients:
1 tablespoon olive oil

1/2 chopped red onion

1 large zucchini, chopped

1 clove garlic, chopped

1 tablespoon dried Italian seasoning

red pepper flakes to taste (optional)
1 cup low sodium navy beans (white beans), rinsed and drained
2 cups crushed tomatoes (my favorite are san marzano tomatoes)
2 cups low sodium vegetable broth 
2 cups frozen cheese tortellini
1/3 cup chopped Italian parsley (optional)
Directions:

Heat the oil in a medium pot over medium-high heat.  Add the onion, zucchini, and garlic and saute for about 5 minutes or until slightly browned and tender. 

Add the Italian seasoning, red pepper flakes (if using), beans, tomatoes, and vegetable broth.  Bring the mixture to a boil, reduce to a simmer, and cook for about 10 minutes.

Add the tortellini and cook for an additional 3-5 minutes.  Stir parsley into the soup just before serving. 
Happy Eating!
~Amber
---
---
---