This post is all about trying something new....and about my newfound love for raw sauerkraut!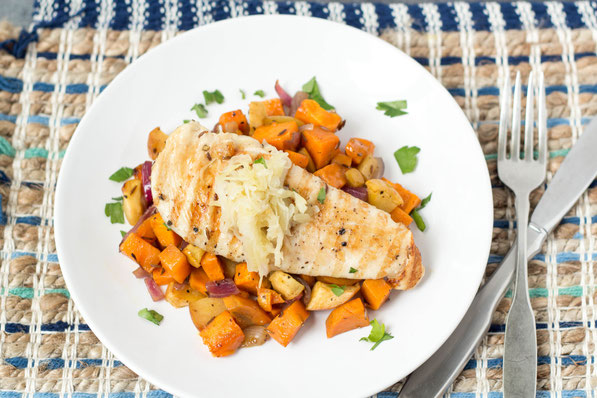 This months' theme for the Recipe Redux is all about trying new things.  And since the beginning of the year,  I've taken it upon myself to look for new foods to try.  Earlier this month, I finally got around to trying something I've been looking at for a while at the grocery store...golden beets.  And they made for an awesome (and really pretty) golden beet smoothie!
The next thing I decided to try was the inspiration behind today's recipe.  It's not a "new" food, but it's new to me, so I'm counting it as something new!  And that food is......raw sauerkraut. 
I've eaten plenty of sauerkraut before and I really enjoy it.  If you aren't familiar with it, sauerkraut is fermented shredded cabbage that's often sold in jars on the pickle aisle at the store.  It's pretty tangy and is popular in German cuisine, especially paired with foods like sausage, brats, or corned beef. 
But raw sauerkraut is a little different because it has more nutritional value and is great source of probiotics. 
Foods that contain probiotics have "good" bacteria that's beneficial for our digestive system and can help support our immune system.  The most popular food that contains probiotics is yogurt.  But fermented foods, like kimchi and raw sauerkraut are also good sources of these healthy bacteria.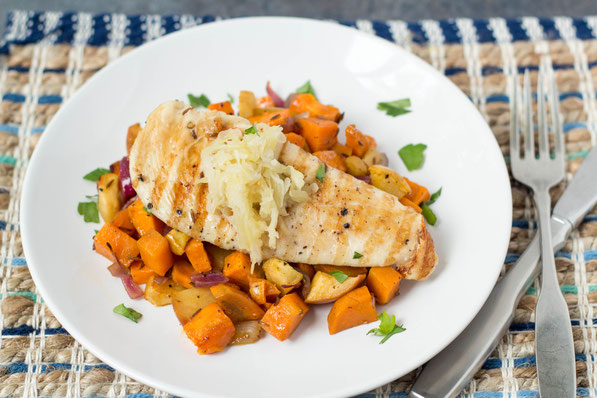 Eating raw sauerkraut instead of the canned (or jarred) version means that there's a higher amount of vitamins and minerals plus the benefit of the probiotics.  
Traditional canned sauerkraut loses much of it's nutritional value because these nutrients and probiotics are damaged by the heating and canning/jarring process, so much of the nutrition is lost.  But since the raw version isn't heated, the nutrients and probiotics remain in-tact.
Here's some nutrition info on raw sauerkraut:  1/2 cup has around 20 calories, 1 gram of protein, just 5 grams carbs, 3 grams of fiber (yay for healthy digestion!) and a good amount of iron, vitamin C and vitamin K.  It's also much, much, much lower in sodium than the canned counterparts, which use the excess salt to act as a preservative.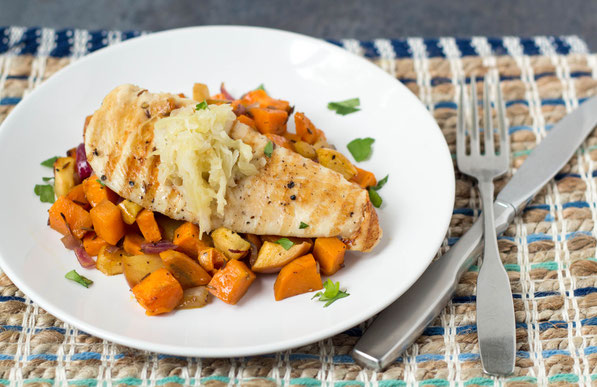 As far as the taste, honestly I think it tastes a lot less tangy than traditional sauerkraut from a jar - it's still got that yummy flavor, but in a milder way that means you can eat more and eat it with a greater variety of foods because it just goes with more stuff. :)  At the grocery store, you'll find raw sauerkraut somewhere in the refrigerated section near the deli.
If you're on the hunt for a different way to add probiotics to your eating plan other than dairy foods, try adding it to sandwiches, wraps, salads, and even soups. 
Or...you could try this recipe!  I was looking for a main dish that would complement the sauerkraut but not involve a greasy meat like bratwurst or sausage, and I have to say, this dish came out to be delicious!! 
The combination of roasted sweet potato, apple, and onion with a hint of caraway seeds and maple syrup is absolutely amazing.  The simple marinade for the chicken complements these flavors perfectly - and some raw sauerkraut on top completes this tasty meal!  Here's to trying new healthy foods in 2016!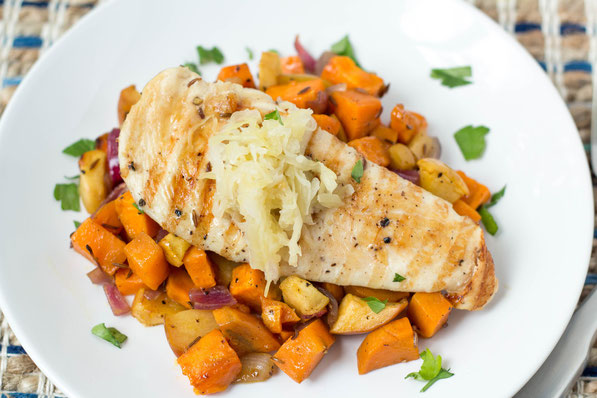 Roasted Sweet Potato, Apple, and Onion with Orange-Maple Chicken and Sauerkraut 
Makes 4 servings
For the chicken:
1 pound chicken breast cutlets
1 tablespoon light olive oil
juice of 1/2 small orange (about 2 tablespoons)
salt and pepper to taste
1/4 teaspoon caraway seeds
1 teaspoon pure maple syrup
For the vegetables:
 1 medium sweet potato, peeled and chopped


2 medium apples, chopped

1/2 purple onion, chopped

salt and pepper to taste


1/2 teaspoon caraway seeds

1 teaspoon pure maple syrup

1 tablespoon light olive oil
*For serving:  1-1 1/2 cups raw sauerkraut
Directions:
Place the chicken in a zip-lock bag or airtight container and add the oil, orange juice, salt, pepper, caraway seeds, and maple syrup.  Toss the chicken with the other ingredients to evenly coat the chicken and place in the refrigerator for at least 30 minutes or up to 8 hours.


For the vegetables, preheat the oven to 400 degrees.  Toss the sweet potatoes, apple, onion, seasonings, syrup, and oil.  Place the mixture on a lightly greased baking dish, and bake for about 25 minutes or until the vegetables are tender. 

While the vegetables are cooking, heat a grill pan, panini press, or non-stick skillet over medium high heat.  Cook the chicken cutlets for about 2-3 minutes per side or until cooked through.

To serve, place some of the vegetable mixture on a plate, top with the chicken, and serve with raw sauerkraut. 
Happy Eating!
~Amber
---
---
---
Check out these recipes from fellow nutrition bloggers!