These lighter soft gingerbread cut out cookies are easy to make and perfect for holiday decorating!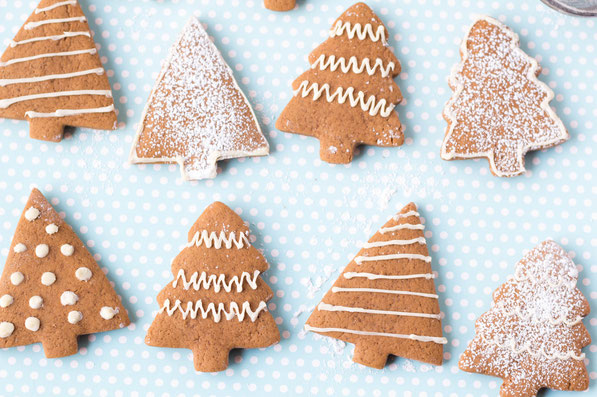 Nothing says "the holidays are here!" quite like gingerbread.  Gingerbread cookies, gingerbread cakes....pretty much anything with that warm and inviting spiced flavor is absolute perfection this time of year. 
In fact, making these cookies filled the whole house with that sweet-spiced holiday aroma, which was really lovely!  That's almost reason enough to keep making them throughout the holiday season, but they also taste really good, so that's probably a better reason to make them!
One thing that I think is important for a great cut out cookie is softness.  So there's regular old unsalted butter, brown sugar, and molasses in this recipe to keep them nice and moist, and I slightly under-bake the cookies to make sure they're soft and not rock-hard like cut out cookies sometimes are. 
I used slightly less sugar and butter than a typical cookie recipe, and used  white whole wheat flour in place of some of the regular all purpose flour for a little lighter twist.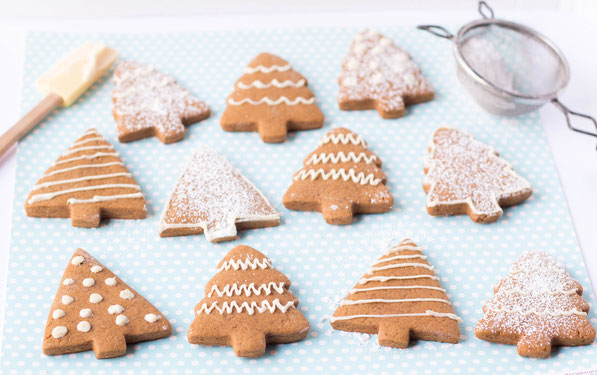 The number of cookies you'll get from this recipe will vary depending on the size and shape of the cookie-cutters you use.  I got 19 Christmas trees here. 
And as you can see from the pictures, they came out pretty  cute (in my opinion), but I'm not exactly a pro at decorating cookies and baked goods.  I've just never really had the patience to do a great job with it, so my simple solution for this recipe was to melt some white chocolate, put it in a small baggie with one of the corners chopped off and pipe it onto my Christmas trees. 
The white chocolate (which, on a side note is not actually chocolate at all...just candy) dries quickly and holds to the cookies very well, so it worked perfectly for me. 
The other easy option for decorating is to simply dust powdered sugar over the cookies.  You can also do like me and use the powdered sugar to cover up any slightly less-than-gorgeous decorated cookies... ;)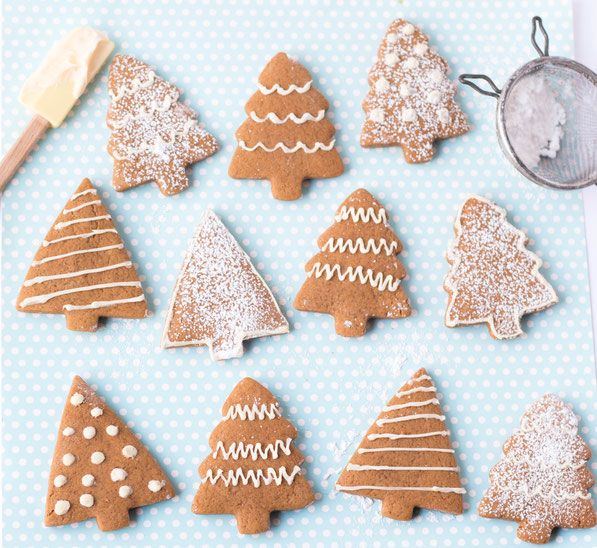 Soft Gingerbread Cut Out Cookies
Makes about 18 medium cut out cookies

Ingredients:
1/2 stick (4 tablespoons) unsalted butter, at room temperature

1/2 cup brown sugar

1/3 cup unslufured molasses

3/4 teaspoon ground nutmeg

1/4 teaspoon ground cloves

1/2 teaspoon ground cinnamon

1 teaspoon ground ginger

pinch of salt

1 teaspoon baking soda

1 tablespoon vinegar or apple cider vinegar

1 cup all-purpose flour

3/4 cup white whole wheat flour

3 tablespoons water, plus more if needed
Optional toppings: 

1/4 cup powdered sugar

2 ounces melted white chocolate
Directions:
Preheat oven to 350 degrees.

In a mixing bowl, cream the butter, sugar, and molasses with an electric mixer until light and fluffy. Add the spices, salt, baking soda, and vinegar and mix until combined.

Add the flour and mix to combine.  Add the 3 tablespoons of water, plus more 1 tablespoon at a time if needed and continue mixing until the dough comes together.  

Shape the dough into a large ball, and roll out to  about 1/2 inch thickness on a lightly floured surface.  Use cookie cutters to cut the dough into desired shapes and place the cookies on an ungreased baking sheet lined with parchment paper. 


Bake for 8-10 minutes, or until the bottom is light brown but the cookies are still soft. Remove from baking sheet and cool on a wire rack. 

Once cooled completely, dust the cookies with powdered sugar or use melted white chocolate to decorate them.
 Happy Eating!
~Amber
---
---