These lighter mashed potatoes use a combination of sweet potato and Yukon gold (yellow potatoes) to make the perfect comforting side dish!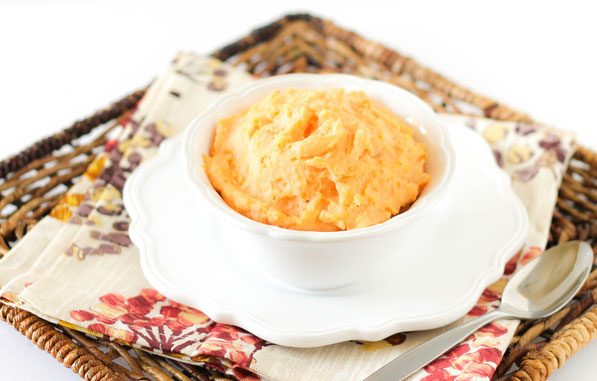 You can either use these tricks with your favorite mashed potato recipe, or you can make my lighter mashed potato recipe at the end of this post! 
Use a combination of half yellow (Yukon gold) potatoes with the skin left on with half sweet potatoes (usually this is one large sweet potato for every 2 medium yellow potatoes).  Yellow potatoes have a thin skin that mashes very well without being noticeable in the dish.  And not only does leaving the skin on potatoes save the time of peeling them, the fiber and nutrients from the skin will remain in the dish, boosting the nutrition value!  

Mixing in some sweet potato adds an extra boost of fiber, vitamin A and antioxidants. The sweet potatoes also make for a pretty mild orange tint to the mashed potatoes that makes this dish very fall-appropriate.  :) 
To slightly cut back on the fat,  using a combination 1/3 unsalted butter and 2/3 reduced fat cream cheese works very well for the texture while still keeping that buttery flavor.  
And if you're looking for other small healthy swaps to make to holiday favorites, check out my post on subtle changes that no one will notice at Thanksgiving dinner.  
---
---
Lighter Mashed Potatoes
Makes 4 servings
Ingredients:
1 large sweet potato, peeled and chopped
2 medium yellow (Yukon gold) potatoes, chopped
2 cloves garlic, roughly chopped
1/2 teaspoon salt
pepper to taste
1/2 cup reduced fat milk
1 tablespoon unsalted butter
 3 tablespoons reduced fat cream cheese
Directions:
Fill a 1 quart pot with water and add the potatoes, salt, and garlic.  Heat over medium-high heat until the water comes to a boil.  

Reduce the heat to low and simmer, uncovered or partially covered, for about 15 minutes or until the potatoes are tender. 

Drain the potatoes and return them to the skillet.  Add remaining ingredients and mash to desired consistency.  
Happy Eating! 
~Amber