This five-ingredient green bean casserole has a few healthier swaps that no one will even notice!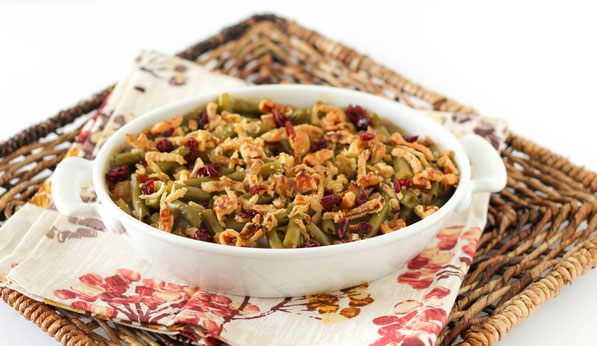 You can either use these tricks with your favorite green bean casserole recipe, or you can make my super easy, slightly lighter green bean casserole recipe at the end of this post! 
Green Bean Casserole:  Use low sodium cream of mushroom soup (if your recipe calls for it), and instead of covering the entire thing with french fried onions, use a combo of 1/3 chopped walnuts, 1/3 chopped dried cranberries, and 1/3 of the french fried onions as the topping.  
These small tweaks greatly reduce the sodium content and replace some of the bad fat (from the fried onions) with healthy fat from the nuts and a pretty color and slight sweetness from the cranberries. 
And if you're looking for other small healthy swaps to make to holiday favorites, check out my post on subtle changes that no one will notice at Thanksgiving dinner.  
---
---
Easy Green Bean Casserole
Makes 4 servings
Ingredients:
2 15-ounce cans no-salt-added green beans




12 ounces low sodium condensed cream of mushroom soup




black pepper to taste




1/3 cup french fried onions




1/3 cup chopped walnuts




1/3 cup chopped dried cranberries



Directions:
Preheat oven to 350 degrees.




Place the green beans, soup, and pepper in a large bowl.  Mix to combine, and pour into a smaller casserole dish or 8x8 inch square baking pan.  Sprinkle the french fried onions, walnuts, and cranberries over the top.




Bake for about 20 minutes, or until the soup is bubbly and the top is light golden in color. 



Happy Eating! 
~Amber