Nothing says fall like this easy vegan soup with sweet potato, curry, and apple! It's also a great make-ahead meal for the freezer so you'll have a healthy homemade lunch or dinner on-hand anytime you want!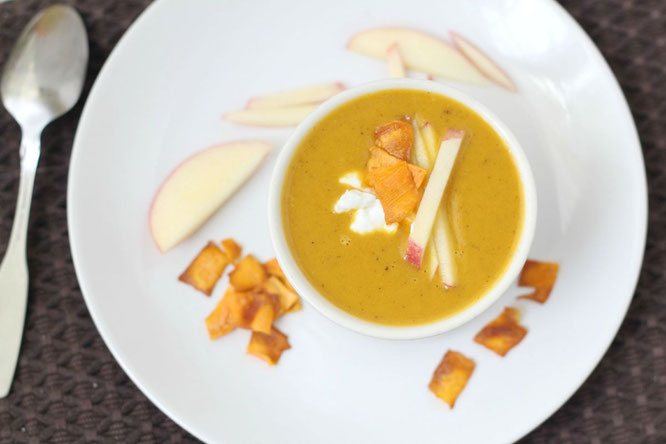 Fall may not officially arrive for two more days, but I just couldn't wait any longer to get started with fall foods!  Fall is my favorite season because it signals the beginning of slightly cooler weather here in south Texas (not much cooler, but every little bit counts!).  It also means the holiday season isn't too far away!  If you're like me and ready to get into the flavors of fall, this recipe is exactly what you need! 

This months' theme for Recipe Redux is all about making healthy freezer meals.  This is one of my favorite tricks to staying on track with healthy eating.  Preparing food ahead of time means that on those busy days when the last thing you want to do is cook, you have healthy food ready to heat up instead of relying on driving through or eating out.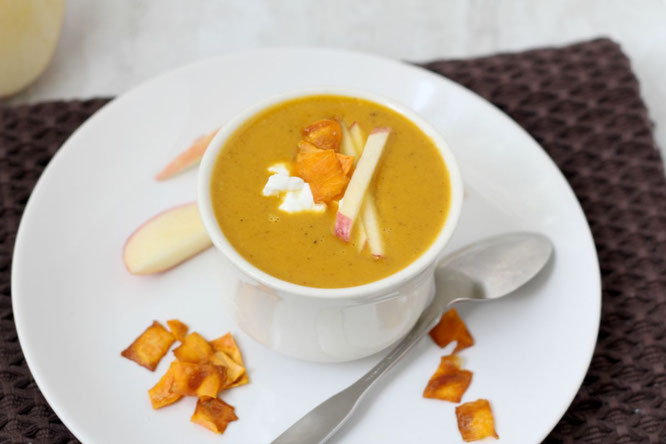 Soup is one of my favorite things to make ahead and freeze for one main reason:  whenever I make soup, I usually end up getting tired of it and have trouble finishing it before it goes bad.  So I like to portion it into 1 or 1 1/2 cup servings and freeze it so all I have to do is take one bag out the night before or morning of the day I want it, and I'm able to enjoy one serving then wait till the next time I'm ready for soup before I eat it again. 

My favorite trick when freezing soup, beans, or other "liquidy" foods is to place those foods in zip-lock bags, lay the bags out flat on a baking sheet and freeze them flat.  Then, you can just take the bags off of the baking sheet and they can be "filed" nice and neatly in the freezer - no lumpy, random-sized frozen blocks of food here!  This helps keep the freezer more organized, which means food is less likely to get lost in the sea of random frozen foods.... ;)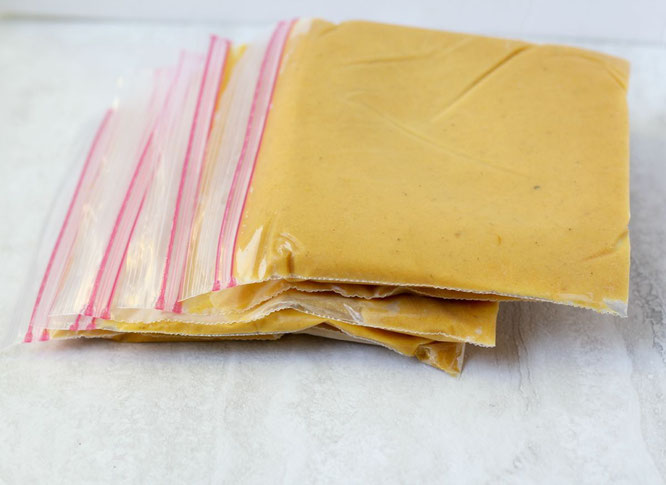 This creamy soup is simply beautiful.  It's full of flavor and is really satisfying (not to mention healthy!)  It starts with heating curry powder and cinnamon in oil and letting the spices "wake up" before adding sweet potato, carrot, and onion.  Once it's cooked, this soup gets blended with a touch of honey and coconut milk, making it creamy and perfect.  If you've got pumpkin or butternut squash on hand, feel free to use that in place of sweet potato.  I hope this recipe marks the beginning of a beautiful fall season for you!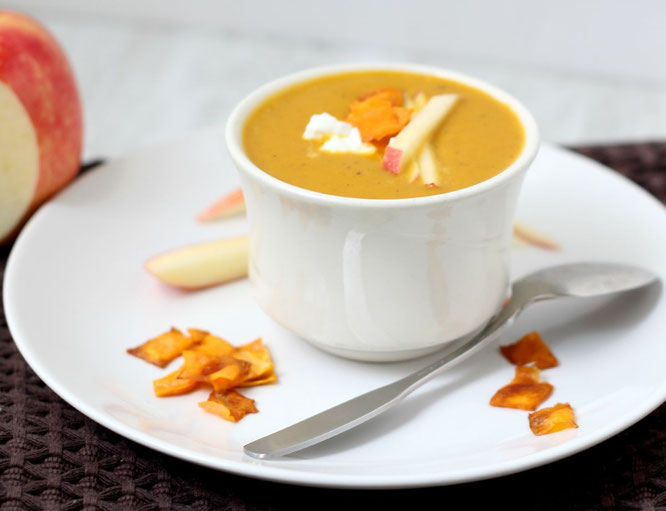 Vegan Sweet Potato, Curry, and Apple Soup

Makes 4-5 servings
Ingredients:
1 tablespoon canola oil

2 teaspoons curry powder

1/4 teaspoon cinnamon


1 medium sweet potato, chopped

1 large apple, chopped (use gala or other sweet apple)


1 small yellow onion, chopped

3 cups low sodium vegetable broth

1/4 teaspoon salt

pepper to taste

1/3 cup coconut milk


1 tablespoon honey



*optional garnishes:  coconut cream, plain Greek yogurt, sweet potato chips

Directions:

Heat the oil in a medium saucepan over medium-high heat.  Add the curry powder and cinnamon, and stir for 1-2 minutes. 

Add the sweet potato, apple, onion, vegetable broth, salt and pepper to the pan.  Bring to a bowl, then reduce heat to medium and cook for 15-20 minutes, or until the sweet potato is tender. 

Remove the soup from heat and let cool slightly. 


Carefully pour the soup into a blender and add the coconut milk and honey.  Blend the soup until smooth or to desired consistency.  Garnish with coconut cream, plain Greek yogurt, or sweet potato chips if desired. 
*To freeze for future meals, pour cooled soup into quart-sized zip lock bags in 1 or 1/2 cup portions.  Lay the bags flat on a baking sheet and freeze.  Once the soup is frozen, remove the bags from the baking sheet and the soup is ready to be stacked neatly in the freezer. 

Happy Eating!
~Amber
---
---
---
Check out more freezer-friendly meal ideas below!

---