You can't go wrong with just three ingredients in a recipe!  This blueberry-peach smoothie is just as refreshing as it is beautiful!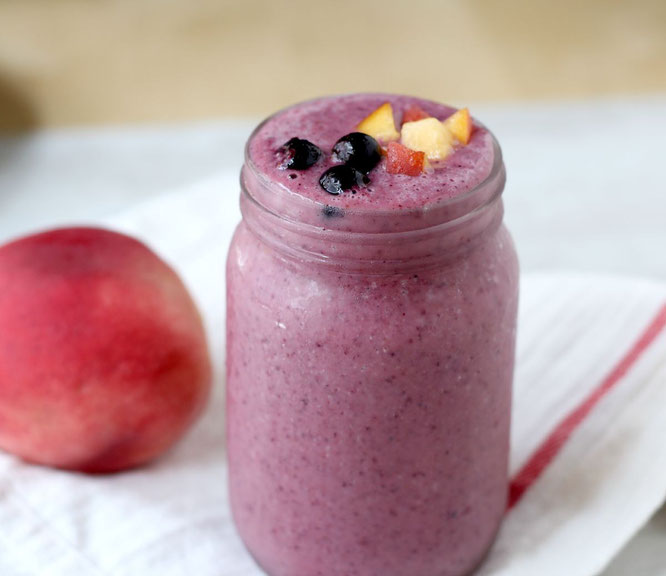 It's no secret that I love smoothies, but with all of the smoothie recipes I create, surprisingly there aren't very many that include blueberries (so far).  I love blueberries, but I think I hold back on adding them to smoothies because depending on what else is going in the blender, blueberries can make a smoothie come out with a really "interesting" color.  For example, if you add them to green smoothies, you can easily end up with a grey-ish smoothie instead of one that's either bright green or purple, like you'd expect it to be.  But I'm trying to get out of my blueberry-less smoothie rut, and start using them more often! :) 

This blueberry-peach smoothie is SO refreshing!  When I first made this recipe, I ended up making it everyday for the rest of that week (when I ran out of frozen fruit).  I just couldn't get enough of it!  One quick note:  if you have fresh sweet peaches on hand, that will make this smoothie so sweet and delicious, but frozen work really well too - just know that sometimes frozen peaches aren't very sweet, so you may need to add a teaspoon of honey if your peaches are a little on the tart side.  This recipe includes plain Greek yogurt which helps make it creamier, and also adds a boost of protein so this can be a quick breakfast option for the morning rush.  Enjoy!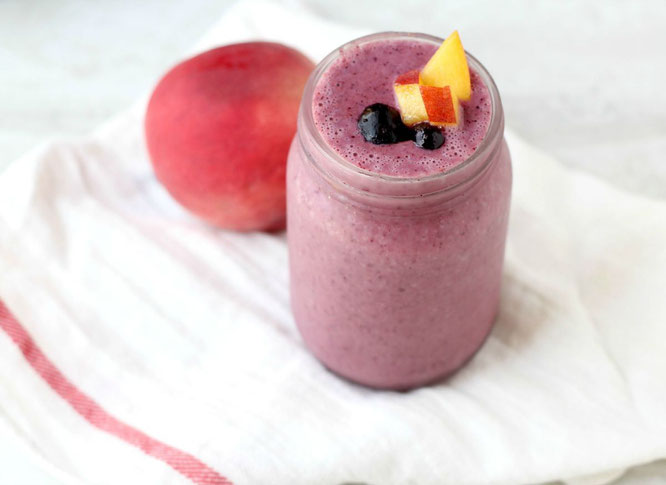 Three-Ingredient Blueberry Peach Smoothie

Makes 1 smoothie

Ingredients:
1/2 cup frozen blueberries

1/2 cup fresh or frozen peach slices

1/2 cup plain Greek yogurt

1 cup water
*optional: 1-2 teaspoons honey

Directions:

Place all ingredients in a blender and blend at least one minute or until the ingredients are completely combined and the smoothie is creamy.
*Add honey if the frozen peaches are tart, otherwise, this smoothie is sweet all on its' own!

 Happy Eating!
~Amber
---
---