These mini vegan chocolate oatmeal cookie bites are addictive!  They're easy to make, fun to eat, completely adorable, and little less guilty than your standard cookie.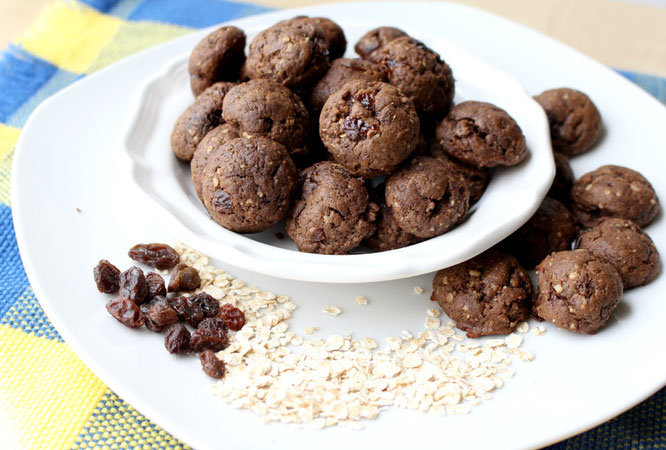 I don't know why I've never made miniature cookies before.  I love small things - baby zucchini, baby eggplant, mini cupcakes, small utensils, small plates, little bowls, you get the idea...but it wasn't until I made these little cookie bites that I realized I had been missing out on another adorable little treat.  And it's actually very easy to make these little bites. 
These cookies come in at about 1/3 of the size of a standard homemade cookie.  They're perfect for when you're looking for that little taste of something sweet without wanting to overdo it and eat too much.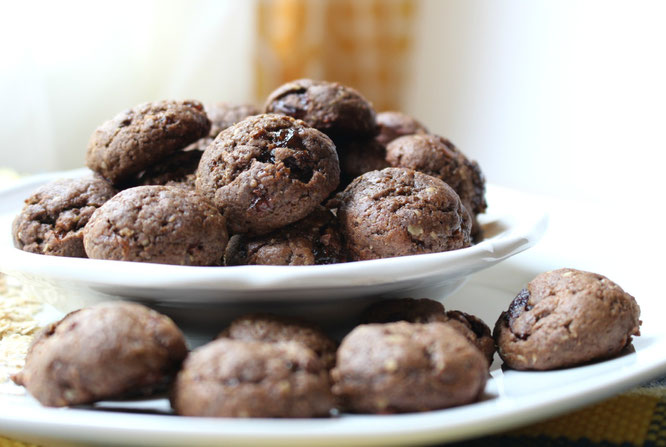 To make these cookies still taste like a regular cookie (regular meaning non-vegan) I used  Earth Balance Baking Sticks as a substitute for regular butter.  I'm not endorsing this particular brand for any reason other than the fact that I like it.  There are other brands out there, this is just the one I use and it seems pretty easy to find at most grocery stores. 
Now I do cook with regular, unsalted butter sometimes (in moderation), but I also like to try new things and try to limit the amount of animal products I eat.  I'm not a vegetarian, not a vegan, but I also don't eat meat every day.  Earth Balance is a great substitute for butter if you're trying to cut back on the animal products in your eating plan.  It's a blend of plant-based oils like canola, soybean, flax, and olive oil and most importantly it does NOT contain any partially hydrogenated oil, which is trans fat (basically the worst enemy to heart health).  They sell sticks that look just like sticks of butter and you use them the same way.  If you use another brand, just make sure to check the ingredient list and make sure it does not contain any hydrogenated oil.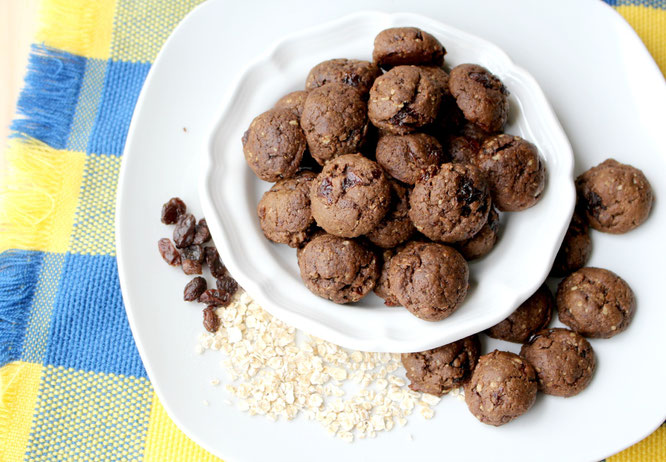 These cookies are simple to make, and to keep them the same size and shape, all you have to do is scoop out the cookie dough with a 1 teaspoon measuring spoon and pop them out onto the baking sheet.  You can also keep the dough in the fridge for several days if you prefer smaller batches of cookies, or can just make them all, put them in a zip lock bag or air tight container, and freeze them for up to 2-3 months.  And since they're so small, you can enjoy 3 or 4 of these little bites without feeling bad or like you're overindulging.  You can also use this trick of making mini cookies with your favorite cookie dough to help control portions for any kind of cookie!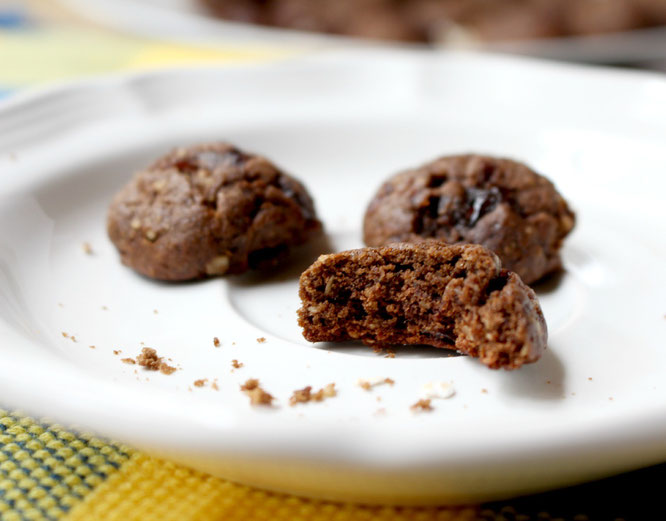 Vegan Chocolate Oatmeal Cookie Bites

Makes about 3 dozen cookie bites

Ingredients:
5 tablespoons Earth balance, at room temperature

1/2 cup brown sugar

1/2 teaspoon baking soda

2 tablespoons ground flax

1/3 cup raisins, chopped

2 tablespoons cocoa powder

1/2 cup quick cooking oats

1/2 cup white whole wheat flour

2-3 tablespoons water
Directions:
Preheat oven to 350 degrees.

In a mixing bowl, cream the earth balance and sugar with an electric mixer until light and fluffy. Add the baking soda, flax, raisins, and cocoa powder, and mix until combined.

Add the oats and flour and mix to combine.  Add the 2 tablespoons of water, plus 1 more if needed to make the dough come together. 

Spoon dough (about 1 teaspoon per cookie) onto a parchment-lined baking sheet. Leave about 1 inch of space between each cookie.

Bake for 8-10 minutes, or until the bottom is light brown but the cookies are still soft. Remove from baking sheet and cool on a wire rack. 
 Happy Eating!
~Amber
---
---