If you're looking for some summer grilling inspiration, these lighter jalapeno popper-stuffed burgers made with diced mushrooms and beef are flavorful, juicy, and perfect for a weeknight dinner or family barbecue!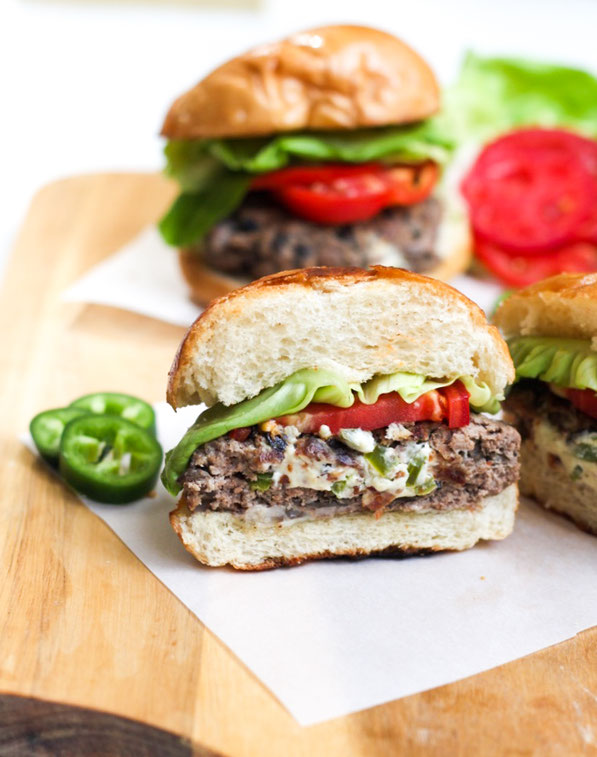 Disclosure:  I'm excited to partner with Monterey Mushrooms, the largest fresh mushroom grower in North America, for this post.  All opinions are my own, and I only partner with brands and products I use in my own kitchen.
---
Who doesn't love a good jalapeño popper?  I feel like grilling season wouldn't be complete without these bacon-wrapped, cream cheese-stuffed treats,  but they aren't exactly the healthiest thing, and they're also pretty time consuming to make.  So when coming up with new recipes for the grill, I couldn't help but think of stuffing a burger with the deliciousness of jalapeño poppers, but done in a lighter and easier way.   
These burgers are packed with flavor, and even though they contain some decadent ingredients, they are still a little lighter than you'd expect from something so tasty!  My husband actually said "this tastes too unhealthy to go on your blog…" which to me always means a healthy recipe is a success! ;)  
There are a few things that make this recipe special:  cream cheese, bacon, and jalapenos, just to name a few.  But the real star of these burgers is something that adds a ton of flavor and moisture to them, and that is the mushrooms.  For this recipe, I used Monterey Let's Blend finely diced mushrooms mixed in with the ground beef.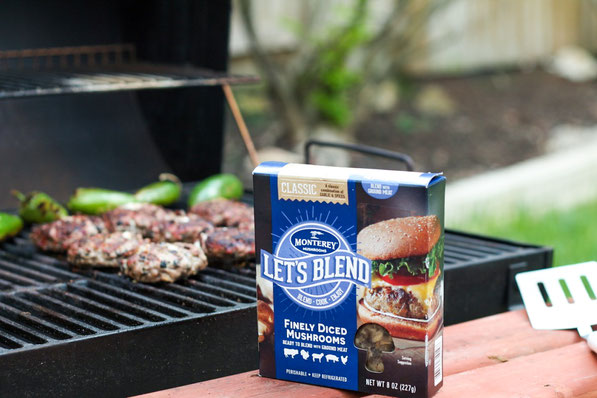 I've added chopped mushrooms to my meat recipes for years now, so I was really excited to find this product from Monterey Mushrooms!  Let's Blend are finely diced mushrooms that have been pre-seasoned to make the cooking experience much easier,  all while adding flavor and a boost of nutrition to traditional meat dishes.  
There are three flavors currently available:  Classic, Mexican, and Italian. To use this product, you simply add the diced mushrooms to your ground meat (beef, chicken, lamb, pork, and turkey all work well), mix them together then continue making your recipe as usual.  It's perfect for anything from enchiladas to meatballs, burgers, tacos, sloppy joes, and any other recipes traditionally made with ground meat.  
*Let's Blend is available in select retailers and markets. If it's not yet available in your market, don't worry! Monterey Mushrooms has an easy how-to guide on blending with fresh mushrooms and some delicious recipe inspiration!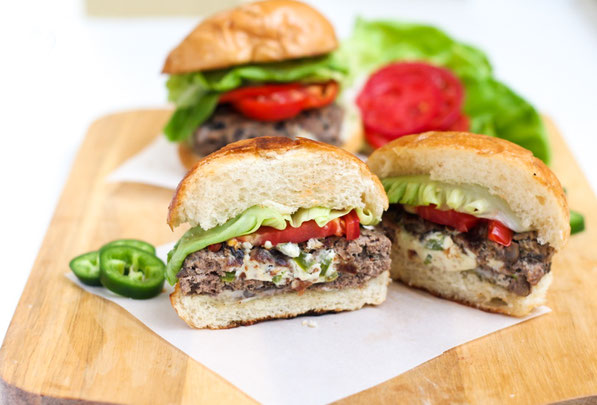 Adding the mushrooms to traditional meat dishes reduces the total calories, fat, and cholesterol per serving of the dish since the total portion of meat in each serving will be smaller.  This means you can stretch one pound of meat to make an extra few servings, which is perfect for family-friendly meals!  This recipe uses just one pound of meat, but it makes 8-9 hearty slider-sized burgers, which can easily feed 6-8 people depending on how hungry everyone is.  This is also great in terms of sustainability.  Mushrooms are one of the most earth-friendly and renewable crops to grow, so when we add them to meat, it's a benefit to the environment as well since we eat less of the meat.  
If you're skeptical about adding mushrooms to your meat, especially if you think any picky eaters in the family will notice, honestly you really can't tell they're there but you will notice how flavorful and juicy the meat is!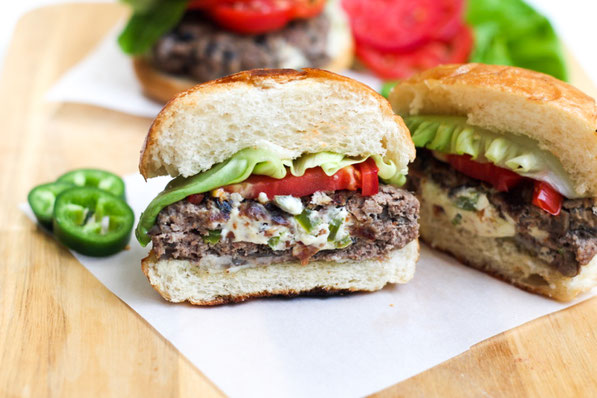 I used the classic flavor of Let's Blend mushrooms in this recipe and it came out perfect!  The seasonings in the mushrooms save so much time when making this recipe because the meat comes out so flavorful with no effort other than mixing the mushrooms into the meat.  
I also used 90/10 ground beef for these burgers, and with addition of the mushrooms and the cream cheese filling, these burgers came out plenty moist without having to use a higher fat ground beef.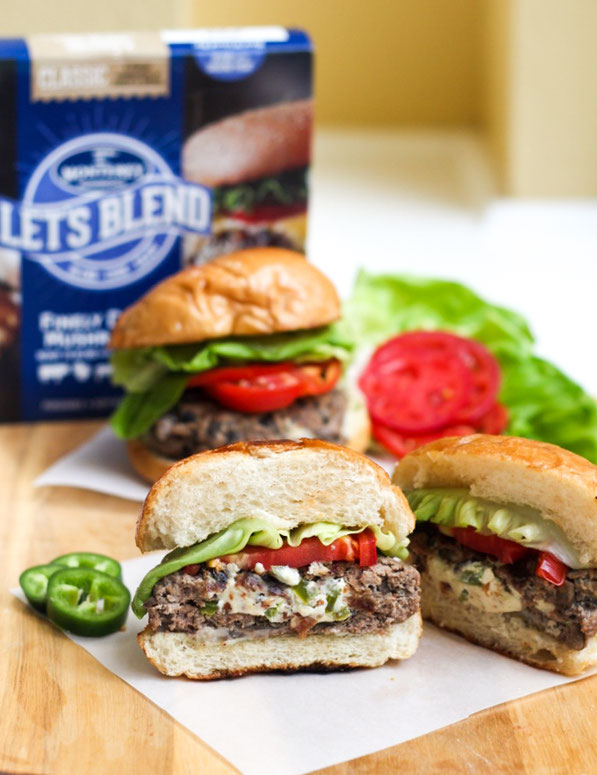 In keeping with the theme of stretching out the meat so everyone eats a little less of it, I only used 3 slices of finely chopped bacon spread throughout the whole dish, so there's little bits of bacon in every bite, but it's much less than eating a whole slice (or more) per serving like we might otherwise do when eating burgers with bacon. 
I also used reduced fat cream cheese because it saves a little in the fat and calorie department without sacrificing any flavor or texture.  The filling of these burgers takes less than 5 minutes to put together, and it is completely packed with jalapeño popper flavor that is perfect in these burgers.  This recipe has been a big hit at our house; I hope you enjoy it too!  Happy grilling! :)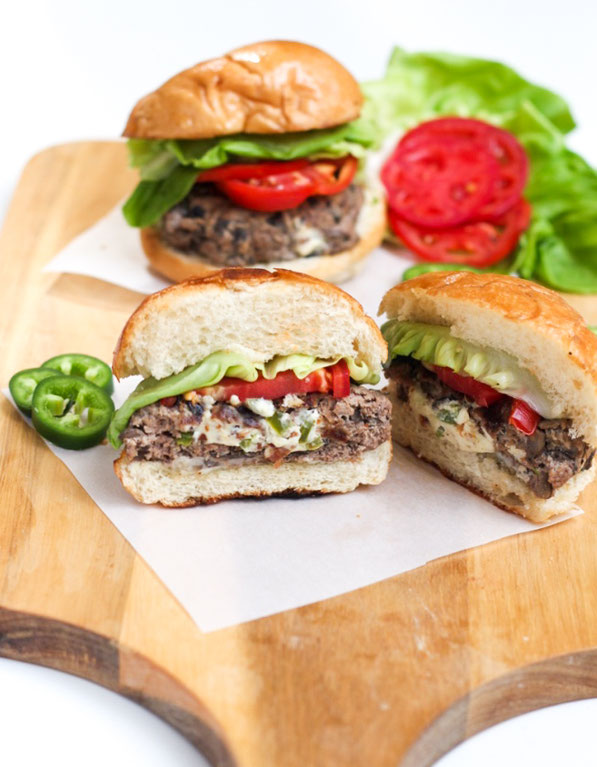 Jalapeno Popper Stuffed Beef and Mushroom Sliders
Makes 8-9 sliders (about 6-8 servings)
Ingredients:
1 pound 90/10 ground beef
1 8-ounce package Monterey Let's Blend Mushrooms, classic flavor
4 ounces (1/2 block) reduced fat cream cheese, softened 
3 slices cooked bacon, finely chopped
1-2 medium jalapenos, seeded and finely chopped
1 teaspoon onion powder
1 teaspoon garlic powder 
Slider-sized hamburger buns
Directions: 
To make the filling, combine the cream cheese, bacon, chopped jalapeño peppers, onion powder, and garlic powder in a small bowl and stir well to combine all ingredients.  Set aside.  
To make the burgers, add the beef to a large bowl.  Open the package of mushrooms and place them on a few paper towels or clean kitchen towel and lightly squeeze to remove some of the excess moisture from the mushrooms, then add the mushrooms to the beef.  Mix the beef and mushrooms together.  
To assemble the sliders, use a measuring cup to divide the beef-mushroom mixture into 1/4 cup sized portions, form them into patties about 1/4 inch thick, and place them on a large baking sheet or large piece of parchment paper. This makes 16-18 patties, which will make 8-9 sliders.  
Next, take one patty and put 2 teaspoons of the cream cheese filling in the middle. Take another patty and put it on top of the filling, sealing the patties together.
Heat a grill  or large skillet over medium high heat.  Cook the burgers for 3-4 minutes per side, or until burgers are cooked through.  Serve  on slider-sized burger buns with toppings of choice. 
---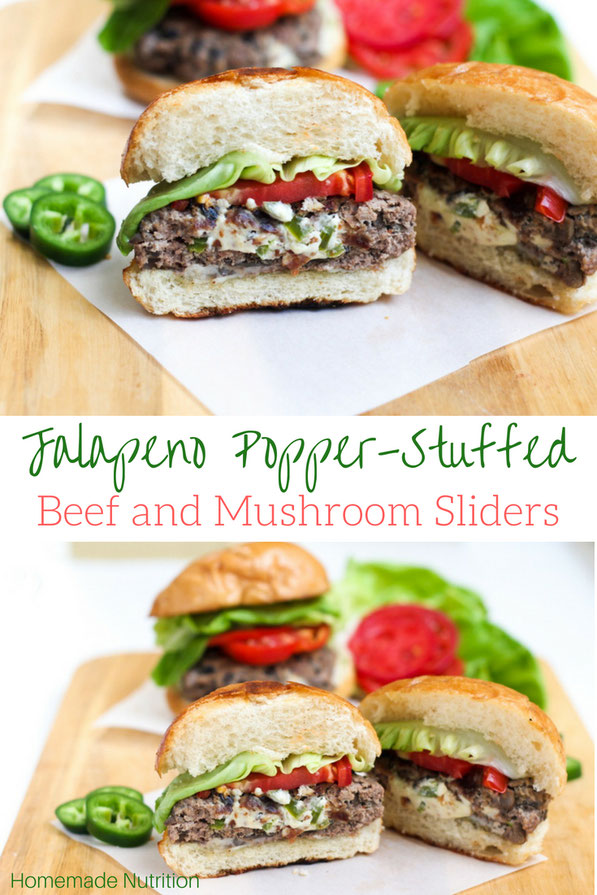 ---
---