Perfect quesadillas for the whole family, on the table in just 10 minutes? That's right!  These make-ahead, freezer-friendly quesadillas are packed with protein plus a nutrition boost from the flavorful filling with beef, mushrooms, sweet potatoes, and black beans.  This is a delicious weeknight dinner everyone will love, and it makes plenty to have on-hand in the freezer for later!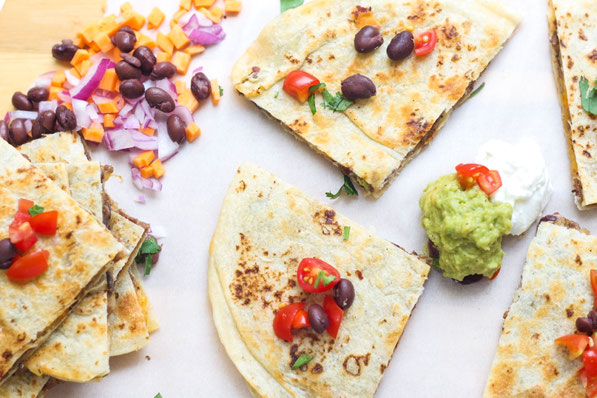 Disclosure:  I'm excited to partner with Monterey Mushrooms, the largest fresh mushroom grower in North America, for this post.  All opinions are my own, and I only partner with brands and products I use in my own kitchen.
---
 School is back in session for some, and just about to start for everyone else, which means everyone is looking for quick recipes that fit into very busy schedules.  That's why I love freezer-friendly meals.  Instead of buying processed frozen meals to heat in the microwave or oven for dinner, it's actually pretty easy to make your own (healthier) versions at home. 
A recipe like this one is perfect to make on the weekend, pop in the freezer (with plenty of leftovers!), then take out later in the week and have it on the table in just 10 minutes! And who doesn't love a good, hearty quesadilla? :) 
We've been making a conscious effort at our house to eat a little less meat and a little more plant-based and earth-friendly this year, which is one of the reasons mushrooms have been making  so many appearances in my recipes! 
They are the perfect way to to replace meat in recipes while still keeping a hearty, filling texture to the dish, or to use in addition to meat to stretch more servings out of less meat.  And in this recipe, the addition of the diced mushrooms plus the sweet potato and beans means there's enough filling to make 12 quesadillas, yes 12!  So you will have enough quesadillas in the freezer to feed a small army, or at least a few hungry kiddos! ;) 
Using mushrooms to stretch out the meat in this recipe is where Montrey Let's Blend Mushrooms really come in handy.  They are finely diced, pre-seasoned mushrooms that make it super easy to incorporate mushrooms into traditional meat dishes and boost the nutrition and flavor with hardly any extra effort.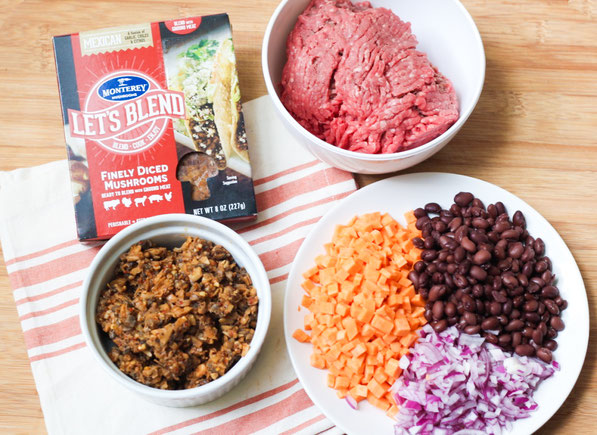 There are three flavors currently available:  Classic, Mexican, and Italian. To use this product, you simply add the diced mushrooms to your ground meat (beef, chicken, lamb, pork, and turkey all work well), mix them together then continue making your recipe as usual.  It's perfect for anything from enchiladas to meatballs, burgers, tacos, sloppy joes, and any other recipes traditionally made with ground meat.  
Last month I made a jalapeno popper-stuffed beef and mushroom burger recipe using Monterey's Let's Blend diced mushrooms, and it was soooo good!  So if you're looking for other ways to use these mushrooms, definitely give that recipe a try!    
*Let's Blend is available in select retailers and markets. If it's not yet available in your market, don't worry! Monterey Mushrooms has an easy how-to guide on blending with fresh mushrooms and some delicious recipe inspiration!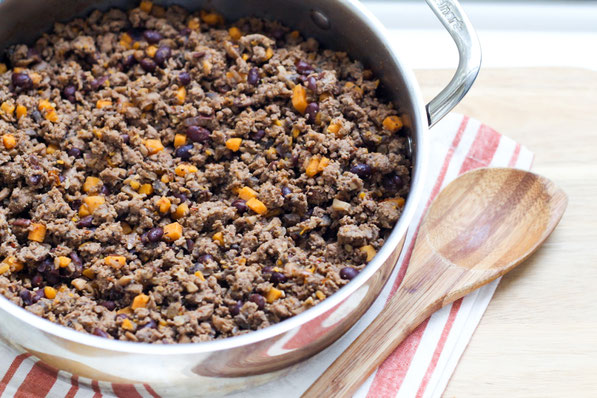 Making the filling for this recipe takes under 20 minutes from start to finish.  The first step is sautéing the onion and sweet potato for a few minutes.  This gives the sweet potatoes a head start since they take the longest to cook.  Side note here: make sure you've chopped the sweet potatoes nice and tiny because no one likes large pieces of undercooked potatoes in anything...especially a quesadilla! ;) 
While those are cooking, mix the beef and diced mushrooms together to combine them.  This really helps to flavor the meat with the mushrooms and hold it all together, even though it's going to be cooked as ground meat.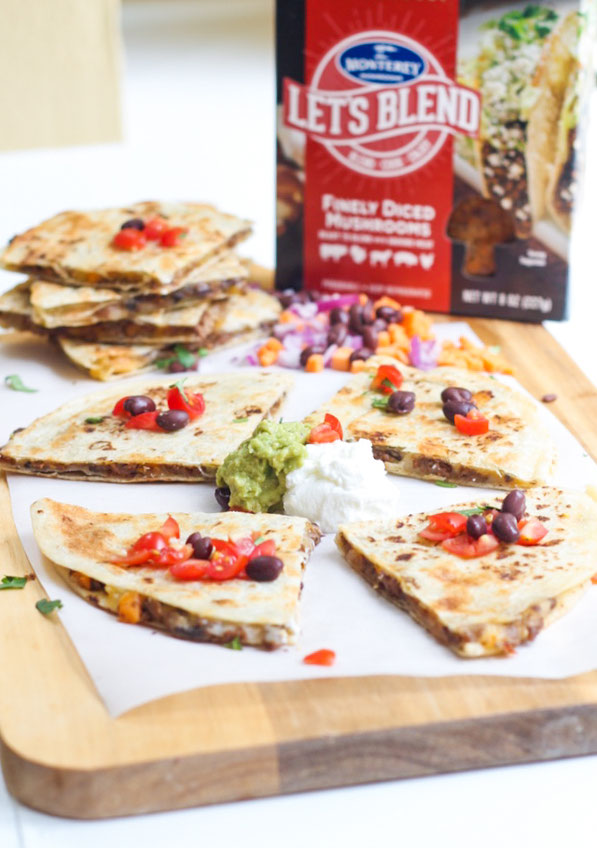 Next, the beef and mushroom mixture goes into the skillet.  I like to use a rubber spatula to really break up the meat as it cooks, again, so there's not big chunks in the quesadillas.  The sweet potatoes will continue cooking as the meat cooks, and it's all ready after about 10-12 minutes once you add the meat to the skillet.  I always do a taste test to make sure the sweet potatoes are cooked through. 
Once that's all cooked, the last step is to add a little salt, pepper, and the black beans.  Even though the mushrooms have all the spices you'll need for the recipe, since there's quite a bit of extra veggie goodness going in there, so a little salt and pepper really helps add that final bit of flavor.  I add the beans at this last step so they don't get squished in the beef-cooking process.  
At this point, you use the filling to make the quesadillas and eat some of them for dinner if you want, then let the rest cool and slice and freeze them.  I wrote detailed instructions in the directions below on how to assemble and cook the quesadillas...it's kind of long, but don't be intimidated! 
It's actually a really easy process to make the quesadillas, and you can make them either on the stove top or in the oven (which will save time since you can cook them all at once). You can also freeze the filling on its' own so it will be ready for smaller batches of fresh quesadillas or even to use as taco filling.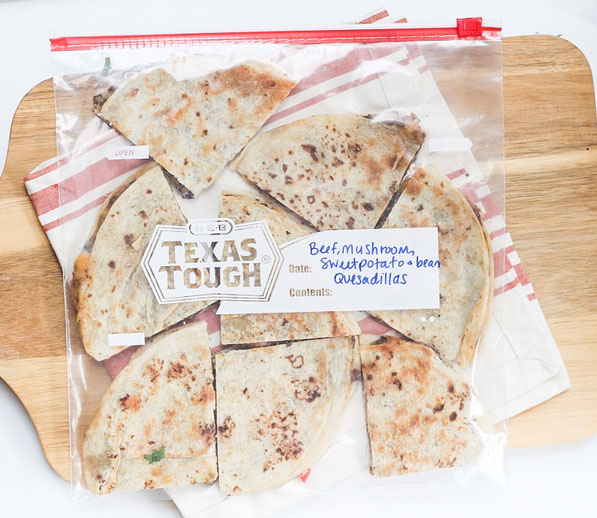 I love having these quesadillas on-hand in the freezer because when it comes to a busy weeknight, they are SO easy to make.  Plus, you know you've already got a good source of protein and plant-based goodness from the mushrooms, sweet potatoes, onion, and beans.  These are not your traditional plain tortilla and cheese quesadillas.  They're filling, flavorful, and just plain amazing.
When you're ready to re-heat them from the freezer, all you need to do is put them on a baking sheet (I line mine with parchment paper), and bake at 400 degrees for 10 minutes and you'll have fresh, already sliced quesadillas the whole family will gobble up! 
And if you're in a big hurry, these can be reheated from the freezer to the microwave as well, they'll just come out soft (but still delicious!), not with that crispy tortillas on the outside.  One minute at 80% power heats them perfectly in my microwave, but you may need slightly more or less time depending on your microwave.  I hope you enjoy this recipe! : )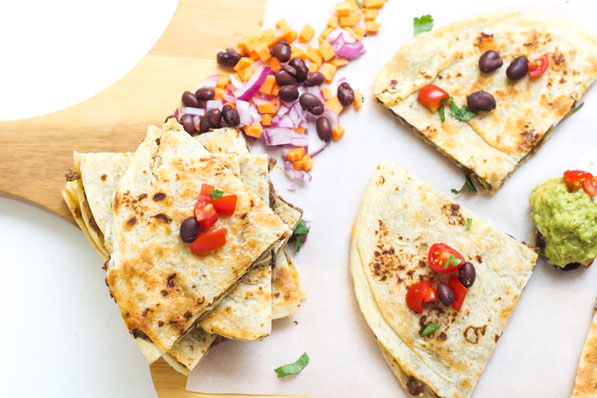 Freezer-Friendly Quesadillas with Beef, Mushrooms, Sweet Potatoes, and Black Beans
Makes 12 quesadillas 
For the Filling: 
1 tablespoon light olive oil or canola oil
1 cup finely chopped sweet potato (about 1/2 medium sweet potato)
1 cup finely chopped red onion (about 1/2 medium onion)
1 pound 90/10 ground beef
1 8-ounce package Monterey Let's Blend Diced Mushrooms, Mexican flavor
1 cup low sodium canned black beans, rinsed and drained (1/2 can)
1/4 teaspoon salt
pepper to taste
For the Quesadillas: 
non-stick cooking spray
24 flour or whole grain tortillas
4 cups shredded Monterey, Cheddar, or Mexican Blend cheese
To Make the Filling: 
Heat the oil in a large skillet over medium-high heat.  Add the sweet potato and onion, and cook for 5 minutes, stirring occasionally.  
While the sweet potato and onion are cooking, mix the beef and diced mushrooms in a bowl to combine well. 
Add to the the pan with the sweet potatoes and onion, and use a spatula or wooden spoon to break up the meat as it cooks.  Cook for about 12 more minutes, or until the beef is cooked through and the sweet potatoes are tender.  Drain any excess fat from the pan. 
Add the black beans, salt, and pepper to taste.  Remove from heat. 
To Make the Quesadillas (stove top method):  
Heat a grill pan or skillet over medium-high heat.  Assemble all of the quesadillas by spreading out 12 of the tortillas on a clean counter or cutting boards. 
Sprinkle about 3 tablespoons of the cheese on each tortilla.  Next, spread 1/2 cup of the quesadilla filling over the cheese.  Top each with 3 more tablespoons of the cheese.  Then top each one with another tortilla to complete the quesadillas.  
Use the cooking spray to lightly coat the top tortilla of each of the quesadillas, then add them to the skillet, oiled-side down for about 3-4 minutes (You'll need to work in batches depending on the size of your skillet or grill pan). 
Lightly spray the  top of the tortillas before flipping, then cook for another 3-4 minutes, or until both sides are golden and crispy and the cheese is melted. 
Remove from heat, cut each quesadilla into 4 pieces and serve or set aside to cool and freeze.  
To Make the Quesadillas (oven method):  
Assemble the quesadillas according to the directions above.  Line 2-3 baking sheets with parchment paper or foil and spray with cooking spray.  Add the quesadillas to the baking sheets, then spray the tops of the quesadillas with the cooking spray. 
Bake at 400 degrees for 5 minutes, flip them, and cook for 5-10 more minutes or until both sides are golden and crispy and the cheese is melted.  Cut each quesadilla into 4 pieces and serve or set aside to cool and freeze.  
To Freeze and re-heat the Quesadillas: 
Once the cooked and cut quesadillas have cooled completely, place the pieces in a gallon-sized freezer zip-lock bag, making sure to keep them in a single layer.  Add a piece of parchment paper or wax paper before adding another layer to the bag(s). Seal and freeze up to three months.  
To reheat from the freezer, preheat oven to 400 degrees.  Spread the quesadilla pieces on a baking sheet lined with parchment paper or foil and bake for 10 minutes or until heated through. 
*Note:  You can also heat them in a microwave, 3-4 pieces at a time or about one minute on 80% power, or until heated through (they will be soft if heated in the microwave).
Happy Eating! 
~Amber
---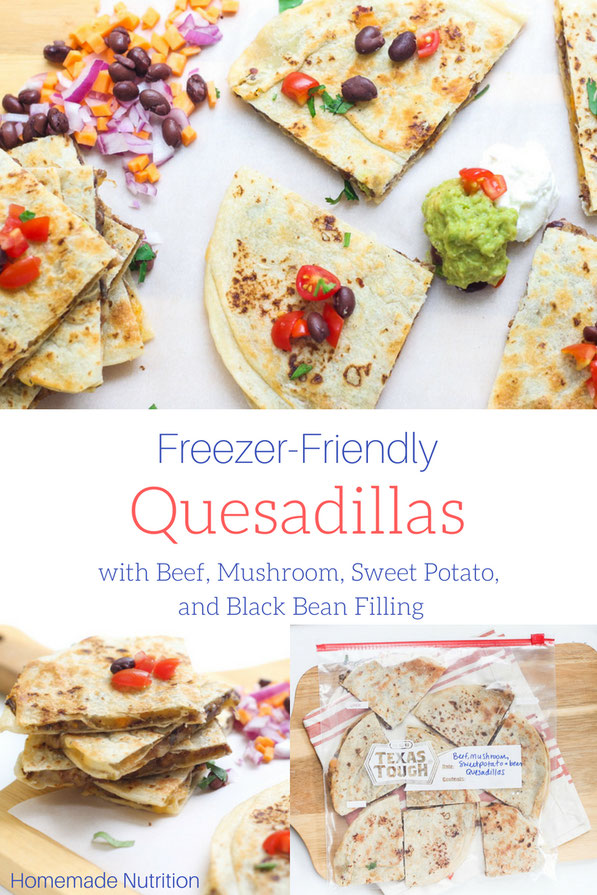 ---