This creamy and filling chocolate, peanut butter, and banana smoothie is packed with post-workout goodness, including a healthy serving of carbohydrates from potatoes!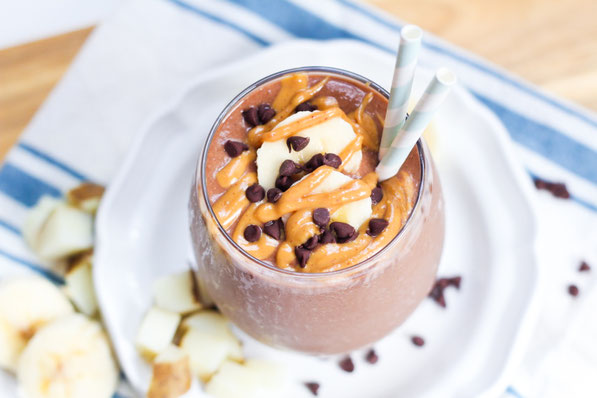 Disclosure:  By posting this recipe I am entering a recipe contest sponsored by Potatoes USA and am eligible to win prizes associated with the contest. I was not compensated for my time.
---
Hello, friends!  September is here, and it seems like everyone is bringing out the fall foods (which I'm so excited about!), but here in TX it's still in the 90's outside, so I'm in summer-food mode for a little longer...but that's okay because if you've been following my blog for a while, you know that I LOVE smoothies, so I enjoy them all year long.  
And today's smoothie is a creamy, dreamy chocolate treat that's also the perfect post-workout breakfast because it contains a balance of fueling foods, including potatoes.  Yes, potatoes. ;)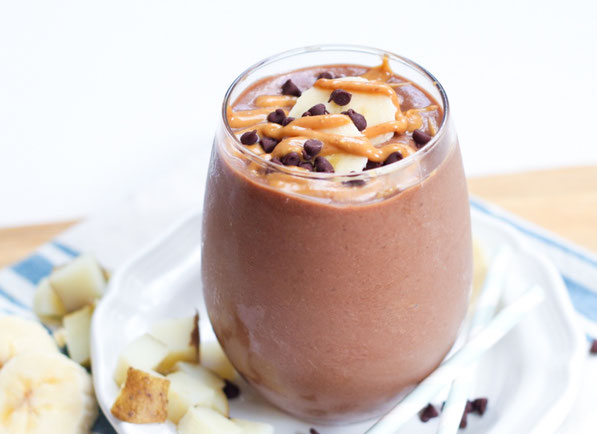 I know it may sound a little weird to put potatoes in a smoothie, but I put all kinds of veggies in my smoothies:  zucchini, yellow squash, spinach, kale, avocados, beets....so when I thought of ways to incorporate potatoes into my post-workout breakfast, I thought, why not potatoes? 
They're naturally creamy in texture and mild in flavor, so they should work in a smoothie...and it turns out they work beautifully!  It's completely creamy and you can even leave the skin on to keep all the nutrients.  Really, don't knock it till you try it!
And since we're talking about post-workout meals today, I thought I'd share a little bit about what to look for when it comes to nutrition after exercise.  A good post-workout meal should be:
Higher in carbohydrates (about 50 grams)
Moderate in protein (10-20 grams)
Low to moderate in fat 
Contain sodium and potassium to replace electrolytes 
Sometimes it can be hard to find a meal that meets these criteria without being too  heavy.  That's why I love smoothies after a workout.  They're cold and refreshing, really quick to make (I even make mine the day before sometimes), and they're an easy way to pack a bunch of nutrition in a quick meal.  
And when it comes to good sources of carbohydrates for after a workout, potatoes  fit the bill perfectly with their nutrition profile.  They provide the carbohydrate, potassium, and energy you need to perform at your best.   A medium potato with the skin has 26 grams of quality carbohydrate, and only around 110 calories, no fat, sodium or cholesterol, 30 percent of your daily value of vitamin C and more potassium than a medium banana.*  That's a whole lot of goodness in an affordable, easy-to-cook little potato package. ;)
*Sources: 1.Nutritional data is based on a 5.2 ounce skin-on potato. 2.  Gelibter A, et al Satiety following intake of potatoes and other carbohydrate test meals. Ann Nutr Metab. 2013;62:37-43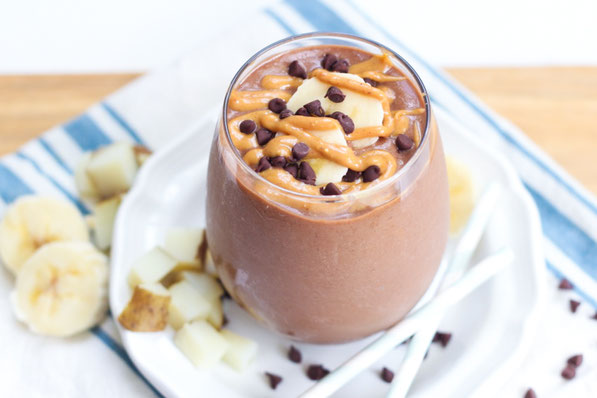 I usually bake a big batch of russet or gold potatoes in the oven (or my instant pot) each week to use in different recipes throughout the week, like breakfast tacos, frittatas, soups, twice baked broccoli and cheese potatoes....we honestly eat them all the time, and with my now 14-month old twins eating pretty much everything we eat, they have already started loving all sorts of potato-filled dishes. 
And for this smoothie, I just took half of one of our baked potatoes, chopped it up, and tossed it in the blender with the rest of the ingredients.   (Side note here, but this smoothie got an "mmmm!" from my daughter when she decided she needed to try some while I was trying to take pics of it... so I think you're sure to like it too!). 
If you're in a hurry, you can also make a quick baked potato in the microwave:  just prick the potato all over with a fork, put it on a plate, and cook it for about 5 minutes, and if it isn't tender, turn it over and cook for 3-5 more minutes.  For me, small-medium potatoes usually cook in about 3 minutes per side in the microwave.   Make sure the potato is cooled before adding it into this smoothie! They can even be made in advance, chopped, and frozen for when you need them. 
Pair that potato with chocolate, creamy peanut butter, bananas, and some milk, and you have a smoothie that tastes more like a milkshake than a healthy breakfast!  Happy blending!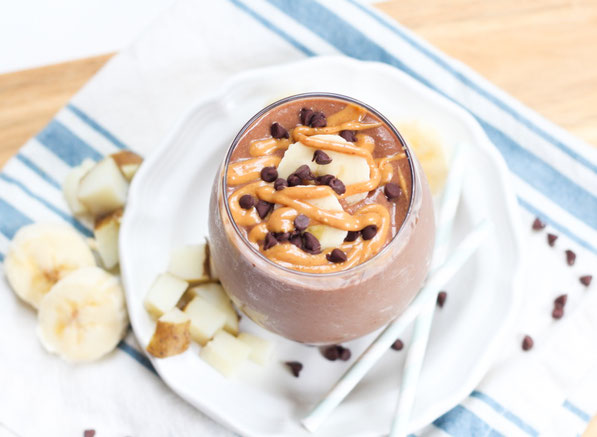 Chocolate Peanut Butter Smoothie
Makes 1 smoothie
Ingredients:
3/4 cup 1 % milk
1/2 banana 
1/2 medium cooked russet potato, with skin (1/2 cup chopped)
1 tablespoon cocoa powder
1 tablespoon natural peanut butter 
1 tablespoon pure maple syrup
1/2 cup ice cubes (4-5 ice cubes)
Directions: 
Place all ingredients in a blender and blend at least one minute or until the ingredients are completely combined and the smoothie is creamy.
Nutrition per serving (1 smoothie):  Calories:  360, Fat:  11g, Cholesterol:  8mg, Sodium:  96mg, Carbohydrates:  55g, Fiber:  6g, Potassium:  956mg, Protein:  13g, Vitamin C:  31mg
Happy Eating!
~Amber
---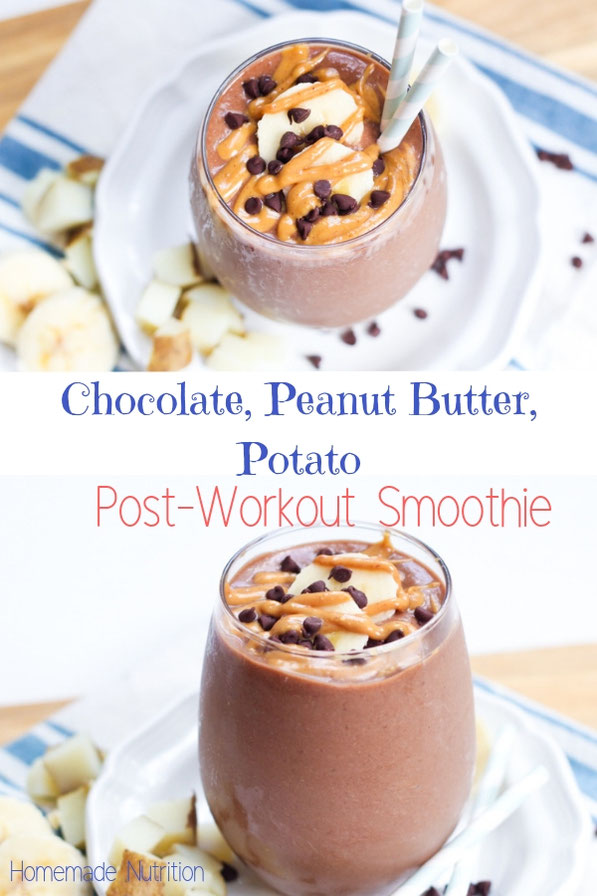 ---
---