These peanut butter and apple oatmeal bites are a great portable  breakfast, snack, or lunch box treat!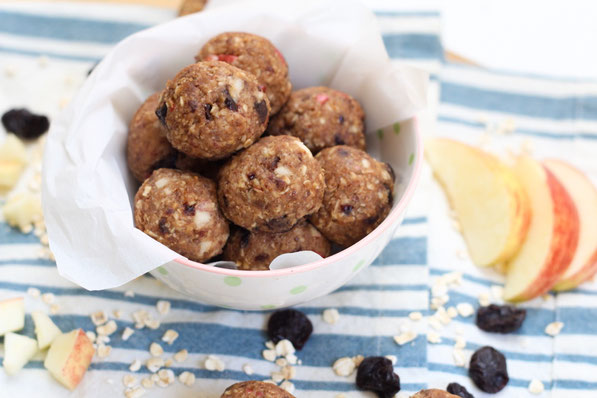 People love pop-able, portable snacks, which is probably why snack bites/energy bites are so popular.  And since it's been a few years since my last snack bite recipe on the blog,  I decided it was more than time to make a variation of that recipe that would taste just as great (if not better!). 
So, if apples and peanut butter are a go-to snack favorite for you, this recipe is a must-try!   All it takes is a food processor, a few wholesome ingredients, and about 15 minutes of your time.  :)   PS:  if you have kids, this is a fun one for them to help make (and eat!)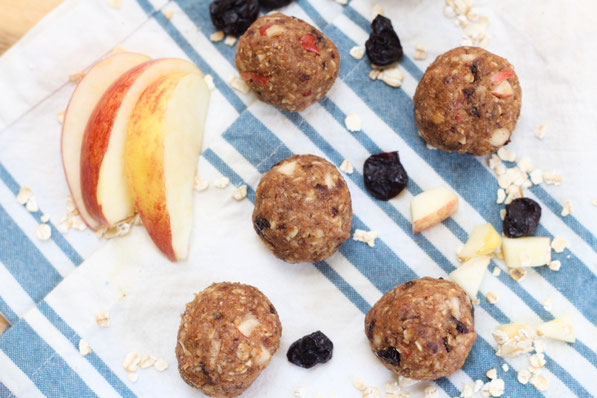 And since I haven't made a snack recipe in a while, I thought this would be a good time to give a few tips on how to choose healthy snacks.  I love snacks, but over time I've really come to see how easy it is for those snacks to get out of control and either turn into mini-meals (heathy or not), or they're an excuse to reach for a less-than-healthy option just because I think I "need" something to eat at certain times during the day.  Anyone else have this problem??
This can be really tough if you're trying to lost weight or reach other healthy goals.  So if you're going to snack, it's important to make smart choices that will work for your body, not against it! 
When choosing snacks, here are a few things to consider:
Is there a fruit, veggie, whole grain, lean protein, or source of low-fat dairy?  Aim for at least two food groups in snacks to keep them more balanced and get more nutrition into your day.
How many calories are in this snack?  A good range is around 100-200 calories per snack.
Is this snack a whole food (one that only contains ingredients straight from nature)? Or does it have a large list of hard-to-pronounce ingredients on the label?
If you choose a grain, such as crackers, try adding a source of protein with it, like one tablespoon natural peanut butter (it's good to include some protein with grains to slow digestion and help stabilize blood sugar levels).
Is this highly processed? Meaning, is there added sugar,  trans fat, food coloring, or preservatives?  If so, it's probably not the best option.
The beauty of these snack bites is that they're packed with nutrition, so you only need one or two to hold you over till the next meal.  Store them in an air-tight container in the fridge and you've got a quick healthy treat any time you need it.  Happy snacking!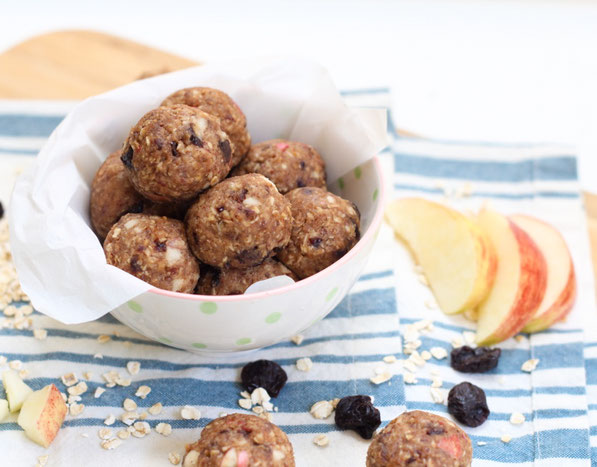 Peanut Butter Apple Oatmeal Snack Bites
Makes about 16 bites
Ingredients:
1/2 cup natural peanut butter
2 tablespoons ground flax seed
1 cup quick-cooking oats (instant oats) + 2-4 tablespoons more if needed
1/2 to 1 medium apple (about 1 cup), roughly chopped
1/3 cup dried cranberries or cherries 
1 teaspoon cinnamon
2 tablespoons pure maple syrup (or honey)
Directions:
Place all ingredients in a food processor and pulse until they come together to form a dough-like texture.  If the mixture is still crumbly, add 1-2 tablespoons water and pulse until it comes together.  If it seems too wet or sticky, add more oats, 2 tablespoons at a time, until you get the right consistency.  you should be able to shape the mixture into balls that hold together but aren't wet or gummy.  
Scoop the mixture out one tablespoon at a time and roll to make each snack bite round in shape.  Roll them into balls.  
Place in an air-tight container with parchment or plastic wrap between layers of the snack bites and store in the refrigerator up to one week. 
Happy Eating!
~Amber
---
---