These easy egg burritos with sweet peppers, zucchini, and black beans are the perfect  protein-packed, flavorful, and fun healthy breakfast-on-the go!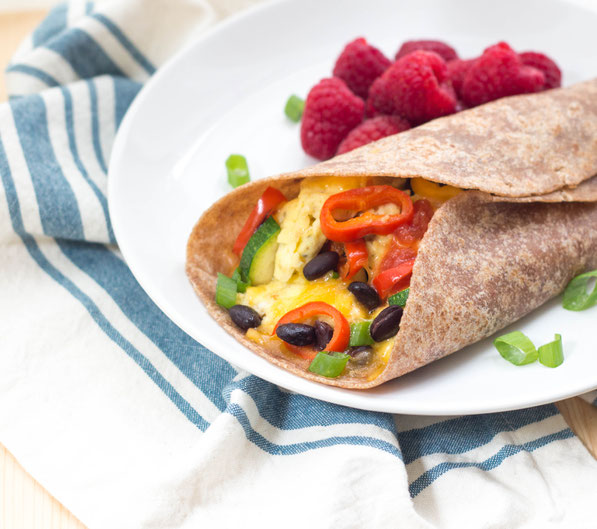 Disclosure:   By posting this recipe I am entering a blogger recipe contest sponsored by Davidson's Safest Choice Eggs and am eligible to win prizes associated with the contest. I was not compensated for my time.
I feel pretty grateful to have been born and raised in Texas, and  one of my favorite parts about being a Texan is the food!  We've got plenty of beef, BBQ, and Tex-Mex cuisine in the food scene here in South Texas, and one of my favorite staple foods absolutely has to be the taco.  Pretty much any kind of taco will do, and to me and my family, a weekend is not complete until at least one breakfast taco has been eaten.  
When brainstorming recipe ideas recently, I realized that I have never posted a breakfast taco recipe on the blog!  How could this be?!  So it's well past time to share one of my favorite go-to taco recipes.  :)
I'm calling this breakfast taco a burrito, which is basically just a taco that's been rolled up like a wrap.  It's how I like to eat tacos because it keeps all that yummy filling from falling out.  And my goodness these burritos are just overflowing flavor!  They're also really easy to make, so breakfast is served in just a few minutes! 
This recipe begins by sauteing sweet mini peppers, which have been a regular in our kitchen lately because they're full of sweet flavor and are easy slice and add to pretty much any recipe.  I also added chopped zucchini and black beans to really bulk up these burritos and add more fiber, protein, color, and some more Southwestern flare.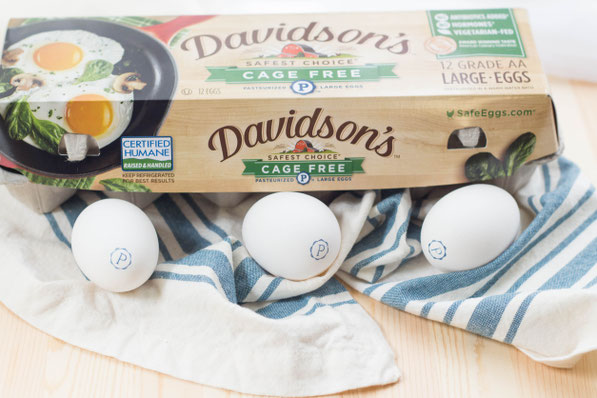 I used Davidson's Safest Choice Pasteurized Eggs in this recipe, as I do in many of my egg dishes.  What sets Davidson's eggs apart from the others out there is that they are pasteurized using an all-natural gentle water bath pasteurization process.  This eliminates the risk of Salmonella in the eggs, but it doesn't alter the flavor or nutrition of the eggs.  That little "P" stamped on each of their eggs means they've been pasteurized.
Why is that a big deal?  Well, for all those times you've been told not to eat that raw cookie dough or brownie batter, or that you shouldn't eat under-cooked eggs, it's because of the risk of Salmonella contamination.  Since pasteurization eliminates this risk, it means you can use these eggs and eat that cookie dough and all the poached and sunny-side-up eggs, desserts, or drinks made with raw or under-cooked eggs you want and not have to worry one bit! ;)   Enjoy!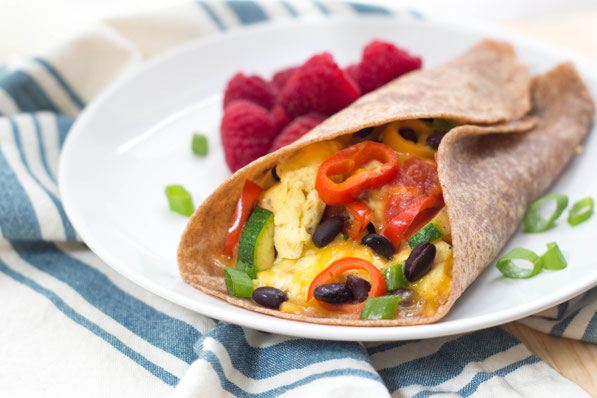 Southwestern Breakfast Burritos
Makes 2 servings
Ingredients:
1 teaspoon light olive oil or canola oil
2 mini red, yellow, or orange bell peppers, sliced in rings or chopped                   (about 1/4 cup)
1/4 of a large zucchini, chopped (about 1/4 cup)
1/4 cup canned black beans, drained and rinsed
3 large Davidson's Safest Choice Pasteurized Eggs
salt and pepper to taste
2 whole wheat tortillas
1/4 cup salsa of choice
1/4 cup shredded cheddar cheese
1 green onion, sliced
Directions: 
Preheat a medium non-stick or cast iron skillet over medium-high heat.  Add the oil, peppers, zucchini, and beans to the skillet and saute, stirring occasionally, for about 5 minutes or until the peppers and zucchini are tender. 
Meanwhile, crack the eggs into a bowl, add salt and pepper to taste, and whisk well. 
Reduce the heat to low, and add the eggs to the skillet.  Gently stir the mixture for about 2 minutes or until eggs are cooked. Remove from heat.
To assemble the burritos, heat tortillas on a stove top or in a microwave.  Spread 2 tablespoons salsa down the center of each tortilla.  Top each with half of the egg mixture, half of the cheese, and half of the sliced green onion.  Gently fold the ends of the tortilla inward, and fold one side of the tortilla over the filling and gently roll to form each burrito.  Cut in half if desired, and serve immediately.
 Happy Eating!
~Amber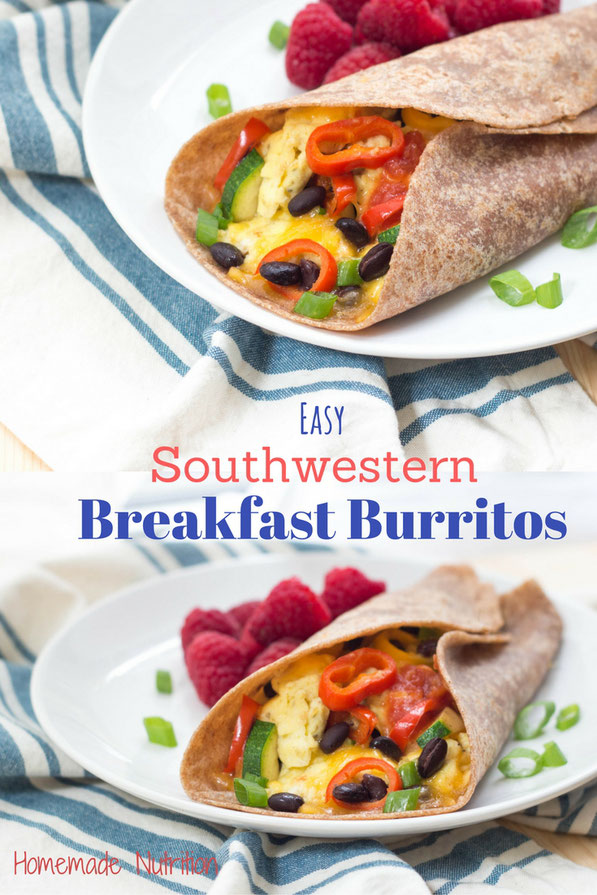 ---
---