This flavorful (plus gluten free) one-skillet dinner with Hawaiian BBQ chicken and zucchini is sure to please the whole family!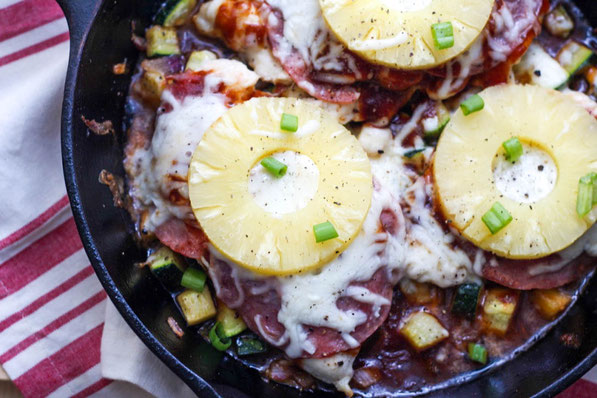 I'm excited to share a new one-skillet dinner today!  A few weeks ago we went to have dinner and hang out with some sweet friends at their new house, and that delicious meal inspired me to create today's recipe. 
 It was a tasty chicken dish with chicken breast covered in BBQ sauce and cheese, then baked in a pan covered in foil so it would stay moist and delicious.  There was roasted zucchini on the side (one of my absolute favorites), making it just an all around winner-winner chicken dinner for me!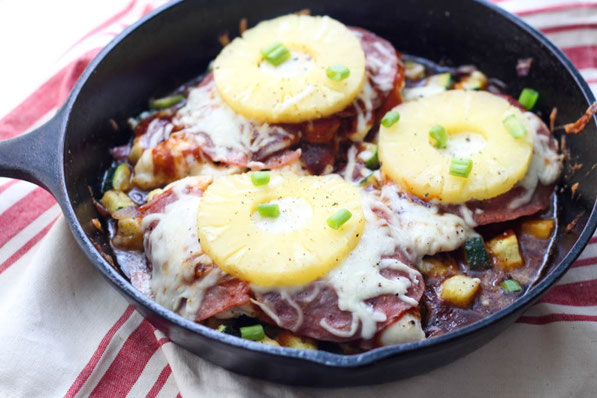 I left that dinner feeling inspired to re-create the dish with a little twist to make it a one-skillet meal, since I'm always looking for ways to wash fewer dishes.  ;)
And since I had sliced pineapple in the fridge, I also decided to add that and some ham for a little "Hawaiian flare" in this dinner.   My Canadian bacon and pineapple pizza-loving husband loved the result, because it's basically a spin-off of that over chicken!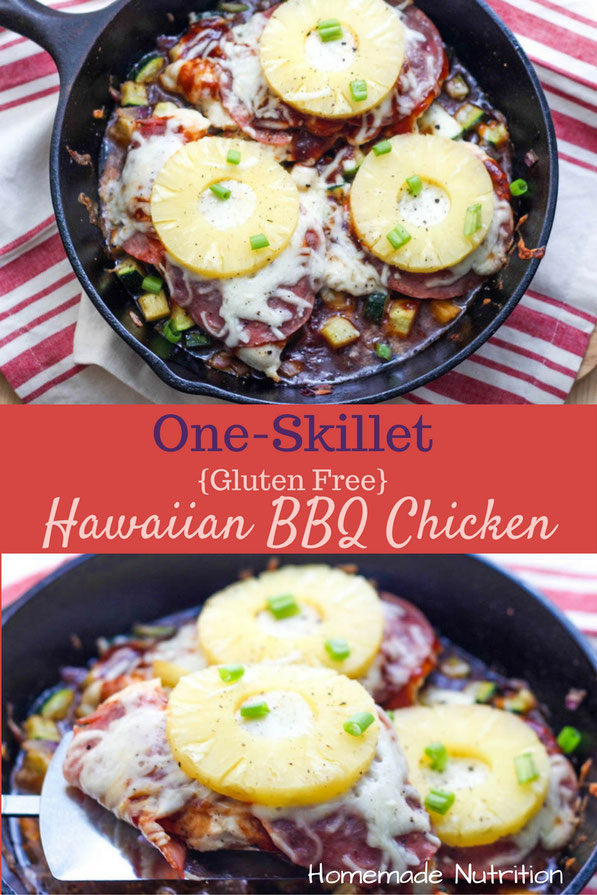 I was actually surprised at just how much flavor happened in this recipe!  I guess that's the beauty of one-dish dinners - all the ingredients you use come together while the meal cooks, resulting in a dish of absolute deliciousness!  What I especially like about this recipe is that the BBQ sauce spreads as it cooks, seeping into the bed of zucchini and onions resting below the chicken.  
Then there's the slightly salty flavor coming from the ham, melty goodness from the cheese, and a touch of sweetness from the pineapple.  This was definitely a winner at our house; I hope you enjoy it as much as we do!
PS:  I've got two other one-skillet dinners at the end of this post, so be sure to scroll all the way down and click on the pics to check them out!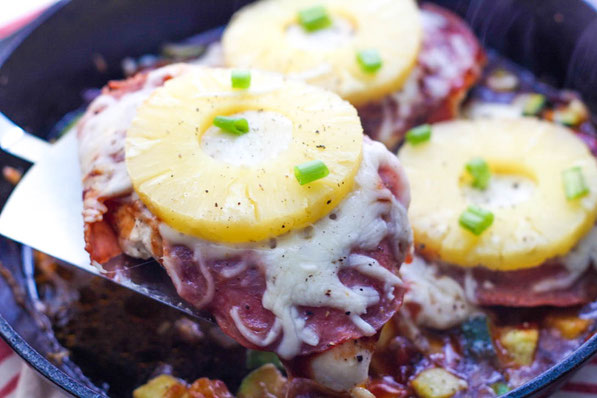 One-Skillet Hawaiian BBQ Chicken with Zucchini
Makes 4 servings
Ingredients: 
1 tablespoon light olive oil

2 medium zucchini, chopped

1/2 red onion, chopped

1 clove garlic chopped

salt and pepper to taste

3-4 chicken breast cutlets (about 1 pound)

1/4 cup BBQ sauce

6-8 thin slices ham (preferably uncured, or "nitrite free")

1/2 cup shredded mozzarella cheese

3-4 sliced pineapple rings

sliced green onions for garnish (optional)
Directions: 
Preheat oven to 400 degrees.  Heat a large cast-iron or other oven-safe skillet over medium-high heat on the stove. 

Add the oil to the skillet, then add the zucchini, onion, garlic, salt and pepper. 

Cook the vegetables, stirring occasionally, for about 10 minutes.  Turn off the skillet and remove from heat. 

Place the chicken cutlets over the vegetable mixture and season the chicken with salt and pepper to taste.  Add about 1 tablespoon BBQ sauce over each chicken cutlet and use a spoon to spread it evenly over the chicken.  Top each cutlet with 2 slices ham, 2 tablespoons cheese, and a pineapple ring.  

Place the skillet in the oven and bake for about 15 minutes or until the chicken is cooked through.

 

 

Garnish with sliced green onions if desired. 
 Happy Eating!
~Amber
---
---