Four-ingredient copycat Dole Whip recipe!!
This month The Recipe Redux challenged us to unpack some of our vacation memories and create a (healthy) homemade version of something an unforgettable that we ate during our travels.  
So I decided it's finally time to share something that some of you may not know about me....I LOVE Disney!  A lot....To the extent that my husband and I started running (okay walk/running) half marathons so we'd have an excuse to go to Disney World and Disneyland more often (check out RunDisney's website to learn more about that if you're interested!).  And yes, I have some of our half marathon pics in this post...keep scrolling. ;)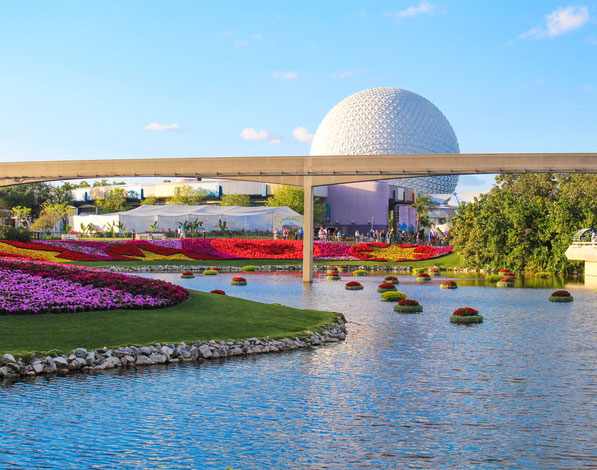 In addition to enjoying the all the of magical fun and races Disney has to offer, our absolute favorite thing to do there is eat.  Disney has amazing food at all of the parks - everything from freshly made sweet treats to themed restaurants to fine dining.  It's great.  And being a dietitian, food blogger, and someone who just loves to cook, I've become an avid collector of Disney cookbooks... (this isn't even all of them :/ )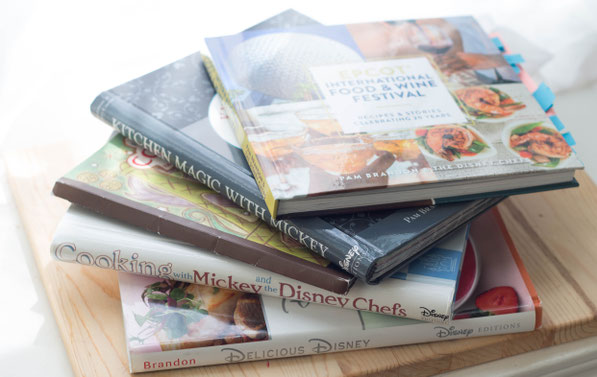 But one treat that is an unforgettable part of the Disney experience for us is Dole Whip.  It's an amazingly delicious non-dairy soft serve frozen treat that has a HUGE following.  People love this stuff, and many Dole Whip fans don't consider a Disney trip complete without enjoying at least one helping (my hubby falls into this group!) while there.  
Other than a few spots in the Disney Parks where you can find a Dole Whip, the only other place to get one is at the Dole Plantation in Hawaii.  Which makes it just a little extra-special to me, since it's something you can't just get anywhere!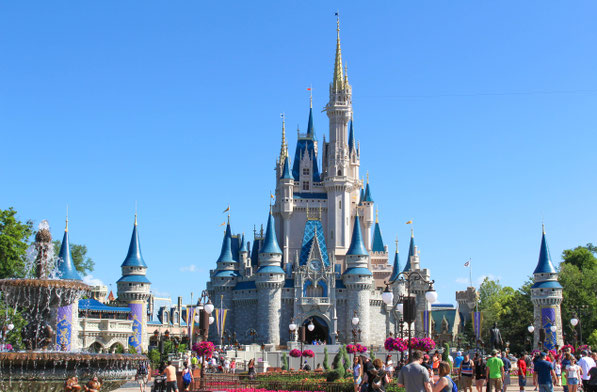 Pictured below:  top left is a pic from our very first Run Disney half marathon (now we're getting ready to head off to our fifth one!), middle pic:  Dole Whip, top right:  hubby patiently waiting for me to take a pic before eating Dole Whip, bottom pics:  Star wars half marathon challenge medals for the hubs (and 10k metal for me).  
When it comes to replicating a real Dole Whip at home, it's just not gonna happen.  There's no official recipe out there for the world to enjoy, but it's still possible to have a Dole-Whip-like experience!  There are tons of "copycat Dole Whip" recipes on Pinterest, and I've tried a couple of variations, but none of them truly spoke to me or came out like I had hoped.  
So I went with my own version, and (after many attempts) I have to say, it came out really good!   Now I just wish I had a fancy soft serve machine to get that gorgeous swirl design of the real thing! Will keep practicing my soft-serve technique... ;)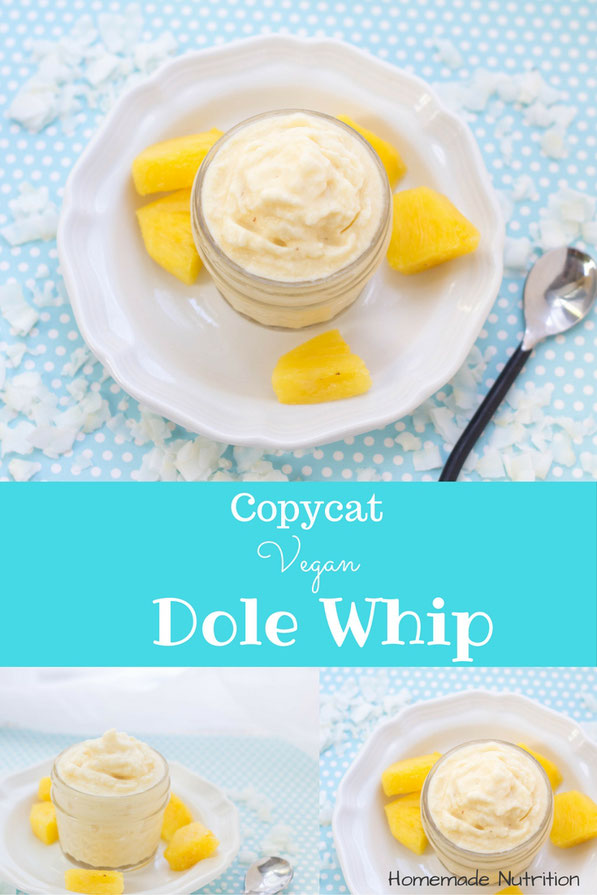 So until our next Disney trip (which is coming up really soon, yay!) where we can get the real thing, this frozen bit of yum will be our go-to Dole Whip fix.  I hope you enjoy, and let me know if you have a copycat Dole Whip recipe, I'd love to try more versions of this treat!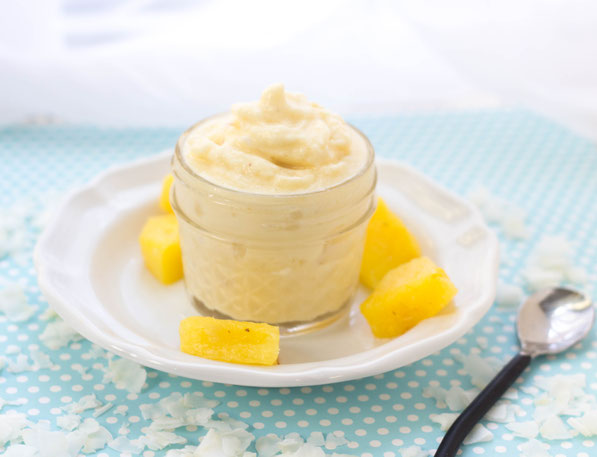 Copycat Dole Whip
 Makes 1 large or 2 small servings
Ingredients:
1 heaping cup fresh pineapple chunks

1/3 cup coconut cream

1/3 cup Dole 100% pineapple juice
1/8 teaspoon vanilla 
1 1/2 teaspoons sugar
Directions:
Place ingredients in a blender and blend until smooth.  Place in a container and freeze for about 30 minutes or until soft-serve texture is reached.  

When ready to serve, gently stir the mixture with a spoon to fluff it up, scoop into serving dishes and enjoy! 
Happy Eating! 
~Amber
---
---
---
For more recipe inspiration, check out the recipes below from fellow healthy food bloggers!
---