Zucchini noodles coated in a delicious peanut-sauce served with chicken skewers is a light and flavorful weeknight meal the whole family will love!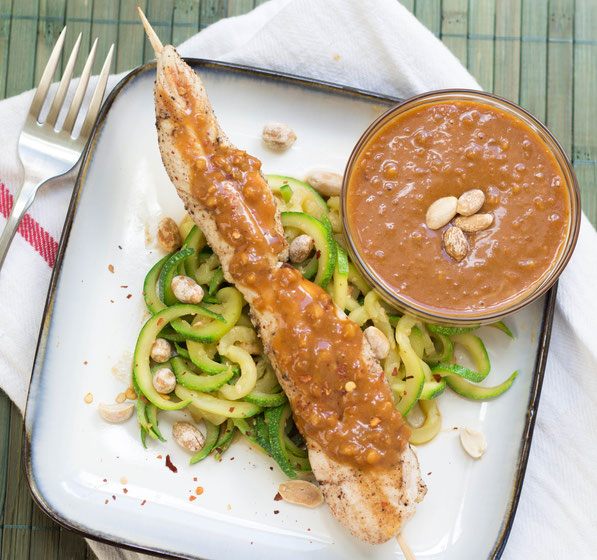 This month's theme for the Recipe Redux is to make a recipe using fun-shaped fruit or veggies.  Which meant it was finally time to post my first zoodles (aka zucchini noodles) recipe! 
You might have noticed that sprialized veggies are all the rage these days, and with good reason.  They're a fun, different way to incorporate more vegetables into your meal plan.  I'm especially loving the pop of color from these zoodles along with zoodle-based meals being much lighter than a heavier pasta-based dish.  Which is extra nice for summer!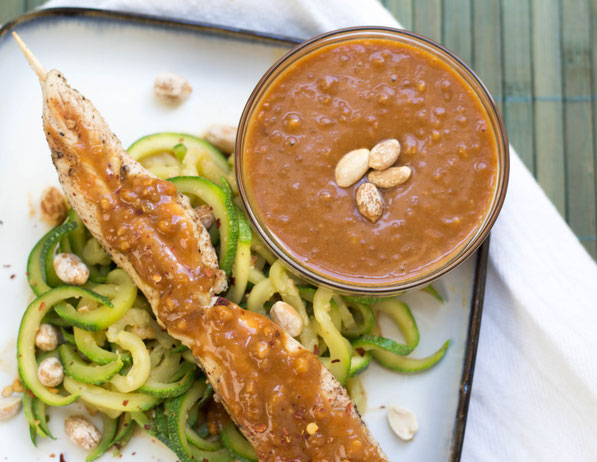 There are many different spiralizers available to purchase online and at most stores that sell cooking equipment.  I have a KitchenAid stand mixer, so I bought the spiralizer attachment that attaches directly to the mixer.  I absolutely love it!  Works great and doesn't take up as much space as it would if I had gotten a separate spiralizer.  BUT, you don't have to have a spiralizer to make noodles out of zucchini!  
You can easily get the "ribbon noodle" effect by simply using a potato peeler to peel a zucchini length-wise to get beautiful, think ribbons.  So you can definitely still enjoy this recipe without any fancy gadgets!  After making the zoodles or zucchini ribbons, I like to boil them for just a couple of minutes so they're nice and tender.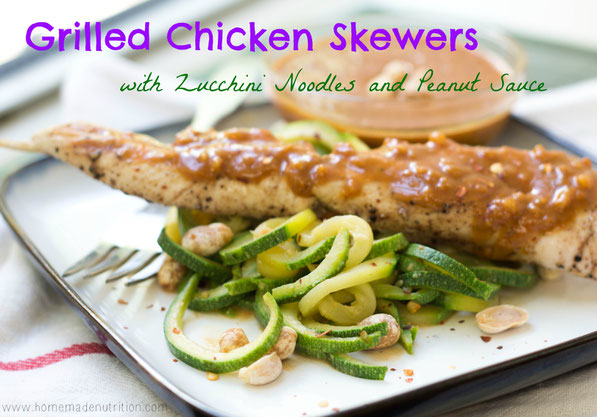 Next comes the peanut sauce.  The super. yummy. peanut sauce.  I'm so excited about this sauce because it goes with basically everything!  Lately I've been making a larger batch of this sauce and keeping it in the fridge so I've got an easy way to add flavor to grilled meats or veggies anytime.  It's got some soy sauce, ginger, and sesame oil so there's an Asian flare to this peanut butter based bit of deliciousness.
If the sauce is made in advance and stored in the fridge, this meal comes together in just a few minutes.  I skewer and season some chicken tenders while waiting for the water to boil for the zucchini noodles.  Then I use my panini press to cook the chicken skewers, but you could use a grille pan, griddle, skillet, or even bake them in the oven.  
The zoodles get a quick toss in some of the peanut sauce, and the cooked chicken gets a nice coating of the sauce just before serving.  It's a super simple meal that's gluten free, high in protein and fiber, low in carbohydrates, and full of flavor!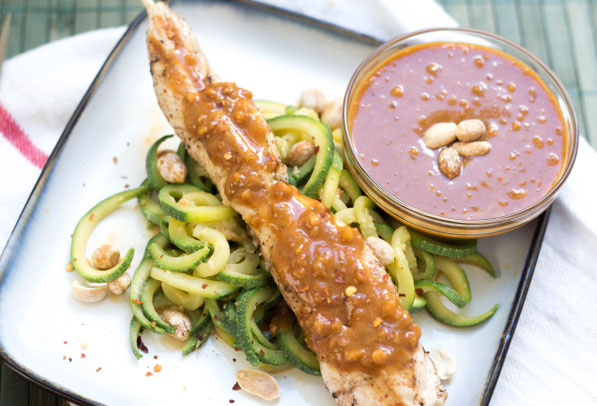 Grilled Chicken Skewers with Zucchini Noodles
and Peanut Sauce
For the peanut sauce (makes about 1 cup):
1/3 cup natural peanut butter

1/4 cup unsalted peanuts

1/4 cup low sodium soy sauce

1/2 teaspoon grated ginger

1 garlic clove, chopped

2 teaspoons sesame oil

3 tablespoons sugar

1 tablespoon sriracha sauce

2 tablespoons lime juice (about 1 small lime)
2 tablespoons rice wine vinegar
For the zucchini noodles:
For the chicken:
1 to 1 ½ pounds chicken tenders (about 8 tenders)

1 teaspoon five-spice seasoning

Salt and pepper to taste

2 teaspoons light olive oil

4 wooden or metal skewers
Directions:
Place all peanut sauce ingredients in a food processor or blender and blend until the sauce is smooth other than small chunks of peanuts.  Set aside. You can also make this sauce in advance and store in the refrigerator up to a week.

Use a spiralizer to spiralize the zucchini.  You can also use a potato peeler to peel the zucchini length-wise into thin ribbons. 
To cook the zucchini noodles, bring a medium pot of water to a boil.  Add the zucchini and cook for 2 minutes.  Drain the zucchini, place in a mixing bowl, and add ¼ cup of the peanut sauce.  Toss to combine the noodles and sauce. 
To make the chicken, season the chicken tenders with the five-spice seasoning, salt, and pepper.  Pour the oil over the chicken and rub to coat the chicken in the oil and spices evenly. 
Place two chicken tenders on each skewer and cook on a panini press, grill pan, or griddle for about 5-7 minutes or until the chicken is cooked through.  
To serve, place a bed of the zucchini noodles on each plate.  Top with a skewer or chicken, and serve with additional peanut sauce to taste.   
Happy Eating!
~Amber
---
---
---
For more recipe inspiration, check out the recipes below from fellow healthy food bloggers!
---