Easy, delicious fish tacos ready in 20 minutes!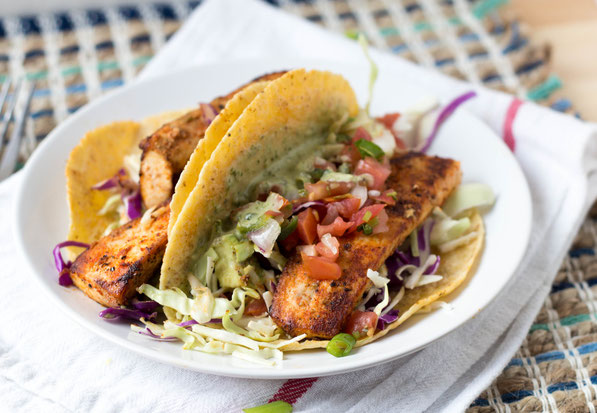 Do you eat the recommended 2-3 servings of seafood each week?  If you're like most Americans, the answer is probably no.  Even though we all hear that we need to eat more fish, most of us just aren't getting those servings in, and I think one of the main reasons is that we get bored with eating fish the same way all the time, or think fried fish is the only kind that tastes good... 
Enter, fish tacos. They're fun, flavorful, and a healthy way to enjoy fish that can help free us from that fish rut!   Who knows, you might even start looking forward to "fish night" each week if you know this little gem of a dish is on the menu!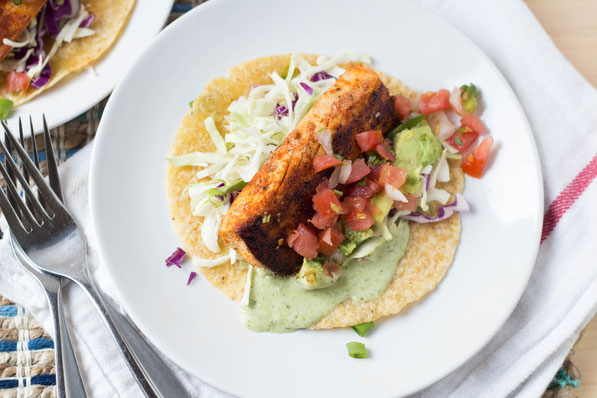 I used mahi mahi in these tacos because it's one of my favorite kinds of fish.  It's light but still has a hearty texture for fish, and also has a mild flavor, so it's not a very "fishy" fish. 
I usually buy frozen mahi mahi fillets and take them out of the freezer the night before I want to cook them, or if I'm super short on time, I put the frozen fish (in the bag they come in) in a bowl of cold water to thaw for about 30 minutes.  The water MUST be cold for this to work and be food-safe!  
At my grocery store, they sell mahi mahi in "taco chunks," which are basically fillets that are bigger than bite-sized, but smaller than full fillets.  They happen to fit perfectly inside tortillas!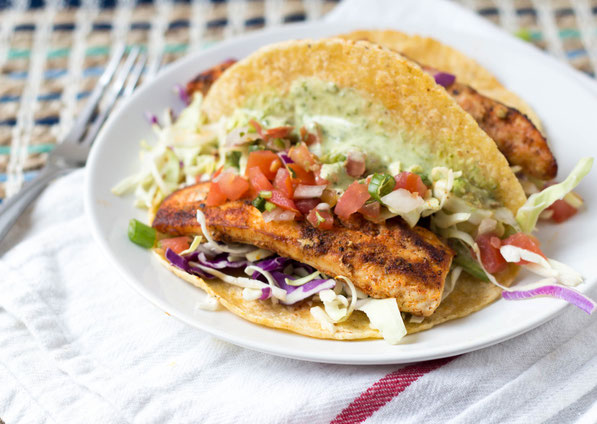 One of the best things about fish tacos is how easy they are to make.  Just season the fish and cook in a non-stick or cast iron skillet for about 3-4 minutes per side or until the fish flakes easily with a fork.  
Then heat some tortillas (preferably corn) and top with your favorite taco toppings:  pico de gallo, avocado, cilantro-lime dressing, salsa, green onions...whatever you like!  Shredded cabbage is a standard topping for fish tacos, so that's a must-add topping. :)  
This whole dinner comes together in around 20 minutes, and I recommend putting the tortillas and toppings out so everyone can make their own tacos the way they like.  Enjoy!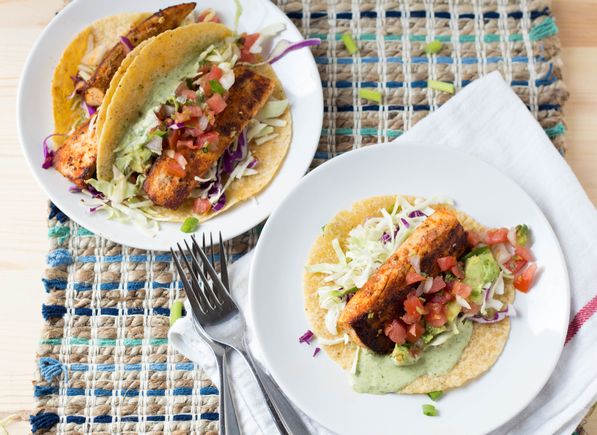 Easy Fish Tacos
Makes 2 servings

For the Fish:
2 4-ounce mahi mahi fillets (or about 8 ounces mahi mahi fajita chunks)
1 tablespoon light olive oil
salt and pepper to taste
1/2 teaspoon chili powder
1/4 teaspoon garlic powder
1/4 teaspoon onion powder
4 corn tortillas
Topping Ideas: 
shredded cabbage
store-bought pico de gallo
sliced avocado
salsa
dressing of choice (such as cilantro-lime dressing)
Directions:

Heat a non-stick or cast iron skillet over medium-high heat.  Coat the fish with the oil, then sprinkle the seasonings over both sides of the fish.  
Add fish to the skillet, and cook about 3-4 minutes per side, or until the fish flakes easily with a fork. 
To assemble the tacos, heat the tortillas, add add the toppings of choice, then top each taco with fish.  
 Happy Eating!
~Amber
---
---