This three-in-one appetizer platter has something for everyone to enjoy!  And the addition of finely diced mushrooms along with fresh veggie sides make it a lighter option full of flavor and beautiful color; perfect for holiday or game-time gatherings!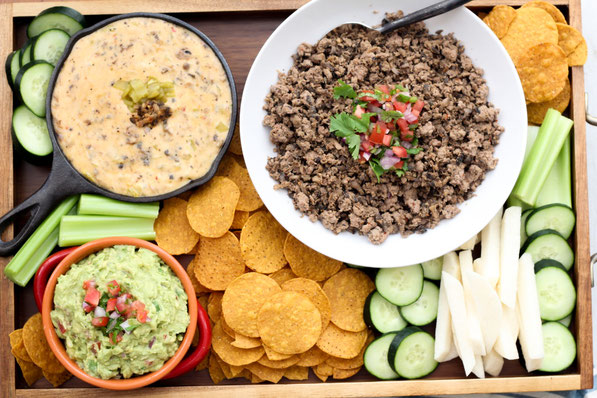 ---
Disclosure:  I'm excited to partner with Monterey Mushrooms, the largest fresh mushroom grower in North America, for this post.  All opinions are my own, and I only partner with brands and products I use in my own kitchen.
---
It's that time of year for family gatherings, football-watching parties, and holiday festivities, so it's always nice to have new snacks and appetizers at-the-ready.  And if you're trying to find something to serve that's a little lighter but will make everyone happy, you've gotta try this triple-dip appetizer platter!  Because you just can't go wrong with guacamole, queso, and taco meat.  Everyone will seriously love this, and you can't beat the colorful presentation.  Here's how to put it together!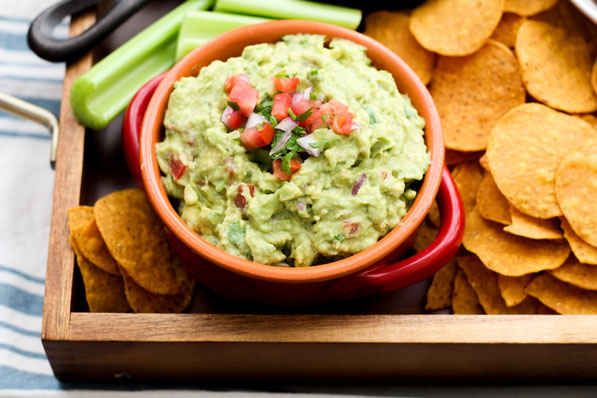 Step One: Guacamole
I decided to keep this part of the recipe a classic guacamole that's packed with flavor.  It's a real crowd-pleaser, and it's simple to put together:  Mix mashed avocado with chopped onion, tomato, cilantro, lime juice, jalapeno, and a touch of salt and pepper.  Appetizer one: Done! ;)   
Side note here:  If you're running short on time and looking for a short-cut, this is the one out of the three dips you can get a store-bought version for.  But if you have the time, it's definitely worth making from scratch!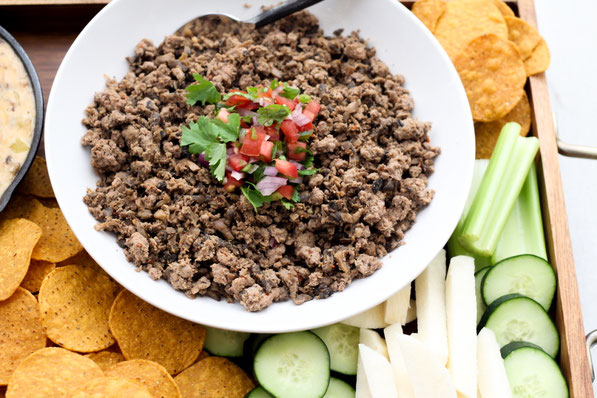 Step two:  Taco meat
This is where the magic happens, because this is the part that adds more substance to your appetizer and is high-protein, low-carb, and super filling.  Plus it's the easiest two-ingredient taco meat you'll ever make!  There's a secret ingredient that boosts the nutrition, adds all the flavor, and stretches out one pound of meat to feed a whole crowd.  That ingredient is Monterey's Let's Blend Diced Mushrooms. 
I've been using this product for months now and it has completely changed the way I cook my ground meats because it adds a huge boost of flavor to anything I make and always makes enough for leftovers.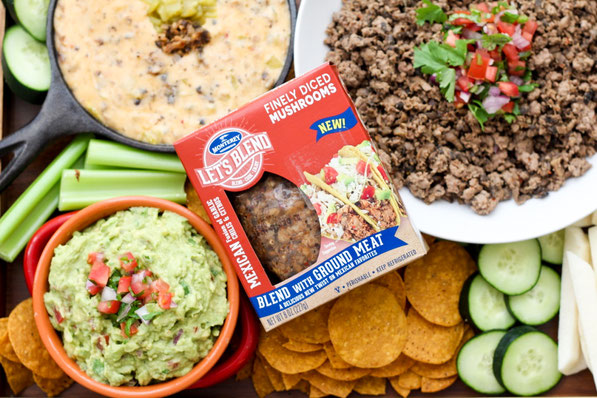 Let's Blend are finely diced mushrooms that have been pre-seasoned to make the cooking experience much easier,  all while adding flavor and a boost of nutrition to traditional meat dishes.  
There are three flavors currently available:  Classic, Mexican, and Italian. To use this product, you simply add the diced mushrooms to your ground meat (beef, chicken, lamb, pork, and turkey all work well), mix them together then continue making your recipe as usual.  It's perfect for anything from enchiladas to meatballs, burgers, tacos, sloppy joes, and any other recipes traditionally made with ground meat.  
*Let's Blend is available in select retailers and markets. If it's not yet available in your market, don't worry! Monterey Mushrooms has an easy how-to guide on blending with fresh mushrooms and some delicious recipe inspiration!
Step Three: Queso
I save this one for last because I like to make sure that cheese is melty and gooey and fresh!  And did you know it's actually really easy to make queso from scratch?  Like really easy.  I don't know about you, but I've grown up making queso by microwaving a block of "cheese product" with a can of diced tomatoes....which don't get me wrong, tastes good, but just a few ingredients will give you a fresh queso everyone will go crazy for! 
All you have to do is add some shredded cheese, milk, cream cheese, diced green chiles, and 1/2 package of Let's Blend Mexican Mexican Diced Mushrooms and mix it together until everything is melty and perfectly seasoned.  It takes five minutes to make, and while you should try to make this fresh, I have definitely re-heated this queso in the microwave the next day and it came out perfect!
I usually put the other 1/2 package of the diced mushrooms in a freezer ziplock bag so I can take it out and add to my next batch of taco meat, enchilada sauce, or chili.  The mushrooms freeze beautifully.  
I like to serve these three dips with sweet potato tortilla chips, but any tortilla chips you love will work beautifully!  For added color and healthier options, I also add fresh veggies to the platter.  Sliced cucumber (or zucchini), celery sticks, and sliced jicama are my favorites, but you can add any veggies you like!  Happy snacking!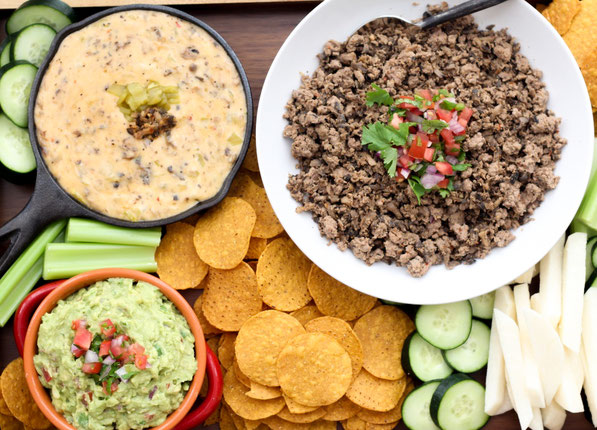 Triple-Dip Mushroom Appetizer Platter
Serves about 10-12 appetizer portions
Guacamole Ingredients: 
4 large haas avocados
1/2 red onion, diced
2 roma tomatoes, diced (about 1 1/2 cups)
1/2 bunch cilantro (about 1/3 cup), chopped
juice of 2 small limes (about 1/4 cup)
1 jalapeno, seeds removed, diced (optional)
salt and pepper to taste
Directions:
Slice avocados and remove the flesh. Place in a large bowl and use a fork or potato-masher to mash the avocados. 
Add remaining ingredients to the bowl and gently stir to combine.   Place in a bowl to serve. 
Taco Meat Ingredients: 
1 pound 90/10 lean ground beef
1 package Monterey Let's Blend Diced Mushrooms, Mexican flavor
Directions:  
Heat a large skillet over medium-high heat.  In a large bowl, add the beef and diced mushrooms and mix well to combine. 
Add the meat-mushroom mixture to the skillet and cook for 10-12 minutes, or until the meat is cooked through.  Place in a bowl to serve. 
Queso Ingredients: 
2 cups Mexican-Blend shredded cheese
1/2 cup 1% milk (or whatever milk you have on-hand)
2 ounces (1/4 block) cream cheese
1/2 package Monterey Let's Blend Diced Mushrooms, Mexican flavor
1/2 cup (4 ounces) canned diced green chiles
Directions: 
Heat a medium skillet or saucepan over medium heat.  Add the cheese and milk to the pan and stir until the cheese is melted, reduce the heat to low, and add the diced mushrooms and diced green chiles.  Continue to stir gently until everything is melted and mixed well.  Remove from heat and serve. 
Note:  You can serve these appetizers with an assortment of tortilla chips, cucumber slices, celery or zucchini sticks, and jicama slices.  
Happy Eating!
~Amber
---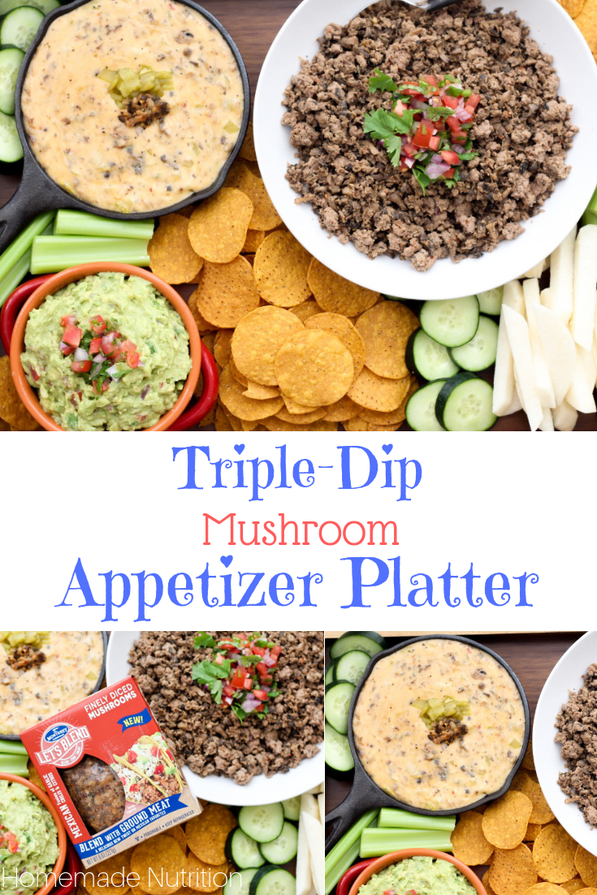 ---