Fall...It's a pumpkin-lover's favorite season!  I'd even venture to say that the holidays just wouldn't feel the same without this versatile, delicious ingredient!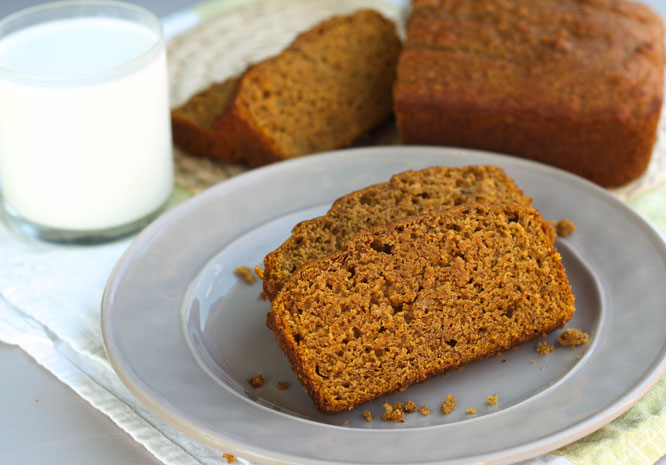 One of my favorite things about pumpkin is all of the different things you can do with it since it's got such interesting cooking-qualities.  One of the best baking qualities of pumpkin is its' ability to add tons of moisture without adding  fat.  And for those who aren't huge fans of pumpkin, it can actually "disappear" in baked goods, so you can use it to add moisture and nutrition to baked goods without it being too "Pumpkin-y" (if there is such a thing!) ;)

Loaded with fiber, vitamins A and C, it's also super healthy - as long as it's not completely swimming in sugar and fat...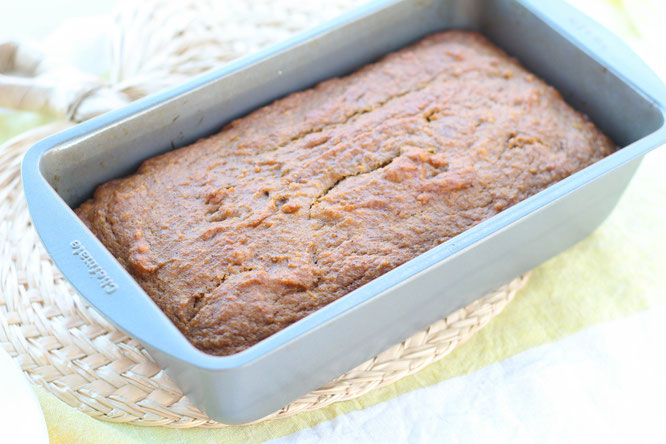 Another food straight from nature that is an awesome sugar and fat replacement in baked goods is banana.  It adds a subtle sweetness without bold flavor if you use the right spices. 
This recipe is a beautiful marriage between banana bread and pumpkin bread.  It's got all the sweet deliciousness of both, without the high amounts of sugar and fat normally used in each of them. If you'd like this bread to taste more like banana bread, follow the recipe with the amounts of spices as written below.  If you'd like it to taste more like pumpkin-spice bread, follow the spice amounts noted on the recipe.  It's delicious either way!

It makes for a really special holiday dessert, sweet addition to a brunch, or thoughtful holiday gift for a friend, neighbor, or family member. 
And on top of all that - this recipe also happens to be vegan, meaning there are no animal products in here.  That's right.  No eggs, no milk, no butter.  But still all the flavorful deliciousness you'd want.  It is super moist and has a light, fluffy texture!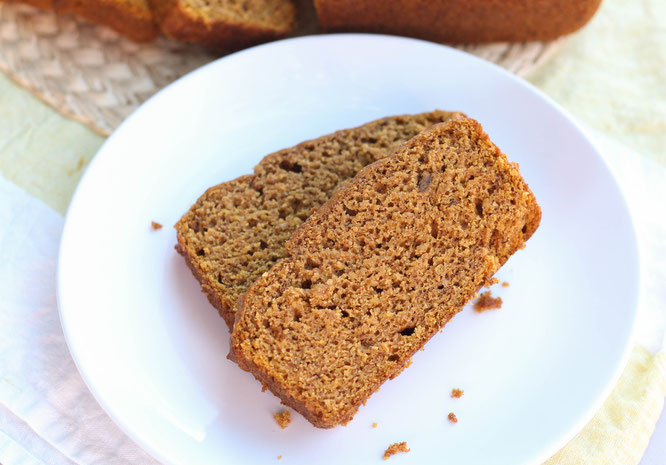 Vegan Pumpkin Banana Bread
Makes 1 loaf – about 12 servings
Dry Ingredients:
·      1 cup all purpose flour
·      ½ cup whole wheat flour
·      ¼ cup ground flax
·      1 teaspoon baking powder

·      ½ teaspoon baking soda
·      2 teaspoons ground cinnamon
·      1 teaspoon ground nutmeg
·      1 teaspoon ground ginger
·      1/4 teaspoon ground cloves
Wet Ingredients:
·      1 cup pureed plain pumpkin 
·      1 large very ripe banana
·      ½ cup water
·      1 teaspoon vinegar
·      ¼ cup canola oil or other light oil
·      1/3 cup dark brown sugar, not packed
·      1/3 cup white sugar
Directions:
In a medium bowl,  combine the dry ingredients.  In a separate, large bowl, combine all of the wet ingredients. 
Next, add the dry ingredients to the wet, and whisk until smooth. 
Pour batter into a lightly greased loaf pan, and spread out to be even. 
Bake at 350 degrees for about 45 minutes or until toothpick inserted into the center of the loaf comes out clean.   
Let cool, remove from pan, and slice.  Enjoy!

Happy Eating!
~Amber