This fun version of spaghetti and meatballs is baked in a muffin tin to make "nests." It's a beautiful, perfectly portioned dinner the whole family will love!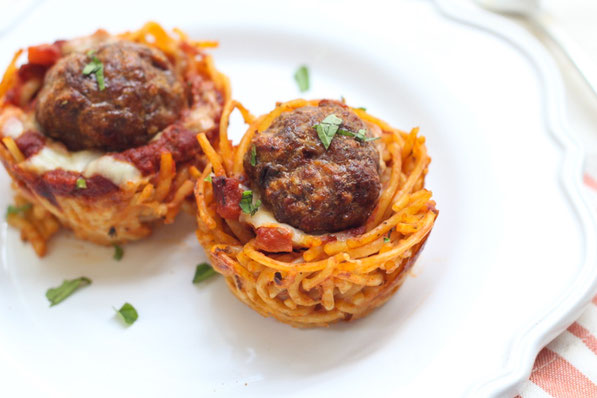 When I started working on this post, I had to really stop and think about what to call this recipe.  Because to me the thought of eating spaghetti and meatball "nests" sounds a little weird, but that's just what they look like. 
I've found other versions online that call these spaghetti and meatball "muffins" or "bites," but the way I see it,  you can't call something a muffin just because it bakes in a muffin pan.  These are not muffins.  And they are bigger than one or two bites, so I didn't want to go with that for the name either.  So, I hope you don't mind the name of these little "nests," because they are SO good.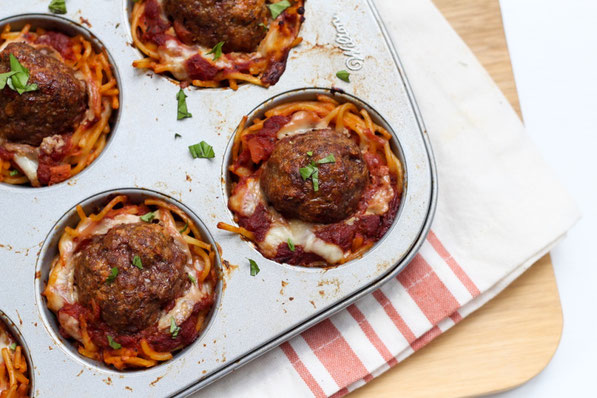 There are a few extra steps for making this recipe compared to traditional spaghetti and meatballs, but to me the little bit of extra effort is completely worth it.  You end up with a beautiful, easy-to-portion pasta dinner the whole family will love!  You can also make this recipe really easy by using your favorite store-bought frozen meatballs if you're in a pinch for time. 
Another HUGE time saver is making the pasta the night before.  If you have pre-made meatballs and pasta, you can assemble this meal in minutes and have it on the table in less than 30 minutes!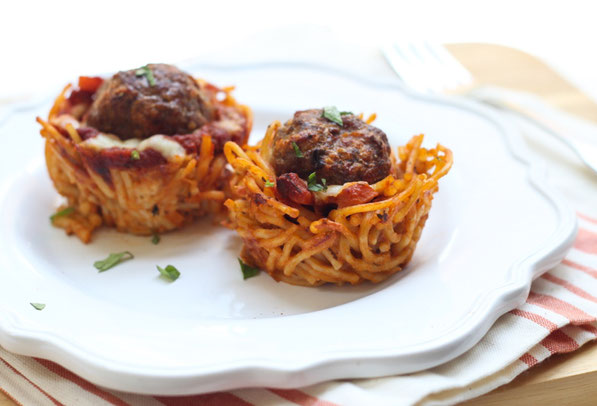 Here's how they come together:  Place the cooked spaghetti noodles in a big bowl.  I like to use kitchen scissors to cut up the noodles a little so they're easier to eat for my twin toddlers (and for me!) but you can skip this step. 
Mix in some of your favorite marina sauce (look for one without added sugar at the store), 2 eggs, and some grated parmesan cheese.  Next, place 1/4 cup portions of the noodles in a lightly greased muffin tin.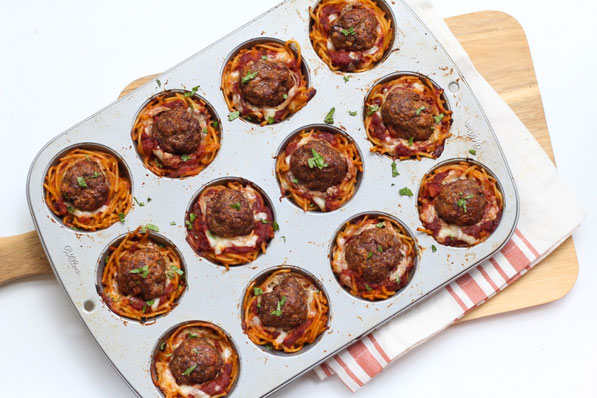 At this point I like to add 1 tablespoon of shredded mozzarella cheese and another tablespoon marinara sauce on top of the pasta because it will make this dish over-the-top delicious! 
One cooked meatball goes on top of each spaghetti "nest" and the whole thing bakes for about 15 minutes to spaghetti and meatball perfection!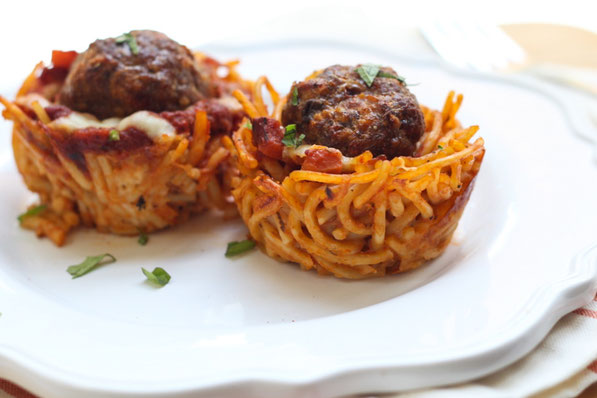 Spaghetti and Meatball "Nests"
Makes 6 servings (12 spaghetti "nests")
For the meatballs: 
1 pound 90/10 ground beef
1 egg
1/2 cup breadcrumbs
2 tablespoons dried Italian seasoning 
1/4 cup grated parmesan cheese
For the spaghetti "nests:"
12 ounces spaghetti noodles (or 3 cups cooked spaghetti noodles)
2 eggs
1/2 cup grated parmesan cheese
1 24-ounce jar marinara sauce (or 3 cups), separated
3/4 cup shredded mozzarella cheese
Directions:
Preheat oven to 400 degrees.  In a large bowl, combine the meatball ingredients and mix well.  Shape into 12 meatballs, place on a baking sheet, and bake for about 18- 20 minutes or until cooked through.  
While the meatballs are baking, cook the spaghetti noodles, drain and add to a large bowl.  If desired, use kitchen scissors to cut the spaghetti into smaller pieces.  Add the eggs, parmesan cheese, and 2 cups of the marinara sauce to the pasta and mix well.  
Place 1/4 cup of the pasta mixture into each cup of a lightly greased muffin tin.  Use the bottom of the measuring cup to press the pasta mixture down into the muffin tin.  Top each one with 1 tablespoon of mozzarella cheese and marina sauce, then place a meatball on top of each one.  
Bake for 15 minutes, or until the pasta "nests" have set, then cool for about 10 minutes.  Use a large spoon to remove each of the spaghetti and meatball nests, and serve! 
Happy Eating!
~Amber
---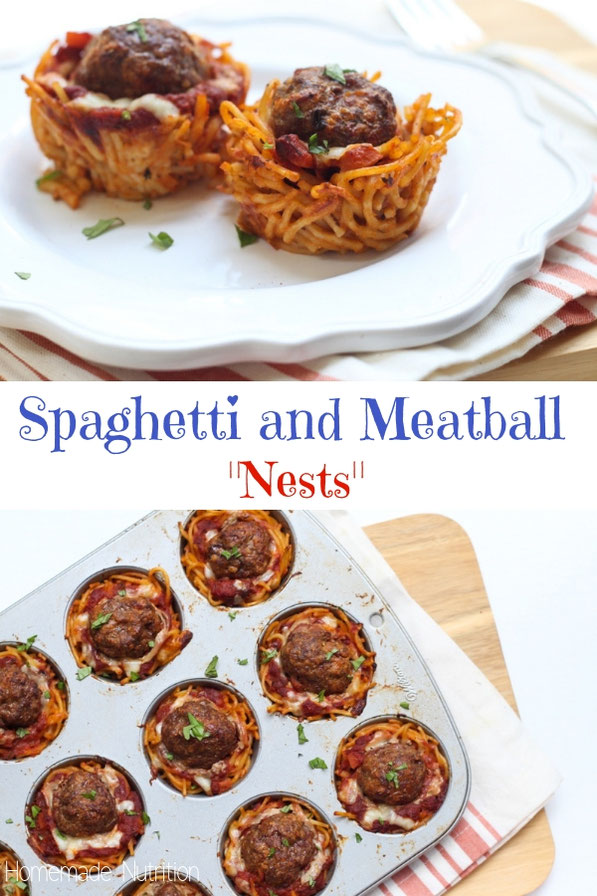 ---