This slow cooker beef brisket with mashed potatoes, carrots, and onions is a beautiful dish that's been a family-favorite for decades!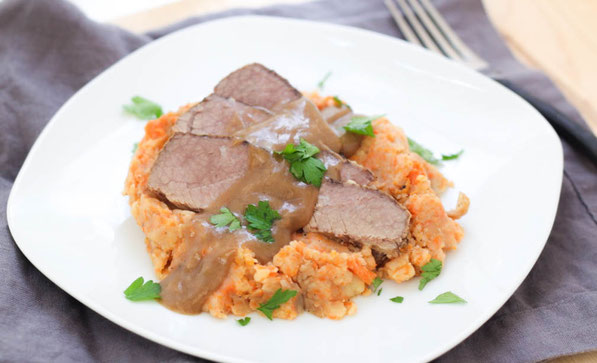 Did anyone else basically grow up in the kitchen?  I'm so grateful that my parents have both always cooked, which got me into the kitchen and very interested in food from a young age.  
And growing up Texan, we ate (and still eat) lots of beef.  Burgers, ribs, brisket, roast, chicken fried steak, regular steak, meat loaf, tacos...there's a lot of beefy goodness I associate with my childhood! :)   
This month The Recipe Redux challenged us to think of some of our earliest kitchen memories and share lighter versions of one of our favorite recipes.  For me, this wasn't difficult at all.  There's one crock-pot/slow cooker recipe that my family started making when I was very young, and I loved it so much I insisted we mark the page in the cookbook it's from so we would be able to find it and make it over and over (and over) again.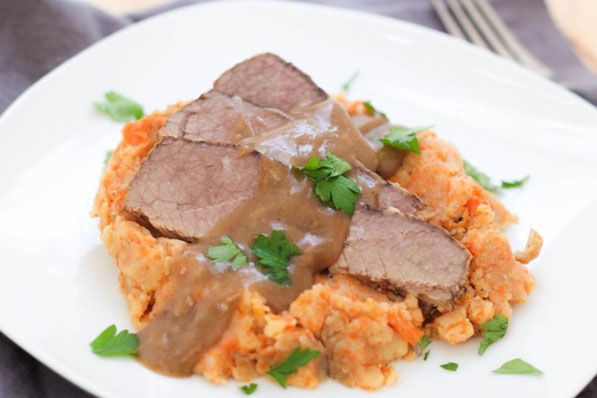 The original recipe is called "Beef Brisket Hutspot" from the1976  Better Homes and Gardens Crockery Cooker Cook Book.    It's a slow cooker brisket that cooks over a bed of chopped potatoes, carrots, and onions.  Once the beef is cooked, it comes out and the veggies are mashed with some butter to make the most delicious (plus orange) mashed root veggie mixture.  
I only made a couple of changes to the original recipe, because you don't mess with perfection!
I use low sodium beef broth in place of "beef flavored gravy base" and added a bit more spice.  I also found that you really don't need to brown the beef on the stove before placing in the slow cooker, which saves more and makes for one less dish to wash!  
This recipe always tastes the best when made and eaten at my parent's house, but I still love making this dish anytime I crave comfort food.  I hope you enjoy it as much as my family does!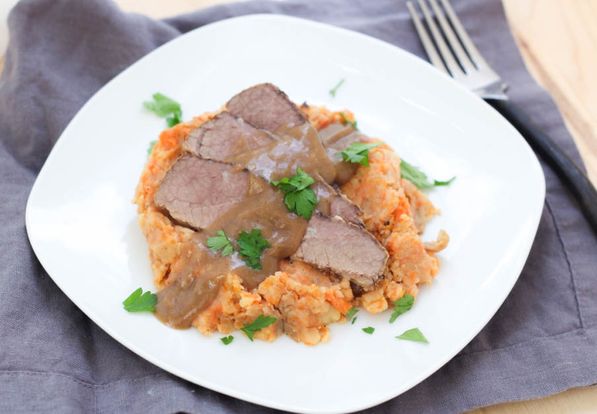 Slow Cooker Brisket with Mashed Root Vegetables
 Makes 6 servings
Ingredients:
6 small yukon gold or yellow potatoes, skin on, chopped
1 large yellow onion, roughly chopped
6 medium carrots, sliced
1 (2 1/2 pound) boneless beef brisket
1 teaspoon salt
1/2 teaspoon paprika 
2 teaspoons garlic powder
black pepper to taste
1 bay leaf
1 1/2 cups low sodium beef broth
2 tablespoons butter
3 tablespoons flour
1/2 cup water
fresh chopped parsley for garnish (optional)
Directions:
Place the potatoes, onion, and carrots in the bottom of slow cooker.  
Trim excess fat from the brisket, and place it over the vegetable mixture in the slow cooker.  Add the salt, paprika, garlic powder, pepper, and bay leaf.  Pour beef broth into the slow cooker. 
Cover, and cook on low for 10-12 hours or high for 6-7 hours.  
Remove the brisket from slow cooker and slice or shred the brisket.  Drain the vegetable mixture (reserving the liquid), and return them to the base of the slow cooker or place in a large bowl. 
Add 1 tablespoon butter to the vegetable mixture and mash them into mashed-potato consistency. 
To make the gravy, preheat a skillet over medium heat.  Add the remaining 1 tablespoon butter and the flour and whisk for about 1 minute (it will be chunky).  Add the cooking liquid that was set aside from the slow cooker plus 1/2 cup water.  Whisk until the mixture thickens.  
To serve, place mashed vegetable mixture on a plate, top with the brisket and gravy.  Add fresh parsley for garnish if desired. 
Happy Eating! 
~Amber
Recipe adapted from Better Homes and Gardens Crockery Cooker Cook Book, 1976, page 17, "Beef Brisket Hutspot"
---
---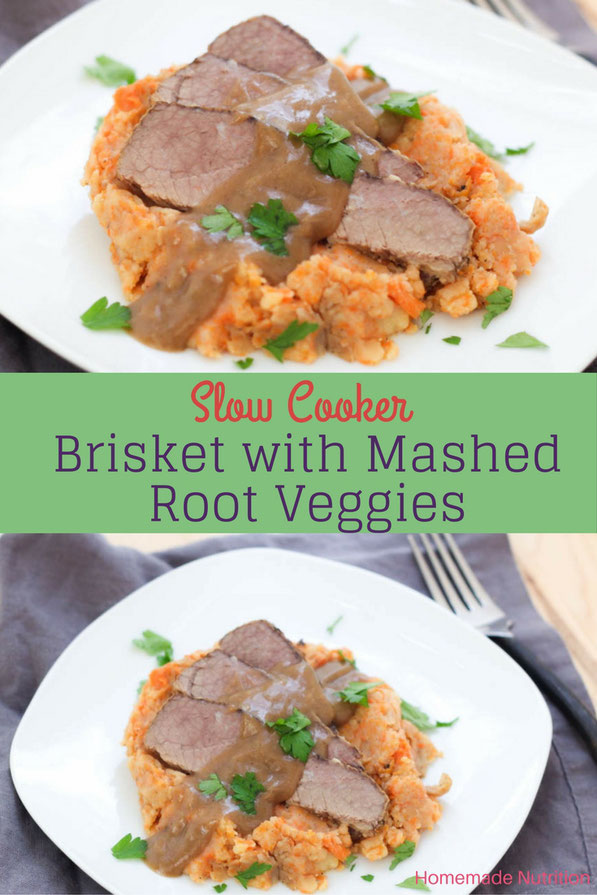 ---
For more recipe inspiration, check out the recipes below from fellow healthy food bloggers!
---