Easy oven BBQ chicken...part two of my chicken dinner mini-recipe series!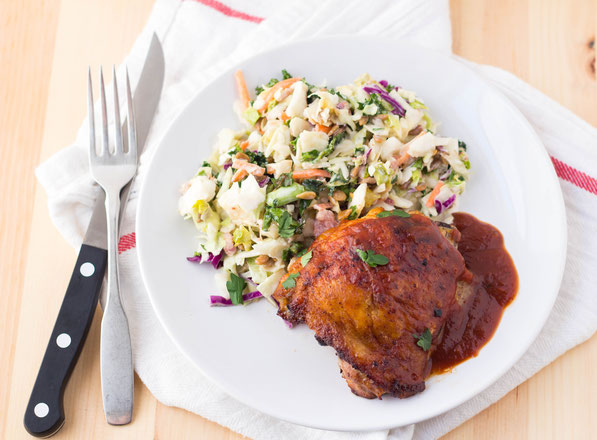 Part two of my chicken dinner mini-recipe series is here!  Last week, you may have seen my One-Skillet Lemon-Garlic Chicken with Creamed Spinach recipe (if not, it's definitely worth checking out - SO yummy!).  My goal with these chicken recipes was to use the same chicken two different ways, prepping both recipes at the same time. 
I made the marinade for this BBQ chicken at the same time as the marinade for the first recipe.  I baked both the lemon-garlic chicken and this BBQ chicken at the same time (in different pans).  Then I let this chicken cool and put it in the fridge to eat the next night for dinner, and we ate the lemon-garlic chicken for dinner that first night.  Two dinners successfully prepared and baked at the same time, woohoo!! :D
I used chicken thighs as the base for both of these recipes, but you can use whatever cut of chicken you like (just remember to reduce the cooking time if you're using boneless, skinless chicken because it will cook much faster). 
The night we ate this BBQ chicken, all I had to do was heat the chicken in the microwave, add some BBQ sauce, and I served it with a chopped salad kit from the grocery store  - I absolutely love Dole Chopped Salad Kits, and my favorite one is the sunflower crunch salad kit, which goes perfectly with this meal.  Both of these chicken dinners will definitely become regulars in our dinner-rotation, I hope you enjoy them too!
---
Easy Oven BBQ Chicken Thighs
Makes 2 servings

Ingredients: 
2 chicken thighs
1/8 teaspoon salt
black pepper to taste
1 teaspoon chili powder
1/2 teaspoon garlic powder
1/2 chopped red onion
2 tablespoons light olive oil
1/4 cup BBQ sauce of choice
Directions:

Add chicken thighs and marinade ingredients to a zip-lock bag.  Lightly squish the bag for a few seconds to coat the chicken in the spices and marinade, then place the bag in the refrigerator to marinate at least one hour or overnight. 
To cook the chicken, preheat oven to 350 degrees.  Place the chicken on a baking dish and bake for 30-40 minutes or until the chicken is cooked through (internal temperature should be 165 degrees.
Serve with your favorite BBQ sauce, and a salad on the side for a complete meal.
Happy Eating!
~Amber
---
---