Broccoli and cheese were made for each other.  And everybody love a good broccoli, rice, and cheese casserole.  But this dish can be really heavy with creamy soup bases, white rice, and lots and lots of cheese.  This lighter version is satisfying healthy comfort food without all of the guilt!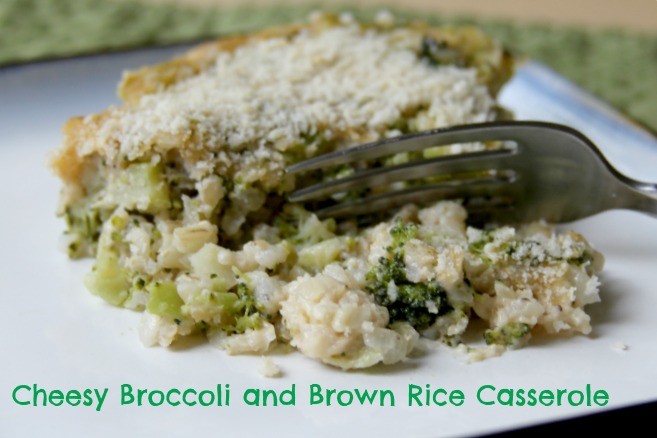 The first thing I love about this recipe is that I pretty much always have the ingredients on hand to make it.  Frozen chopped broccoli, brown rice, onions, garlic, cheddar cheese....so this is a quick side dish or even vegetarian main course that doesn't take much advanced planning. 

The second thing I love about this recipe is that it is a much lighter version of a traditional comfort food, so I don't feel guilty at all when I make it (or eat it).  Using brown rice instead of white rice adds a boost of complex carbohydrates, which take longer to digest, and have much more protein and fiber.  There is also a better broccoli to rice ratio here.  I used less rice and more broccoli than usual to boost the nutrition even more.  And instead of a "cream of whatever" soup loaded with sodium and chemicals, a little flour and low fat milk make a simple substitute. 

As for the broccoli, I prefer frozen broccoli in general because it is cheaper, already chopped up, and it's usually blanched (which just means boiled for a couple of minutes then quickly cooled) before it is frozen so it's got great color and texture, saving the step of blanching it myself to get the same result. 

I like to top this casserole with some panko bread crumbs for added crunch, but this part is up to you! 

It takes a few minutes to put it all together, but the results are so worth it!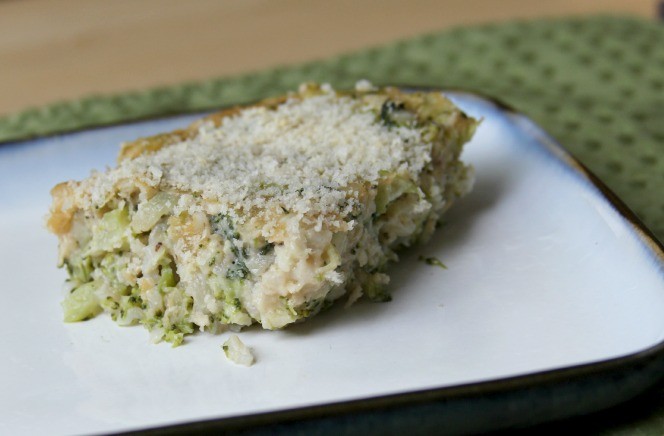 Cheesy Broccoli Brown Rice Casserole

Makes about 6 servings

Ingredients:

1-10 ounce package of frozen chopped broccoli (about 2 cups), thawed

1 cup cooked brown rice

1 tablespoon canola oil

1 small onion, chopped


2 cloves garlic, chopped




2 tablespoons flour

1 cup 1% milk

1/2 cup water

salt and pepper to taste

1 cup reduced fat cheddar cheese

1/2 cup panko bread crumbs (optional)

Directions:

Preheat oven to 400 degrees.  Spread the broccoli and brown rice in the bottom of a medium casserole dish that has been lightly greased (an 8x8 brownie-sized pan works well). 

In a skillet, heat the oil over medium high heat.  Add the onion and garlic and cook for about 5 minutes.  Next, stir in the flour and cook for 1 more minute.  Add the milk, water, salt, and pepper, reduce heat to medium and stir with a whisk until the  mixture thickens, anywhere from 5-10 minutes.  Turn the heat off and stir the cheese into the mixture until completely incorporated. 

Pour the mixture over the broccoli and rice and spread the casserole into an even layer.  Top with breadcrumbs if desired, and bake for about 30 minutes or until the casserole is bubbly and lightly golden on top.  Enjoy!

Happy Eating!

~Amber

---