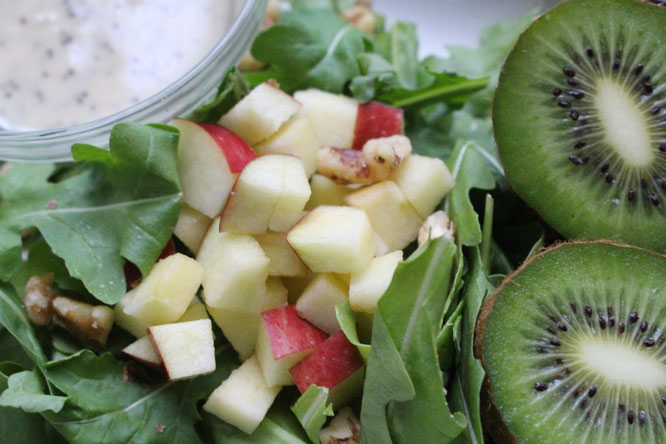 Looking for a way to lighten-up your eating during the holidays?  This refreshing salad will make you feel energized amidst all of the other food that surrounds us this time of year.

I really like arugula.  Other parts of the world refer to it as "rocket," but whatever you decide to call it, it is a really great leafy green!  The leaves are small and have a really pretty "leafy" shape, and it's got a bold, peppery flavor.  Some people find it a little too strong, and if that's the case for you, go ahead and sub your favorite leafy green, like spring mix, baby spinach, or even romaine lettuce.  You can also try mixing your favorite leafy green with some arugula to mellow the flavor.  Personally I think the peppery arugula balances really nicely with the fruit and sweet dressing in this recipe!

This salad comes together quickly, and the dressing recipe makes extra so you can enjoy it on more salad or use it as a dip for other veggies during the week.  It's loaded with vitamins, minerals, fiber, antioxidants, and flavor!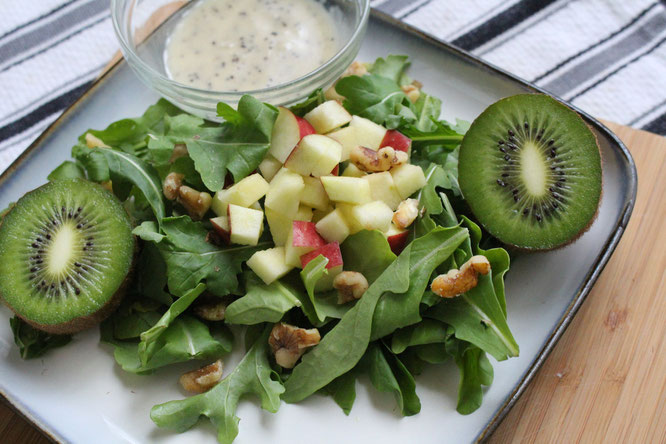 Apple, Arugula, Kiwi Salad with Sweet Orange Poppy Seed Dressing
Makes 1 serving, plus extra dressing
For the salad:
·      2 cups arugula (can also use spring mix or baby spinach)
·      1 small to medium apple, or ½ large apple, chopped
·      1 kiwi, cut in half
·      2 tablespoons chopped walnuts
For the dressing (makes about 1/3 cup dressing):
·      2 tablespoons fresh orange juice
·      ½-1 teaspoon honey, to taste
·      1 ½ teaspoons apple cider vinegar
·      3 tablespoons plain low fat Greek yogurt
·      1 tablespoon light olive oil or canola oil
·      pinch of salt
·      pepper to taste
·      ½ teaspoon poppy seeds
Directions:
For the salad, place the arugula on a plate or in a bowl.  Top with the apple and place the  kiwi halves on the side.  These can be easily scooped out and eaten with a spoon. 
For the dressing, combine all ingredients except poppy seeds into blender.  Blend for about 10 seconds or until everything is combined well.  Add the poppy seeds and stir gently to combine. 
Drizzle 1-2 tablespoons dressing over salad and enjoy!
---